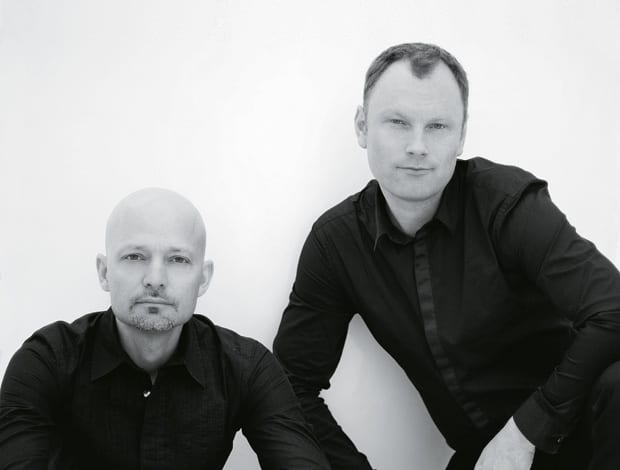 Stephan Hertzog (left) and Flemming Busk (right)|The amoeba-like Plasma seating, an antidote to the straight lines of the office atrium|Penny: a steel table designed for fellow Danes Globe Zero 4|Canteen-style chair Pause was designed to look good from the back|The simple, stackable Session chair, designed for Magnus Olesen|K2 shows that Arne Jacobsen's influence still runs deep in Danish design|Soft and sculptural, the True Love chair is typical of Busk+Hertzog's work||
Familiar faces in their native Denmark, award-winning design duo Busk+Hertzog has swapped Copenhagen for Clerkenwell
Amid the battered leather sofas and armchairs of the Hoxton Hotel, people are doing business. Papers are spread out over coffee tables and smartly dressed arty types perch on velvet armchairs. The decor says 'mildly ironic gentleman's club', its pretensions underlined by the efficient table service and aspirational prices. I'm here to meet Danish design duo Flemming Busk and Stephan Hertzog, the two eponymous halves of the multi-award-winning Busk+Hertzog.
Highly decorated in their native Denmark (they've scored so many Red Dot awards they could probably take out a patent on the name),the pair recently relocated from Copenhagen to Clerkenwell, a move to break the ennui fostered by over-familiarity coupled with a need to "live more dangerously", as Hertzog puts it.
"Every time we present a new product, we try to push the client a little bit on how they look at themselves and how they are perceived by the market," he explains. "But if you yourself don't take any risks and only stay in your little safe world, you start to play safe yourself."
B+H's astonishing success has also played its part. With so many Danish companies wanting a piece of them, they began to feel conflicted. New horizons beckoned and they are now immersing themselves in London's bubbling multicultural stew; today they walked to our meeting from their office in Clerkenwell. Walking, they both agree, is the best way to get to know a city.
"Every time we present a new product, we try to push the client a little bit on how they look at themselves and how they are perceived by the market"
As we settle into conversation, the complementary nature of their personalities reveals itself.
Dressed in designery black, the animated Busk engages with and occasionally battles the laid-back dimensions of his armchair while illustrating his points. His compadre is a more measured presence.
They both hail from different backgrounds: Hertzog began his career in the garment industry, helping to establish manufacturing plants in the former Eastern Bloc post-Soviet meltdown.
Busk took a more well-trodden path, graduating from Denmark's Aarhus School of Architecture with a masters in furniture and interior design. Their combination of skills gelled.
"As an architect you look more at the concept or structure, and Stephan is much more about the detailing," says Busk. "In the beginning I would have these crazy ideas and Stephan had the knowledge to make them. Suddenly we had a company!"
This was in 2000, and since then B+H has been nothing if not prolific, designing products for the likes of Magnus Olesen (distributed in the UK by Scandia), Hightower and Globe Zero 4, but they really hit their stride in 2008 when they scooped The Furniture Prize, the Danish furniture industry's highest accolade.
Past winners include Danish design legend Arne Jacobsen, and the sculptural forms and clean lines of products such as K2, Capri and True Love clearly share schematic DNA with Jacobsen.
He remains a strong influence on Danish design, not least because there was no cult of exclusivity surrounding his products, as Busk explains: "We grew up surrounded by his products. We sat on Arne Jacobsen canteen chairs; the shower taps at my school were Arne Jacobsen's."
Although B+H's work is very much rooted in the tradition of Denmark's glory days of the 1960s and 70s, the pair see this as a foundation to build on rather than something to hark back to. "We have the Danish aesthetics, but we believe we are open-minded with an international approach. We would like our furniture to be a part of architecture and relate to it."
"People react more positively to sculptural furniture"
The architecture B+H deals with, at least on the contract end of their business, is characterised by hard geometries in concrete, glass and steel.
"These buildings are what I would call very masculine," says Busk. "If you place minimalist square pieces in them, then when you enter them you get a very cold feeling. When architects build these offices with huge atriums we analyse their purpose and how people use the space."
Its Plamsa seating is a good example of this analysis: as a response to architects' tendency to build chasmic atriums, B+H addressed the view from the offices above by creating curved soft seating. The amoeba-like forms avoid looking untidy owing to their complementary forms and infinite configurations.
"People react more positively to sculptural furniture," says Hertzog. "I think that's the reason why a lot of the furniture that's considered classic today – Jacobsen, Eames – all has a little bit of softness."
Just as Plasma demonstrates B+H's awareness of how objects are viewed, when it came to designing Pause (a canteen-style office chair), the detailing was refined on the back, because that's how it is mostly seen. Session, on the other hand, is beautiful from any angle: combining a stacking chair's practicality with a Scandinavian crafty feel, it is precise but not overly formal. Of course, functionality is important to Busk and Hertzog, but their deep appreciation of aesthetics explains the one notable omission from their impressive portfolio – a task chair.
"That is something that mentally we have put aside, simply because it is one of those products controlled by a lot of functionality," says Hertzog. "Some task chairs actually ruin the otherwise-nice environment they sit in. So we're not going to attack the drawing board and make a fantastic task chair." More's the pity as one gets the feeling that the duo would make a decent fist of it.
"We're not shy, but we don't have this desire to be world famous. It would be like going on Big Brother"
London is proving a good fit for the pair so far, and there's a sense that they're enjoying its anonymity. They've shunned the cocktail party circuit, preferring to hang out in the local boozer.
"We're not shy, but we don't have this desire to be world famous," says Hertzog. "It would be like going on Big Brother."
One suspects this indifference is partly because they both came to the industry relatively late, and were already sufficiently adroit in business to build a career in this notoriously tough industry.
"You have to have big balls for this business. A lot of designers fail because it is difficult to be both emotional and creative on one hand, and a tough businessman on the other. They are flattered by big companies saying 'You're a nice guy, and I'd like to give you a chance.' But no one helps you out in the design world without a profit at the end."