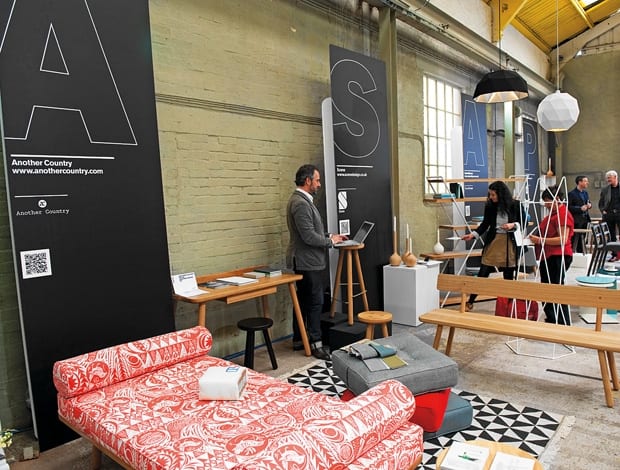 ASAP's prime spot in the Farmiloe Building at this year's Clerkenwell Design Week|Another Country's Peter de Zwart|Another Country's desk and stool from the oak Series One range|Another Country's bench from the Series One range|Gemma Fabbri, one half of Scene|Scene's Shard coat stand…|… and faceted Poly lighting|Assemblyroom's company founder Peter Wall|A flavour of Assemblyroom's unfussy furniture|Pli Designs' designer Alex Whitney|Pli Designs' Pennyfields table and chair in contrasting bamboo and steel||
Why compete when you can share? A brand new collective of British furniture designers, unveiled at Clerkenwell Design Week, finds safety in numbers
The magnificent Farmiloe Building welcomed a plethora of design talent during May's Clerkenwell Design Week (see review, p18). Homegrown stars rubbed shoulders with established international brands as companies set up base camp within the ageing industrial husk. And soaking up the ambience was ASAP, a loose collective of furniture and interior designers that had formed specifically for the event. Another Country, Scene, Assemblyroom Furniture and Pli Design make up component parts (hence the acronym ASAP), with a shared interest in the craft of furniture-making and sustainability forming their common ground.
First up, Another Country: founded in May last year by Paul de Zwart, it's been nothing if not industrious, unveiling at Clerkenwell a bench, two coffee table variants and a particularly fine writing desk. Simply named Series One, each piece in the range complements the other and is made from FSC oak.
"It was the most simple, most pared-down design we could think of that embodied our values," says de Zwart. "It is defined by key signature detailing. The legs are rounded at the bottom and every leg in every piece is 79 degrees to the horizontal surface."
The genesis of this design is Stool One, which strikes a confident balance between sturdiness and elegance. The stool's legs are a universal component fitting all products in the range: pegs are used to attach them on the smaller pieces, while a screw-in method is used on the larger products to make disassembly and shipping easier. The combination of Bute fabrics and the warmth of the oak give the collection an unmistakably domestic feel.
Another Country has its eye on other markets, apparent in the well-considered form of Desk One. It's designed to fit a laptop and can accommodate cable management, bridging the ever-narrowing gap between home and work life.
A "return to craft" ethos underpins the company's work. Wood-turners in Norfolk and the Cotswolds and upholsterers in Devon are all part of the operation, with the various components assembled at Another Country's Dorset workshop.
"The whole thesis of the brand is to source sustainably, manufacture sustainably and make everything recyclable," says de Zwart. "For example, we only pack in cardboard boxes and biodegradable bubblewrap." This extends right down to Another Country's generic business cards, which they stamp themselves.
Of course, manufacturing locally doesn't come cheap when compared with Eastern Europe or China, so to maintain what de Zwart calls a "fair price point" the retailer is cut from the business model. Instead, everything is ordered directly from the company website: "That's why being at the fair is very important – being an e-commerce business, we don't have many face-to-face meetings with customers."
Cutting a very different style at Clerkenwell was interior and product design firm Scene, which revealed an architectural coat stand called Shard.
"Strangely enough it's not inspired by the Renzo Piano building," laughs Gemma Fabbri, one half of the company (the other being Chris Ager). "It's actually inspired by a shard of ice."
Made from bent steel, the piece has a graphic feel and is intended for both commercial and domestic spheres. Coats, umbrellas and assorted paraphernalia can be hung on both the outside and inside of the frame, forming a protective veil around any luggage stored at its base.
The ASAP collective helped lift the Shard design off the drawing board and into reality. Fabbri was introduced to Makers, the consultancy arm of Pli Design, which found a manufacturer for the piece and broke down the costs.
"It was such a streamlined process, really nice," says Fabbri, although she still reckons that although the manufacturing skill-base is present in the UK, finding a reliable manufacturer can be a struggle. "There are lots with really good intentions, but it is difficult to get one to go through the early phases, revising the little things in a design. They want volume immediately. I have had so much trouble with manufacturers promising to deliver on time and then pulling out at the last minute."
It's a problem that Peter Wall from Assemblyroom Furniture understands all too well. A sideboard media unit lined up to launch at Clerkenwell was ditched at the last minute when the manufacturer went into liquidation. Wall, however, is philosophical.
"It's still all very fresh and things don't always go to plan," he says. A respected interior design company, Assemblyroom branched out into furniture design last year, motivated simply by a love of product: "It wasn't about world domination or anything," Wall jokes.
This love of product is apparent when examining Assemblyroom's work. Unfussy and with more than a hint of Scandinavian utilitarianism (Wall studied in Norway) it looks just right in the industrial shed. And Wall was clearly enjoying Farmiloe's laid-back atmosphere. "It's thrown up quite a bit of interest in the chairs" – which were designed 17 years ago when Wall was a student – "and if we get a decent order it should give us some leverage with the manufacturers."
Taking over the corner space, Pli Design, founded by Christopher Pett, showcased its Pennyfields and the older Whitechapel ranges. Designer Alex Whitney was on hand to explain the innovative juxtaposition of bamboo and steel in the products.
"It [bamboo] has this digital grain to it, but then you add a nice soft wax finish and you have a lovely warm product," he enthuses.
Whitney is equally enthusiastic about ASAP and keen to stress that the collaboration is not merely tokenistic. The companies have pooled their databases, sharing valuable contacts with each other.
"We're all British designers making interesting products in small volumes, trying to make them affordable and avoid having a heart attack with stress." Pli has steadily built a network of trusted manufacturers, which it is now looking to exploit through the Makers consultancy arm.
"We can set up designers with a supply chain, evaluate the design, give them a price and start them up, but we don't take over their name," explains Whitney. "The strength of British design is that they are really prepared to put themselves out there to make a name for themselves."