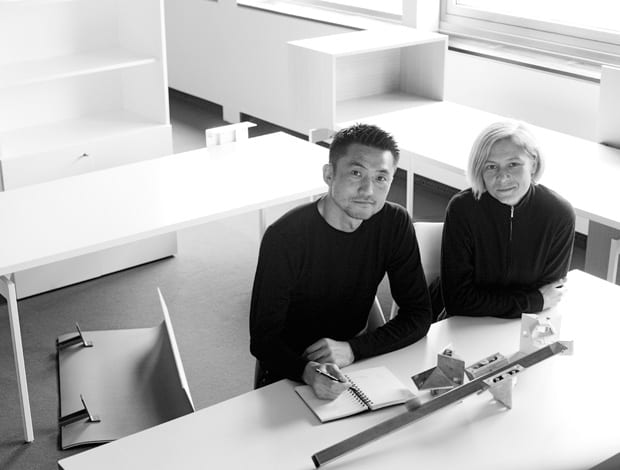 Masamichi Udagawa and Sigi Moeslinger|The "post-cubicle" Workspaces projects for Knoll, five years in the making|Antenna's work on New York's R143 subway car and ticket vending machines|Made for Blooomberg, a dual-screen display unit where both screens rotate|Bloemendaal, a new permanent installation at Broadway station|Taxi, an object from Pattern Recognition, a show inspired by the streets of New York||
Their work in the public realm reveals a fascinatiom for the way people and objects interact: so how did Antenna's Masamichi Udagawa and Sigi Moeslinger get along when Knoll asked them to design some workplace furniture?
It's been a long morning for Masamichi Udagawa and Sigi Moeslinger, the two halves of design practice Antenna. Fresh off a plane from New York, the pair have been thrust into an early morning press conference at Knoll's Clerkenwell showroom to launch Antenna Workspaces, the studio's first foray into furniture.
They field questions from the dozen or so caffeine-fuelled hacks with aplomb; Moeslinger later admits that due to email troubles they had no idea what to expect and duly winged it.Not that anyone noticed: the pair's assured delivery confirms a studio well accustomed to talking about its work.
In truth, however, commissioning Antenna for such an important project was a gamble.
Until now it was better known for designing New York subway carriages or hi-tech computer hardware. However, Knoll's design director Benjamin Pardo was convinced Antenna's skill at improving dreary everyday trials like buying a subway ticket would translate well to workplace furniture, and work on the project began in 2006.
"Even though we had not designed furniture, we had worked on other systemic programmes," explains Vienna-born Moeslinger. "Benjamin valued that we had experience with something more than a single object."
Still, having deliberately avoided designing furniture since forming in New York in 1997, it came as somewhat of a surprise.
Both Moeslinger and Udagawa hail from industrial design backgrounds – Udagawa at Apple, and Moeslinger at Ideo, where she worked on product development for clients including EC, Matsushita and GM/Hughes.
This impressive litany overlapped into the workplace sphere with a multi-award-winning flexible dual-screen display for Bloomberg. The technological has long been a source of inspiration for Udagawa, who admires Mario Bellini's Logos 58 calculator for Olivetti. "I learned so much from trying to imagine what he was thinking when he was detailing certain things."
Some of the more speculative punts that characterise the furniture industry, however, held no interest. Udagawa expresses distaste for what he sees as the exploitative Milan circus.
"The business is very much about young designers coming up and doing things for nothing. It's hit and miss, but the companies can afford a lot of misses because they aren't paying for it," the Japanese designer reasons.
"We observe how people do things and translate that into the new way of doing it"
As it turned out, Antenna had its very own misfire with the Workspaces project. Scheduled to launch at NeoCon 2008, the designers became bogged down in the minutiae and the project was shelved. That might have been the end of the story, but Knoll was reluctant to let two years of research and work go to waste and allowed Antenna a second swipe.
"We weren't sure if it would continue, but it did, and not only did we have a great learning curve but it also helped with the timing. No one notices a new table when the economy is collapsing," Moeslinger sagely points out. Knoll and Antenna's perseverance was rewarded when the project scooped NeoCon's innovation award in 2010.
The launch represents the changing demands of the US workforce. America may be the land of the free, but it's the home of the office cubicle, and whereas open-plan offices are the norm this side of the Atlantic, Uncle Sam has been a little reluctant to embrace the concept.
A multi-purpose blend of desks, storage units and screens, Antenna Workspaces aims to eliminate the need for physical barriers in the American office and replace them with something more intuitive. Standalone L-shaped filing cabinets suggest divisions rather than dictate them and in this respect the product has a European flavour, echoing the Bourellecs' Joyn (2002).
A mix of cantilevered tabletops supported by elegant steel legs, Antenna Workspaces is a good deal less clunky than most stateside office furniture.
Antenna strives to build relationships between the person and object. Many of the studio's commercial projects are for a mass audience and they don't come much bigger (or more demanding) than New York City's commuters.
The R143 subway car the studio designed was the culmination of hundreds of hours of consultation and experimentation taking into account everyone's need. Aside from wider doors and longer carriages, the practice included cantilevered seats (easier to clean under), multicoloured LCD displays that allow the conductor to reprogram the route display "on the fly", and a pole with a looped middle section to give passengers more areas to hang on to. Improving the practice of everyday life: de Certeau would have approved.
"Projects often start with some kind of problem that requires new behaviour," says Udagawa. "The world exists happily or otherwise so whenever you put something new into it, it has to have a purpose. We observe how people do things and translate that into the new way of doing it." But watching the New York multitudes use it took some getting used to. Moeslinger laughingly recalls arguing with a passenger who had dropped litter in the carriage. "He looked at me like I was completely insane."
Though neither Udagawa nor Moeslinger are native New Yorkers, the designers' public installation work reveals a fascination with both the energy and historic fabric of their chosen city.
Bloemendaal, a work for New York's MTA Arts for Transit programme, attempts to reconnect a new station building on Broadway with its rural origins through rows of metallic flowers that glimmer under the vaulted ceiling's lights. Light features heavily in Pattern Recognition, exhibited at the Frederieke Taylor gallery, which explored the city as a spectacle, twisting and reinterpreting familiar New York icons like taxi cabs, subway maps and apartment blocks.
After 14 years in business, Antenna is in high demand. More projects with Knoll are in the pipeline and a new subway car, this time for Washington DC, is expected to arrive in 2013.
All this activity has left little time for the couple, who are keen runners, to prepare for the upcoming New York marathon. "We are not in good enough shape," says Moeslinger. "This year has not been good in terms of training." With many of their contemporaries scratching around for work, it's fair to suppose Antenna should not be unduly bothered.