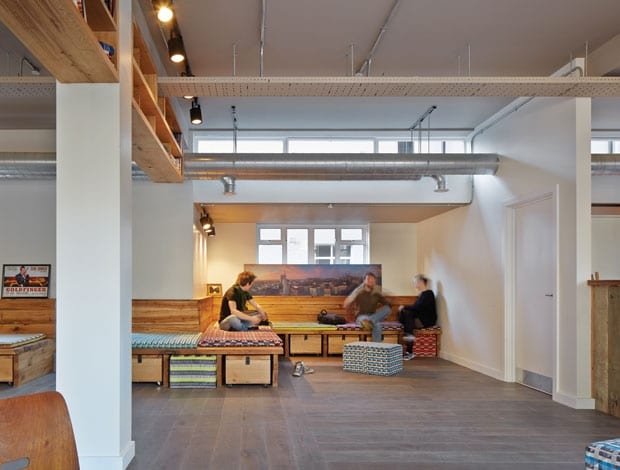 ||

Unusually, this refurbished backpackers' hostel in London's Wapping, has been a hostel since the early 19th century. In the decades since, the locale has changed beyond recognition, and so, in turn, has the clientele.
A few minutes' walk from Tower Bridge, it was originally built in the 1820s as a seamen's mission to serve the docks, but when the docks moved east it became a hostel for the homeless. After falling into disrepair it narrowly avoided the bulldozer, before being taken up by Wombat's, a European chain of hostels.
The Austrian company worked with Andrew Mulroy Architects to revamp the interior, making it space-efficient but, more importantly, part of a fast-evolving brand of hostels for backpackers with more design nous.
The hostel is actually two buildings: a rather uninspiring 1950s block at the entrance on Dock Street conjoined to the original Victorian building behind. Its facade has one saving grace, says Andrew Mulroy, in the decorative metal balconies adorned with wreath knots, which are "remnants of the seamen's home".
Beyond this is the lobby/lounge, one of three main congregating areas. The aesthetic is ad hoc and laid back: a patchwork of hexagonal tiles and coloured reclaimed timber planks define the reception area, over which hangs the only splash of branding – the Wombat's logo in large light-up carnival letters.
Timber daybeds and footstools are upholstered with Transport for London moquette fabric, giving a subtle sense of place "without putting Union Jacks everywhere", says Mulroy.
There's a long timber desk lining one wall, where backpackers can sit and use the wi-fi, some cafe tables with mismatching chairs and plenty of wooden shelves full of books and homey paraphernalia. It could easily be a converted warehouse flat in Hackney, albeit with a concierge.
Via the restored 50s stairwell, one crosses into the Victorian side of the building. Architecturally it is noticeably different, particularly on the ground floor where former caretaker stores, boiler and plant rooms have become a huge social area, set under vaulted brick arches.
Weeks were spent chipping off every inch of render to reveal the original brickwork, before up-lighters were installed to enhance the height of the arches. Exposed bulbs dangle at intervals to create atmospheric enclaves.
Although finishes like the tiles, reclaimed timber and TFL-themed upholstery continue throughout, the architects have largely chosen to maintain each structure's identity.
"One is 150 years older than the other; you'll never marry them up," says Mulroy. "Plus we wanted the design to be casual, which is hard, but I think the trick is to use the building as you find it, expose what's there and work with it."
Above these social hubs lie rooms with space for 640 backpackers, refurbished to the standard of well-thought-out budget hotel. A few rooms at the top of the 50s block are even privy to a small shared penthouse lounge, with a view over central London that many would pay more than £80 per night for.
Despite the name, Wombat's hostel is not a lodging house for furry marsupials, but a chain of upmarket backpacker hangouts. Its London outpost, based in an old seamen's mission, sets the bar high for design