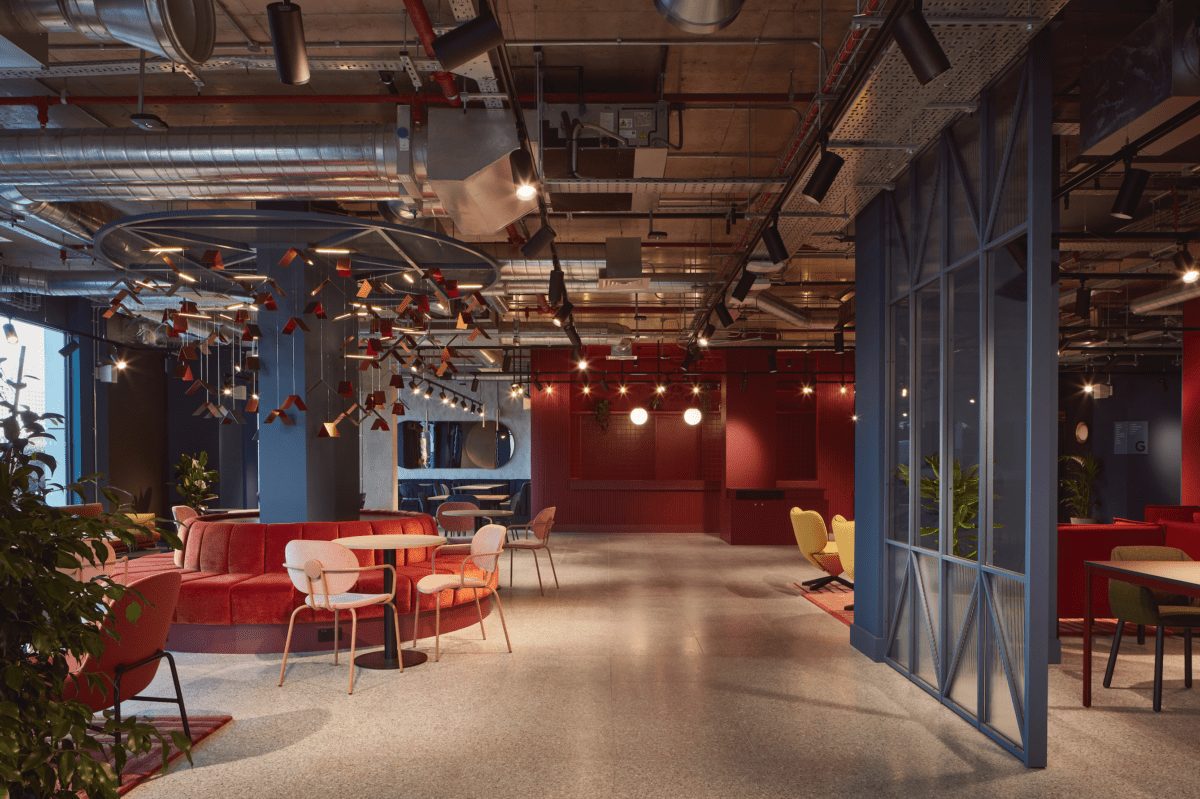 Commercial interior designers Trifle* use colour to spark joy at the London coworking outpost Mirror Works by Workspace
Located on Marshgate Lane in London's vibrant Stratford area, Mirror Works is a bold coworking space that dares to be different. Flexible office provider Workspace has enlisted creative consultancy Trifle*, who recently completed MVF's new Shoreditch office, to give the space a fresh-faced makeover.
The creative agency, which is widely known for designing workspaces with people at the very heart, has an ongoing relationship with Workspace. As such, Trifle* devises each site with a local 'feel'—drawing upon history from the immediate and wider vicinity for each creative expression.
Stratford has seen huge amounts of regenerative growth since the 1990s and more rapidly since the 2012 London Olympics. To reflect the local neighbourhood, Trifle* used a carefully curated colour palette to cleverly define different zones and areas at Mirror Works, reflecting both the vibrancy and lively atmosphere of the surrounding area.
Upon entering the coworking space, visitors are greeted with an explosion of colour; from cool blues to rich wine tones and accents of yellow and green—the result feels vivid yet balanced. Adding personality to the space, Mirror Works promises to cheer up a rainy day by welcoming workers with bright colours that inspire creativity.
A contemporary lighting sculpture and sleek, mirrored elements throughout the space pay homage to the site's vast history as a former Victorian glassworks factory which backs onto the canal for picturesque views.
"We've poured over every detail, from the bespoke 100% recycled choice of worktop to the carefully curated artworks hung throughout", shares Trifle*. "Open plan terraces overlook the canal and city skyline. Concrete walls and terrazzo floors add to a modern feel and colour cleverly defines the space."
Bringing together passion and purpose under one roof, this vibrant coworking space is designed to nurture and inspire creatives. Catering to new and post-Covid working needs, Mirror Works provides an inspiring and creative space where local communities can thrive.
"We're delighted to open the doors to Mirror Works, the newest member of our Workspace family", says Emma Burrows, Centre Manager, Mirror Works. "We've already seen fantastic demand for office space here, in what is now one of the most thriving parts of the capital. Mirror Works is truly a celebration of the amazing regenerative growth that the area has seen and we really look forward to welcoming some of London's brightest businesses."
Images by Mark Cocksedge