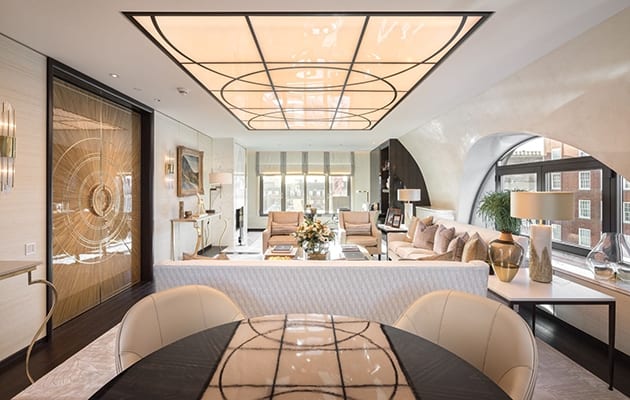 |||
As flexible working emerges as the defining office trend of our times, conventional workplaces seem to be in decline. However, there are plenty of businesses that just don't suit the hot-desk, breakout space, and bright colourful walls that so many contemporary offices seem to rely so much on.
Clivedale are a luxury property developer operating at the top of the London property market and wanted a multi-use building for main headquarters in London that would include a marketing suite and company headquarters. They enlisted the help of Studio Indigo to create a rich, enticing space that reflects the company's values but also their position in the luxury property market.
Also included in the brief was a family office on the top floor of 73 Brook Street, with a private office space and lounge in addition to a separate meeting/dining room, for the Chairman of the Indiabulls group, Clivedale's parent company. The space is used for both business purposes and to provide a comfortable, warm and inviting environment whilst still embodying a sense of luxury.
An added feature of the space in Brook Street is a mansard roof of varying height, which Studio Indigo embraced as a central feature of their design. The team turned the curved elements of the roof into a theme that was reflected on the floor and also incorporated in the details on the ceiling and doors. "The curved mansard roof created challenging but unique spaces," explains Mike Fisher, Founder and Creative Director of Studio Indigo. "In creating an appropriate headquarters for Clivedale London and their parent company, Indiabulls, the overall look of 'contemporary luxury' needed to reflect the brand as closely as possible."
The floor, with its round floral design, was a bespoke creation; designed by Studio Indigo and manufactured in Venice by traditional artisans. The aim was to create a statement piece that highlighted the entrance to the Chairman's office, the details of which were subtly continued in the backlit ceiling and bamboo straw marquetry doors.
'It was important to us to reference the rich history of Brook Street, one of the principal streets on the Grosvenor Estate, in the design of 73 Brook Street," says David Laycock, Development Director at Clivedale London on the design of the project. "To achieve this, we worked with internationally renowned lighting specialists, Haberdashery to design a bespoke lighting installation which sits in the entrance lobby to our offices and emulates the look of the Brook River which once flowed beneath the site."
Studio Indigo complemented a dramatic mansard roof with intricate marquetry for the London HQ of a luxury property developer