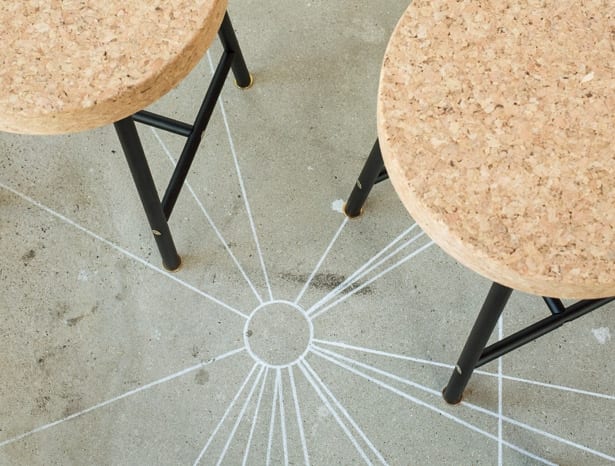 |||
Young up-and-coming architecture firm Selencky Parsons has given up co-working in favour of its own office. The move in autumn 2016 from Peckham to nearby Brockley in south-east London has allowed the six-strong practice to design its own space.
The ground floor unit of Langtry Court – a new brick building opposite Brockley station by Emoli Petroschka Architects – is just 44sq m, and needed to accommodate workspaces, a meeting area, cloakroom and kitchen.
Workstations line the cork walls of the pod
While some businesses introduce pods (vintage emergency vehicles, caravans or bespoke rooms à la Google's Jack) for occasional gatherings or concentrated work, Selencky Parsons has turned this approach on its head. Instead, the practice designed a 30sq m room-within-a-room – built by Eden Project Services, which worked on its office refurbishment for Given London (OnOffice Mar 2015). This is where the workstations are, while the other functions happen in the area around the front door and to one side.
For the room, co-founders Sam Selencky (formerly of Patel Taylor) and David Parsons (who was with Arup Associates in Shanghai) were on the hunt for a material with "an element of warmth and richness to it to contrast with the concrete floor and walls of the original shell", says Selencky.
Perforations on walls and ceiling aid storage and improve acoustics
They homed in on plywood and its cheaper cousin OSB (oriented strand board or sterling board). However, eventually cork won out, partly because of its sustainability and price point. "Plywood gives you a nice crisp finish but is more expensive and more difficult to work with than cork, and it's well used. OSB gives more of a rough finish, but doesn't give you the softness of cork," he explains.
Cork tiles from the Cork Flooring Company line every surface of the studio pod – walls, floor and ceiling – equating to 120sq m of cork. It's the same tile everywhere, with a matt sealant applied to the floor. "This was important as we wanted consistency throughout the surfaces," Selencky adds.
White markings on the floor map the practice's projects
A grid of holes has been punched into some of the wall tiles, some of which have been filled with wooden pegs. These sections then become a coat and cycle helmet rack, a hanging garden of indoor plants, and flexible storage space.
More holes are punched in the studio's roof although, because the room isn't rectilinear, the architects switched the pattern to a series of circles centred around the lights suspended through the ceiling. Every hole acts as "acoustic attenuation" to stop echoing, and lets through heating and cooling from the ceiling, Selencky explains.
Warm oak surfaces define the kitchen cut into the pod's exterior
The exposed corners – "tricky things to express nicely," he says – have been finished with black angled beadings, and the opening into the pod has a black plate steel lining.
These elements make a visual link to the windows' dark metal frames. In fact, black is the accent colour throughout, used for sockets, furniture and picture rails. The black knobs on the kitchen cupboards come from Peckham homewares business Chocolate Creative. Likewise, the firm's signage outside the building is laser-cut from black steel plate.
A changing display of illuminated objects can be seen from the street
Langtry Court's builders had left a pattern like an electronic schematic drawing on the floor slab. "That got us thinking that rather than trying to disguise the floor, we could make it a feature," says Selencky. He and Parsons held an internal design competition to come up for ideas for a floor, which resulted in a Selencky Parsons project map: marking the geographical locations of structures completed from their current and past addresses. And by drawing the map themselves on the floor using white paint pens, it became "simple and cost-effective", and worked with a few white stains already marking the floor.
Normally, desks are not positioned near windows because of the exposed cabling. But the tight space meant this was a good way of maximising efficiency of layout. A low wall has been built along the window that hides the cabling and creates series of alcoves that double as a display area. A small black lamp lights each window day and night, and the content is changed frequently, as a way of keeping Brockley's myriad train commuters entertained. These window dressings perhaps also make up for any locals' disappointment that the unit was taken by a firm of architects rather than an artisanal butcher or some such hipster enterprise. At ceiling level, along the length of the window, is a panel, "so you read it as a hole in the cork wall," says Selencky. It also allows blinds to be hidden in the top alcove.
A ceiling level panel defines the edge of the pod by the window
Any accessories that are not black are cork, such as the kitchen's cork and concrete pendant lights by Romanian design firm Ubikubi, the Ikea stools and Nud lights in the studio pod. Meanwhile, the kitchen worktop, splashback, workstations and their legs were cut from long lengths of oak, which ties in with the Ikea kitchen cupboard doors.
Selencky waxes lyrical about their material of choice: "It has the added benefits of acoustic absorption to reduce reverberation, you can pin things on it without marking it, it is easy to work with and it smells great." The only downside he can think of is that it can fade in strong sunlight.
The firm, which has a house in south London shortlisted in New London Architecture's 2017 Don't Move, Improve! competition, is to complete two new-build houses in Kent this year. Also in 2017, its NCGM Primary Substation, next to New Covent Garden Market in Nine Elms, is due to be finished. Although Selencky Parsons has no immediate plans to specify more cork, "we would be happy to use it again for the right project," says Selencky.
When it set out to create its own south London studio from scratch, this up-and-coming architecture practice discovered the perfect material