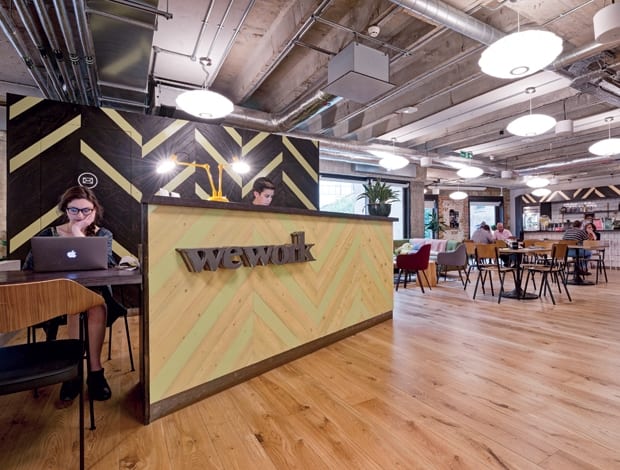 ||
By the time this article is published, WeWork's Devonshire Square site will be old news. The co-working space opened in June, yet another opened in Moorgate in July, and another is due to land in Spitalfields in September, to add to the two already in Soho and Southbank.
WeWork's global domination is in full force, with 43 locations in 16 cities, and according to international project manager Marina Gabriela Brink – who shows onoffice around Devonshire Square – "they fill up as soon as they open. We don't even do any marketing."
The New York-based company was founded in 2010, and Brink joined this time last year as employee number 180; now there are 400 employees and around 25,000 members. It claims a large proportion of its growth is down to its members' companies' growth and members working together, meeting through its online community or during weekly events.
This site is a few minutes' walk from Liverpool Street station. Arriving via the lift, visitors walk straight into a noisy cafe with music playing and coffee machines/blenders whirring. Past a reception desk is a hotdesking area full of people on laptops, a few phone and meeting booths and a glazed, carpeted meeting room with reclaimed mismatching furniture. The aesthetic here is "eclectic, scrappy, nothing too behaved," says Brink, referring to the exposed original ceilings and pillars, teamed with a variety of materials, patterns, textures and furniture.
"Everyone can feel comfortable and at home here." Beyond are the quieter private offices, more sober with wood floors and glass walls, allowing for customisation. Meeting areas and phone booths, which are dotted throughout, provide a "pop of colour".
With such a rapid rollout of new locations, it isn't sustainable to design each from a blank canvas, so an in-house interior design team adapts the WeWork look to each building. It picks from a curated set of elements, or "WeWork moodboard" – carpets, furniture and lighting, for example – then adds a small amount of unique features, so every site feels familiar but not identical.
A dedicated 'community expansion team' studies each city and decides on the type of WeWork it will be. Brink points out a data company, salespeople, artists and quite a few tech start-ups. "Different buildings are better for different workers," she says, "but everyone's very social here. Our strongest thing is our community."
Explore the space in all its glory via The Virtual Picture's virtual tour

Read more from our co-working takeover series:
Pt 1. The co-working takeover series: The Den Bedford Sq
Pt 2. The co-working takeover series: Danish firm Spaces