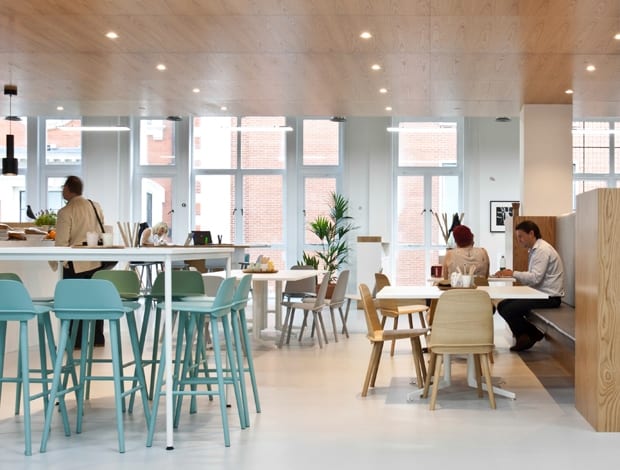 ||
Formerly a radio station headquarters, the main communal space has been stripped back and given poured concrete floors, an abundance of timber and pale grey, and muted, clean-lined furniture from brands like Zeitraum and Modus, giving the Scandi look that Roordink's talking about. "We think design should create an open mind," he says.
Spaces launched in 2006 and has four locations in the Netherlands, all with a similar aesthetic,
but is now stretching its legs across the globe. Sites in New York and Melbourne are opening in the next six months, plus a huge, 18,000sq m one in Rotterdam designed with Sevil Peach.
The expansion is prompted, Roordink says, by a change in the way people are thinking. "This is the World Trade Center 3.0. It's the new world of working. Everything can be done online, but decisions are made offline. It's about the energy here."
Members enter the large shared space via a rich green carpet – giving a hotel feel, Roordink says. There's a cafe, shared tables in varying sizes and heights, meeting booths and phone booths, and a custom-made 'teamwork table'.
At the far end there's a long bench with movable divides, for individual working, and a series of Vitra Alcove sofas facing out to the huge, restored windows to Oxford Street. There's a small meeting room, a large boardroom and a Club Room available for hire: the latter is able to host up to 80 people, and has its own lounge area, meeting tables and pinboards – perfect for day-long projects, presentations or training.
Upstairs there are three floors of private office space for hire, which have been given a simple, functional treatment of timber floors and glass walls, so companies can customise. It's also about openness, says Roordink, to drive businesses together. So far 30 ventures have started at Spaces, as a result of members collaborating. "You can meet through the app," says Roordink, "but most business is done at the bar on a Thursday."
Read more from our co-working takeover series:
Pt 1. The co-working takeover series: The Den Bedford Sq
Pt 3. The co-working takeover: The Office Group
Pt 4. The co-working takeover: WeWork Devonshire Sq
"It's all a bit Danish, despite the fact we're Dutch," jokes Spaces managing director Martijn Roordink, as he takes onoffice on a tour of the co-working group's first site outside the Netherlands.