Design studio Piercy&Company completed the refurbishment of iconic Exchange House in London's Broadgate community, reimagining the lobby, office space and building's shared spaces
Straddling buzzy Shoreditch and the city's financial epicentre is London's 32-acre Broadgate community, where the Exchange House has long made a significant architectural splash. Completed in 1990 by Skidmore, Owings & Merrill (SOM), the 10-storey structure showcases a skeleton of four arches spanning a 78-metre-long rail yard.
Much has changed at Broadgate since then, and to fittingly reimagine Exchange House's lobby and rejuvenate its 82,000 square feet of office space, developer British Land and GIC tapped local firm Piercy&Company.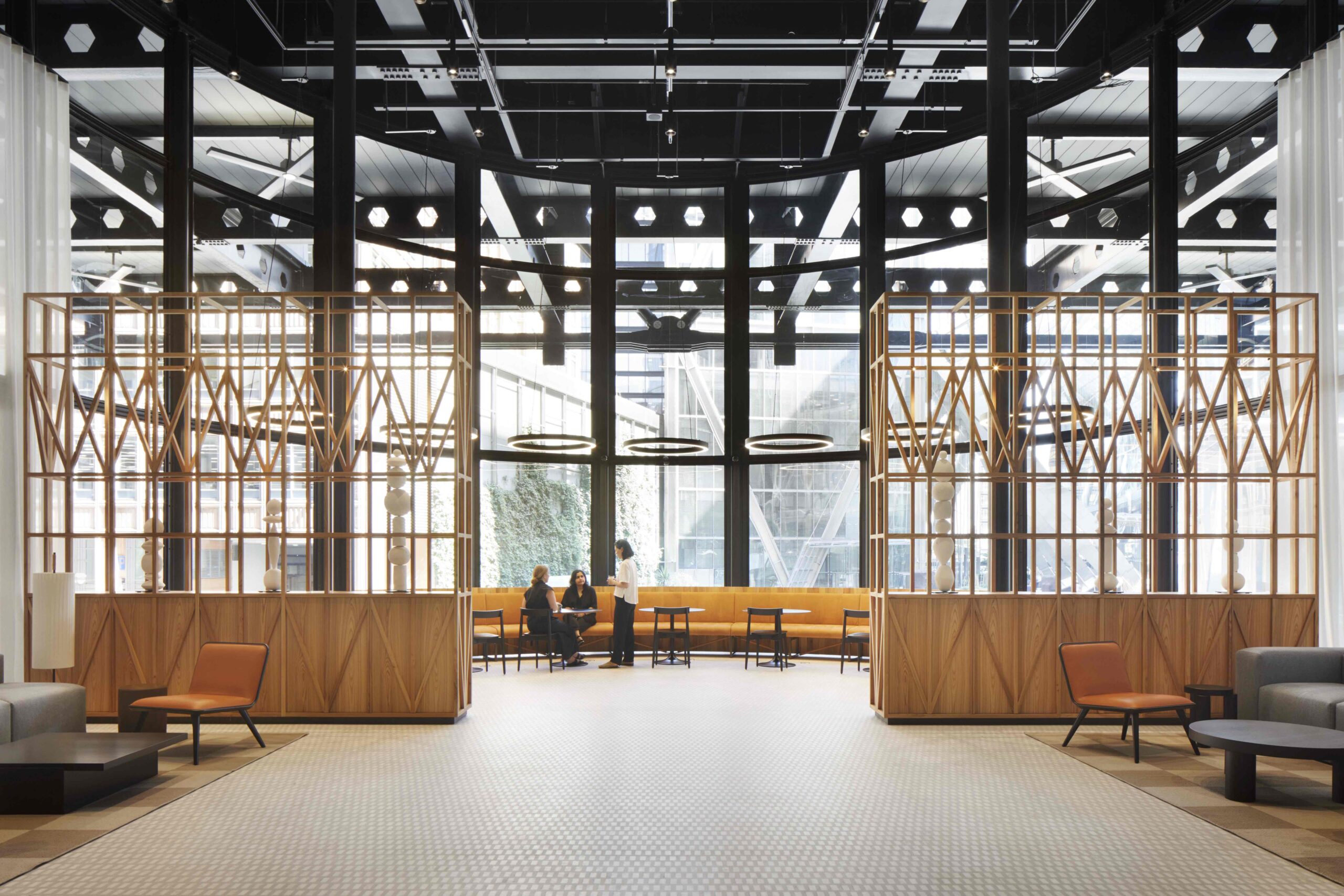 "We love the building. It's quite resilient and has stood the test of time," says director Stuart Piercy. "We wanted a design that was respectful of that history but to bring it into the now."
Crucial to that sensitive update was the newly formed interiors studio, led by Fiona Neil. Previously, the ground floor was "empty and closed," she recalls. "Rather than having just a shiny transfer point that directs people upwards, the goal was to make it a place for the whole building to use, somewhere welcoming to sit that connected to the outside."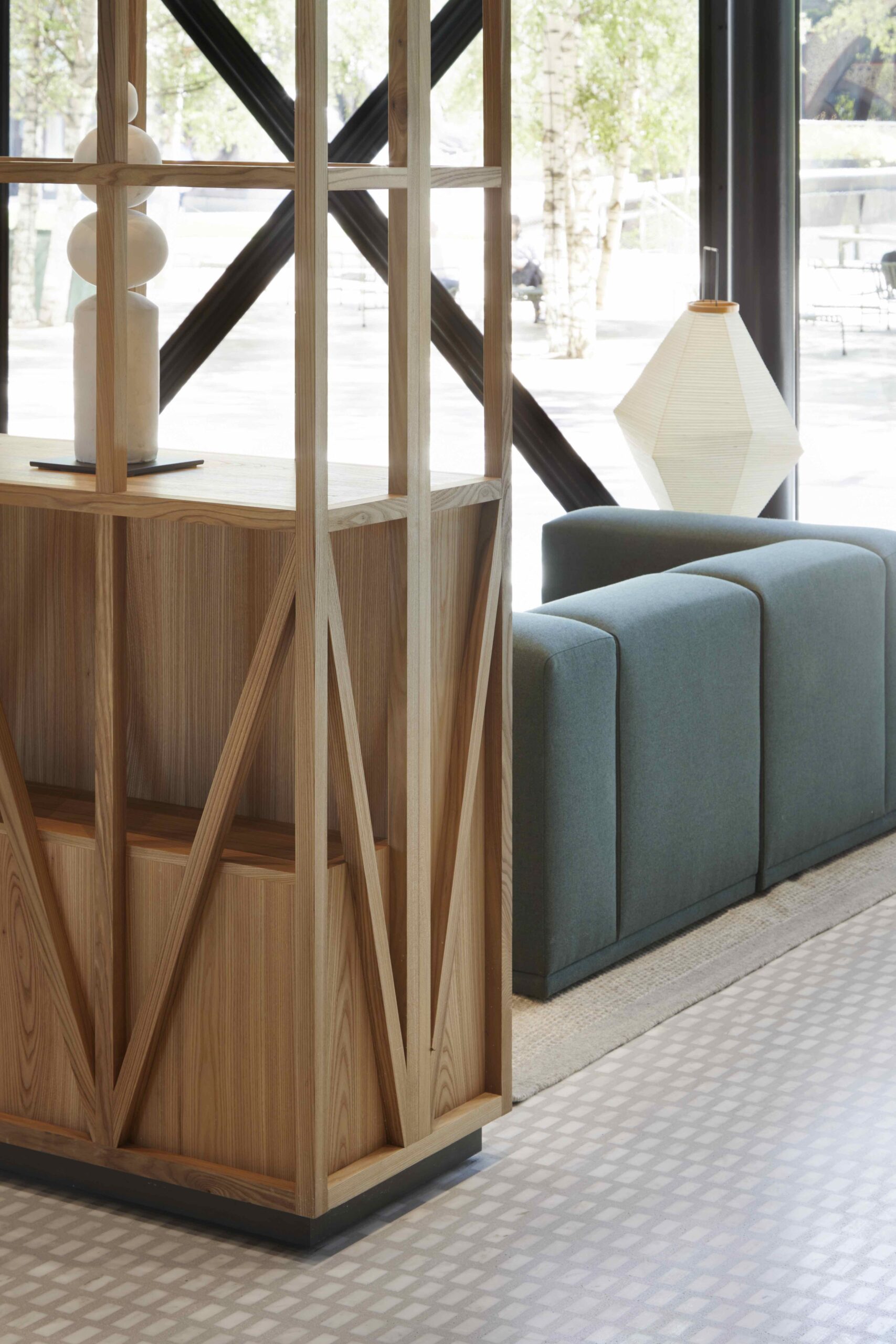 Between its continuous glazing and double height, the lobby directly forges a relationship with the DSDHA-designed Exchange Square right outside, bolstered by a muted palette and touches of greenery. Of note is the bespoke lattice shelving system from English furniture maker Benchmark, fashioned out of sustainable Scottish elm and juxtaposed with London ceramicist Nadine Bell's Raku-fired, stone-shaped porcelain totems.
Piercy especially likes the playful aspect of the joinery and how the partitions represent a soft version of the building's hard steel. "Working with artists and makers who engaged with the iconic architecture and gardens for these site-specific pieces brings a richness and different perspectives to the space," points out Neil.
A curving banquette and lounge seating backdropped by curtains also add warmth, as do the wool tapestries from local textile designer Kangan Arora at reception. Double-sided, so that they can be relished by passersby too, their geometric shapes reinterpret Exchange House's architectural features and are loom-woven in Flanders, Belgium.
"You get a view of these tapestries from the public realm, and I think those kinds of elements that make the building look generous and give back to its surroundings are quite an achievement," adds Neil. "A standard office building can be impenetrable."
The upper floors are just as striking. "We revealed all the volume and light and took everything away to expose the structure. There are now four-metre-high ceilings in there," says Piercy. Crowning Exchange House is a 200-square-metre rooftop terrace designed in collaboration with English landscape architect FFLO.
Piercy&Company was keen to salvage materials, most notably the Pentelikon marble flooring at reception that was relaid in a terrazzo pattern and woven into bathrooms and lift lobbies. "It was technically challenging," explains Neil, "but we were able to reuse 4,000 square feet of original marble within the building."
Images by Jack Hobhouse
Enjoy this article? Read more: The Rowe welcomes the local East London community with an interactive installation