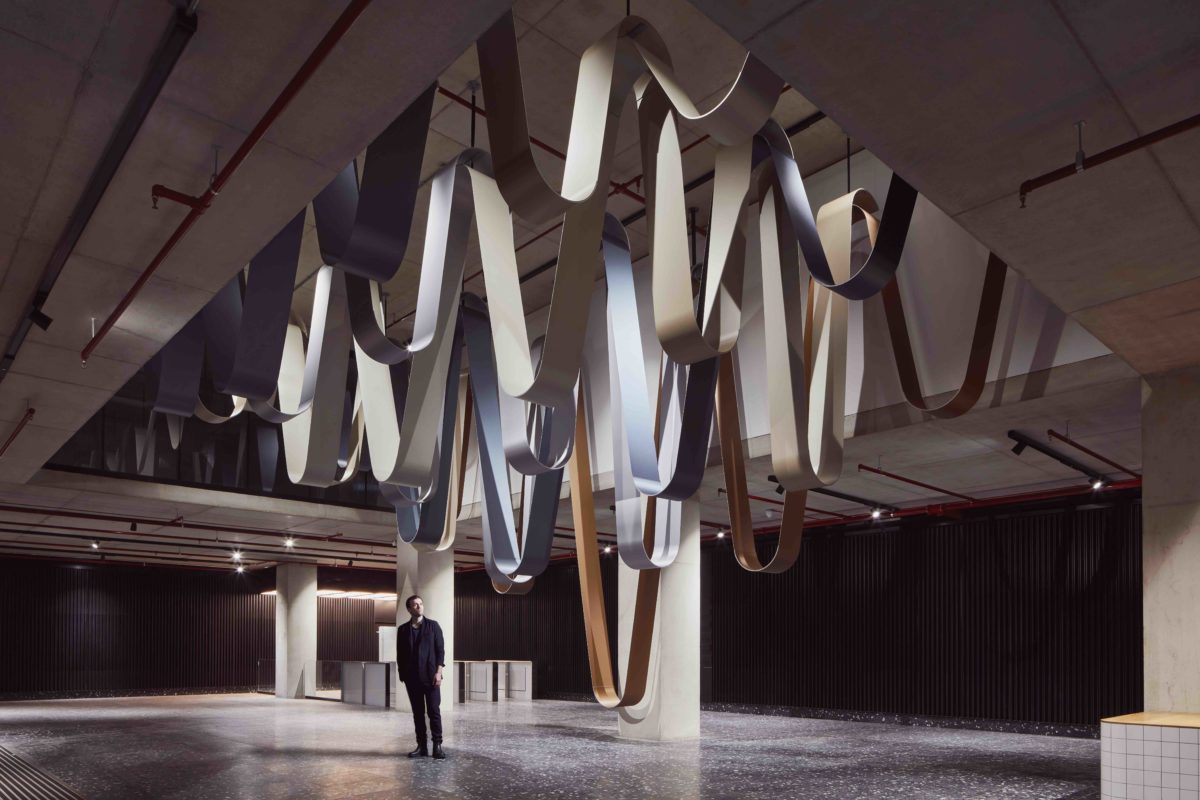 Paul Cocksedge transforms a Brutalist building's lobby in Whitechapel creating the ribbon-like Loop – a permanent art installation inspired by the area's manufacturing past
At The Rowe, a renovated and enlarged Brutalist building in Whitechapel, East London, housing over 162,000 sq ft of office space, visitors encounter arresting site-specific installations by two high-profile, London-based designers
Six floors were added to the existing six-storey building – formerly the School of Art, Architecture and Design at London Metropolitan University (LMU) – in a similarly Brutalist style to create an aesthetically cohesive structure.
Yet the interior has been radically transformed into open-plan workspaces by architects Alford Hall Monaghan Morris for developer Frasers Property, which funded the art installations. Establishing a strong connection between indoors and out, the project also boasts 17,000 sq ft of outdoor space, including a roof terrace and private terraces on each floor.
A monumental, permanent installation by Paul Cocksedge called Loop hangs dramatically from the ceiling of the building's lobby. Made of thin but robust, load-bearing strips of metallic cotton and steel, it's suspended from the entire upper part of the double-height void and recalls analogue celluloid film, albeit on a gigantic scale.
Its neutral colours – rust, silver and a richer brown – harmonise with those of the lobby and appear to nod to the Brutalist building's industrial hues. Yet the ribbon-like installation is mainly inspired by Whitechapel's textile and garment-manufacturing and metal-making heritage.
Loop recalls previous work by Cocksedge, notably his piece, Please Be Seated – created for the London Design Festival in 2019 – a mammoth, undulating wood structure whose troughs functioned as seating.
His installation for The Rowe is similarly interactive since one loop drops down to almost floor level and morphs into a seat. Crucially, Cocksedge sees Loop as an antidote to "untouchable" public art since people are free to interact with it.
This interactive element fulfils a key objective of The Rowe – to welcome the local community. Its roof terrace, café and retail space are also accessible to the public, as is its comparatively vibrant installation by Yinka Ilori, an alumnus of LMU.
His artwork – made of vitreous enamel featuring abstract patterns incorporated into the soffit of the outdoor terrace on the sixth floor – is characteristically vibrant, its juicy colours contrasting unexpectedly with the muted hues of the Brutalist building.
"As a developer, we should strive to make art more accessible, providing an opportunity for tenants, visitors and the community to enjoy art outside traditional gallery spaces," says James Smith, Commercial Director at Frasers Property.
Yet, he adds, the art installations are designed to be life-enhancing for the office staff, too, many of whom work in the creative and technology sectors: "The Rowe demonstrates our efforts to rethink communal spaces and encourage and support social interaction – key to creating a productive, happy work environment."
Images by Mark Cocksedge