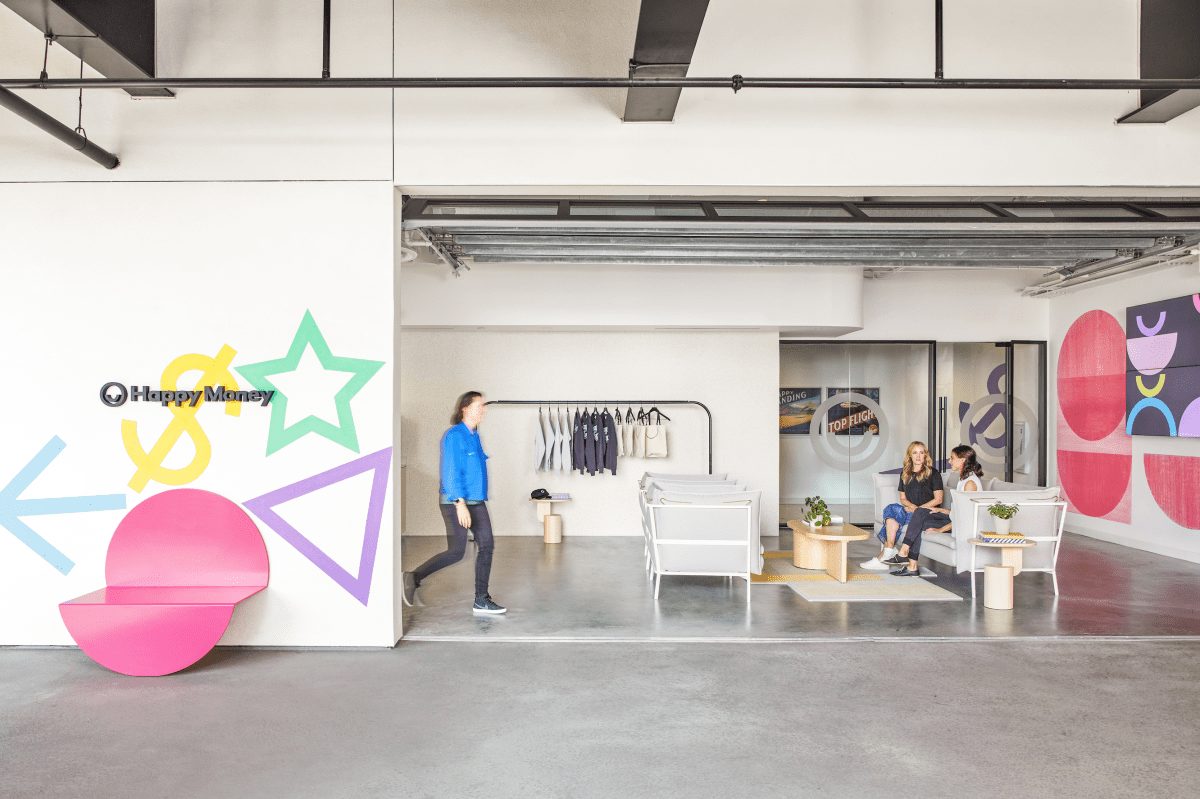 Designed by Rapt Studio, the practice's new project for Happy Money in California uses colour with confidence
Design agency Rapt Studio has unveiled its project for California-based company Happy Money who enlisted the practice to conceive a new multi-level headquarters for its youthful firm.
The designers focused on creating a space that embodied, evoked, and promoted the fundamental principles of happiness, while also bringing Happy Money's playful, effervescent brand to life.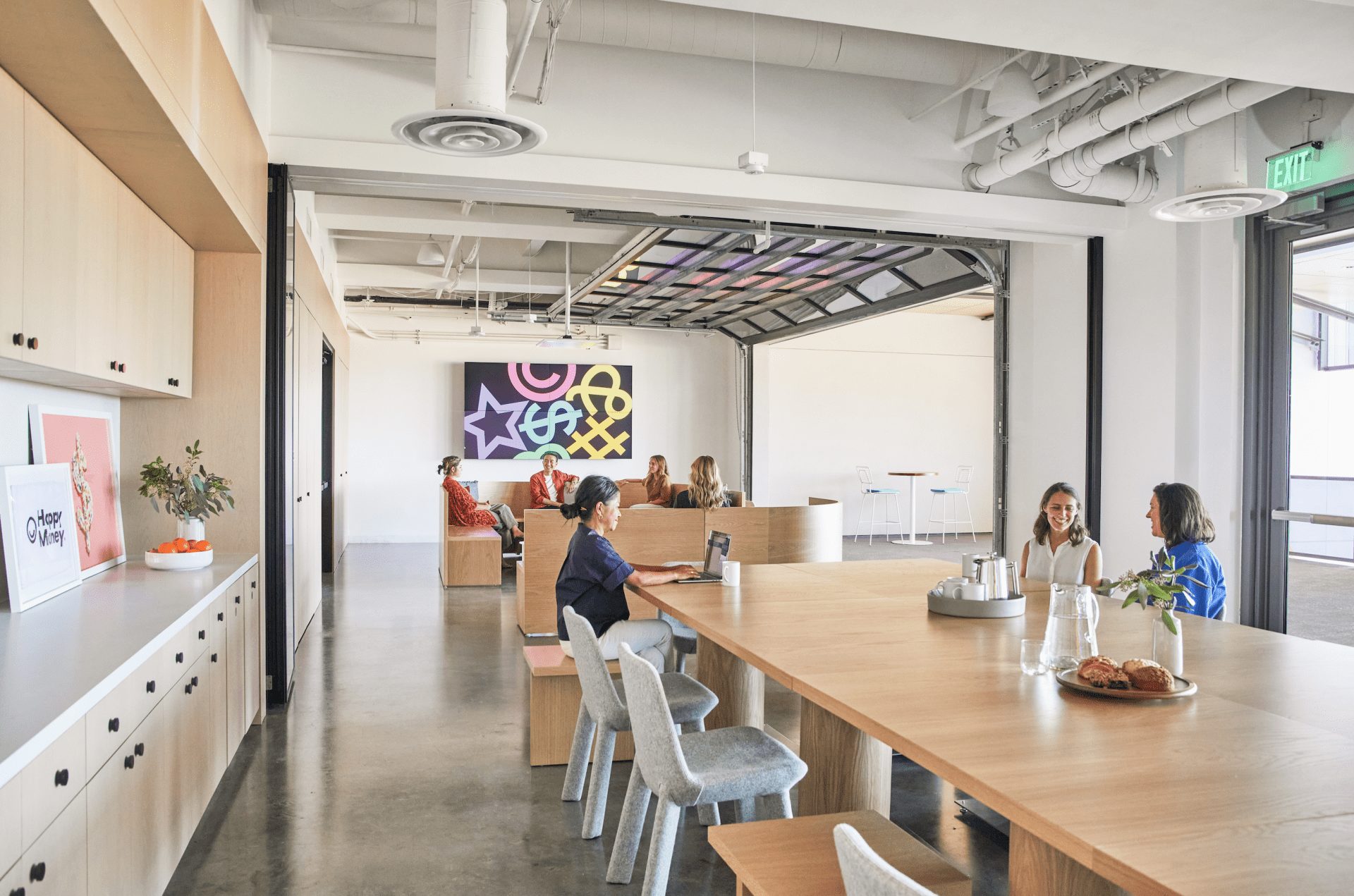 Translating Happy Money's newly refreshed visual identity into three-dimensional space, the bright Orange County office features clever wayfinding to help with navigation and connect the company's various internal teams.
Upon entering, visitors are greeted by a vibrant colour palette and style, which challenges the more traditional aesthetics one would normally expect to find in financial institutions. As such, Rapt Studio combined bold graphic murals – inspired by the brand's iconography – with bright colours, wrapping around walls and doorways.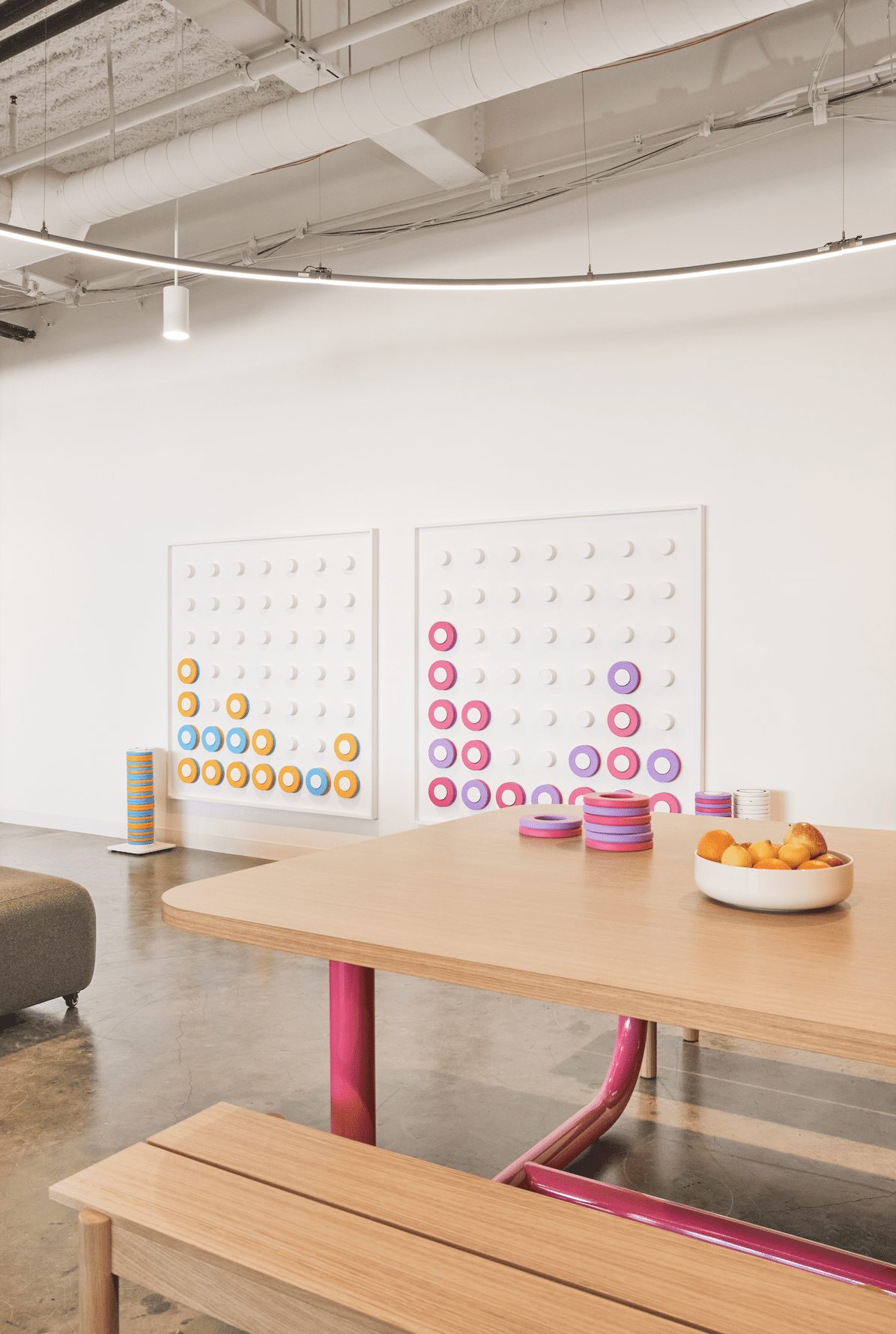 Painted by design fabricators SPMD as well as Coco Nella, a female-owned mural company in LA, these custom art installations and curated framed prints inject bright hues, while the company's altruistic manifesto, is reflected in the raised lettering using shadow and dimensionality.
Across the floors, individual desks are grouped by teams — those working on nurturing existing partnerships and those devoted to developing new ones. To connect the teams, Rapt Studio placed reconfigurable furniture at an even rhythm between clusters of desks to create various 'huddle zones', or open areas where teammates meet to brainstorm ideas using floor-to-ceiling cork boards and white boards.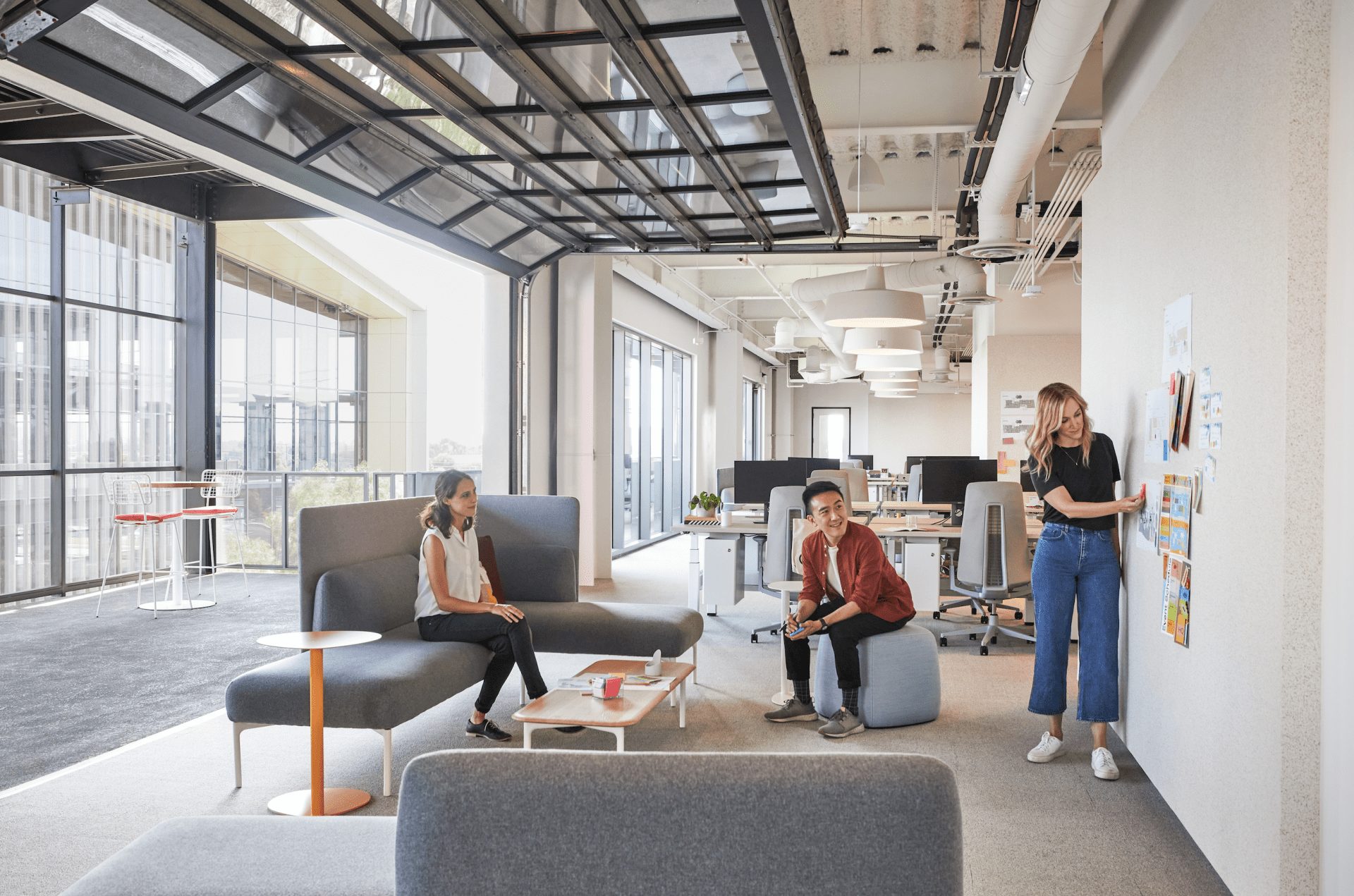 Elsewhere, adjacent, enclosed 'squad rooms' are bookable by teams for more structured collaboration as each team has its own huddle zone and squad room to connect and socialise.
At the heart of the office is a wide staircase bridging the first and second levels. Here, floor-to-ceiling glass windows and doors opening up to a spacious balcony, flood the first and second levels with light and fresh air. Open and inclusive, the space was designed to draw employees together throughout the workday to chat and catch the sun streaming in through double-height windows.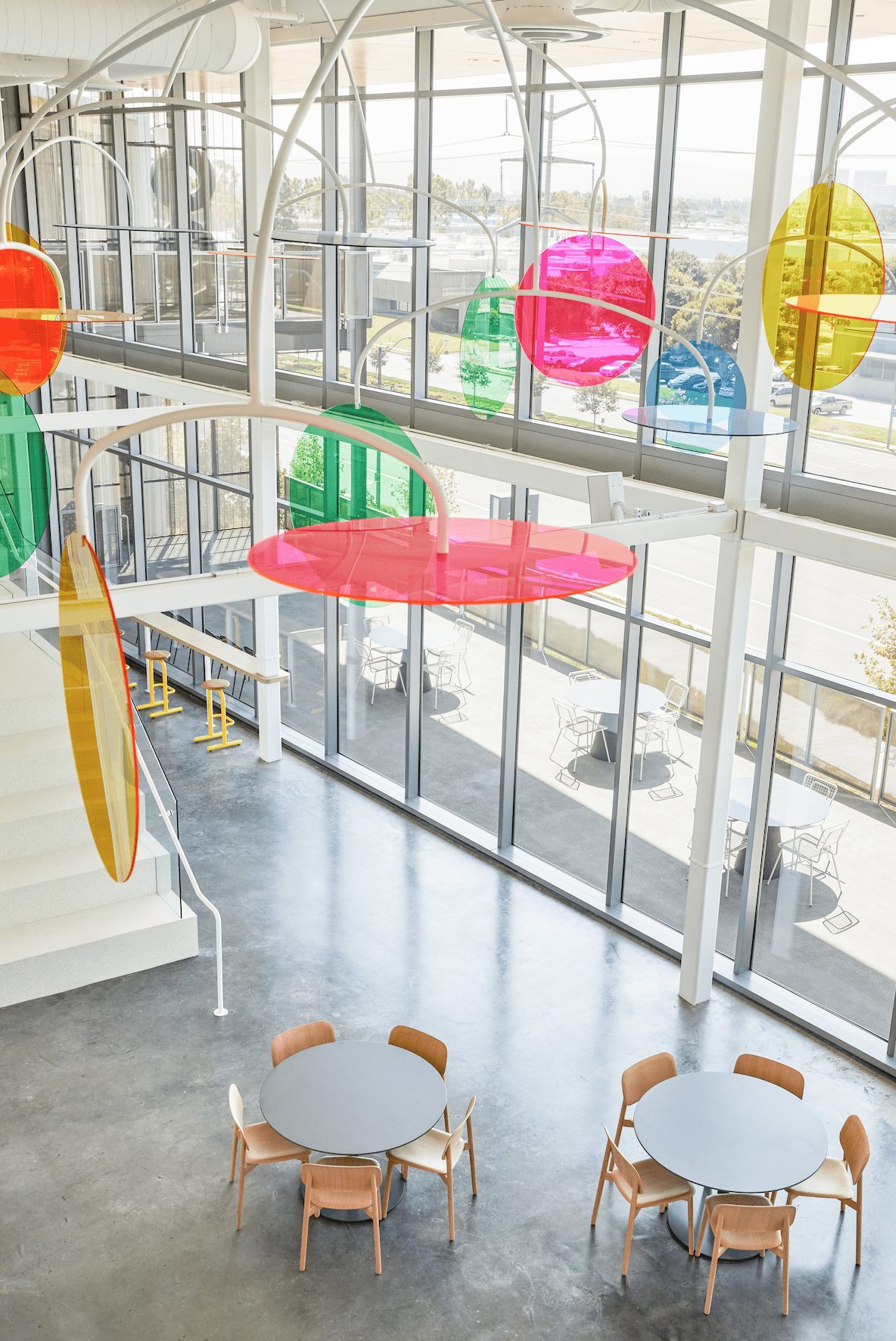 As host to weekly Happy [Money] Hours and events including TED Talks that invite in visitors, the space also features a modern café which serves as a social hub to mix and mingle. A custom mobile fabricated by Powerhouse Sets is suspended above and catches the light with pink, blue, green, and yellow discs. Balancing mid-air, it's a nod to the old money scales used in banking.
Furthermore, employees can come together for dedicated play in a gaming area, which features large-scale games like Connect 4 with custom embossed discs. An altogether different kind of space called Movement Experience is host to high-profile meetings with potential investors, credit union partners, and the company's Board.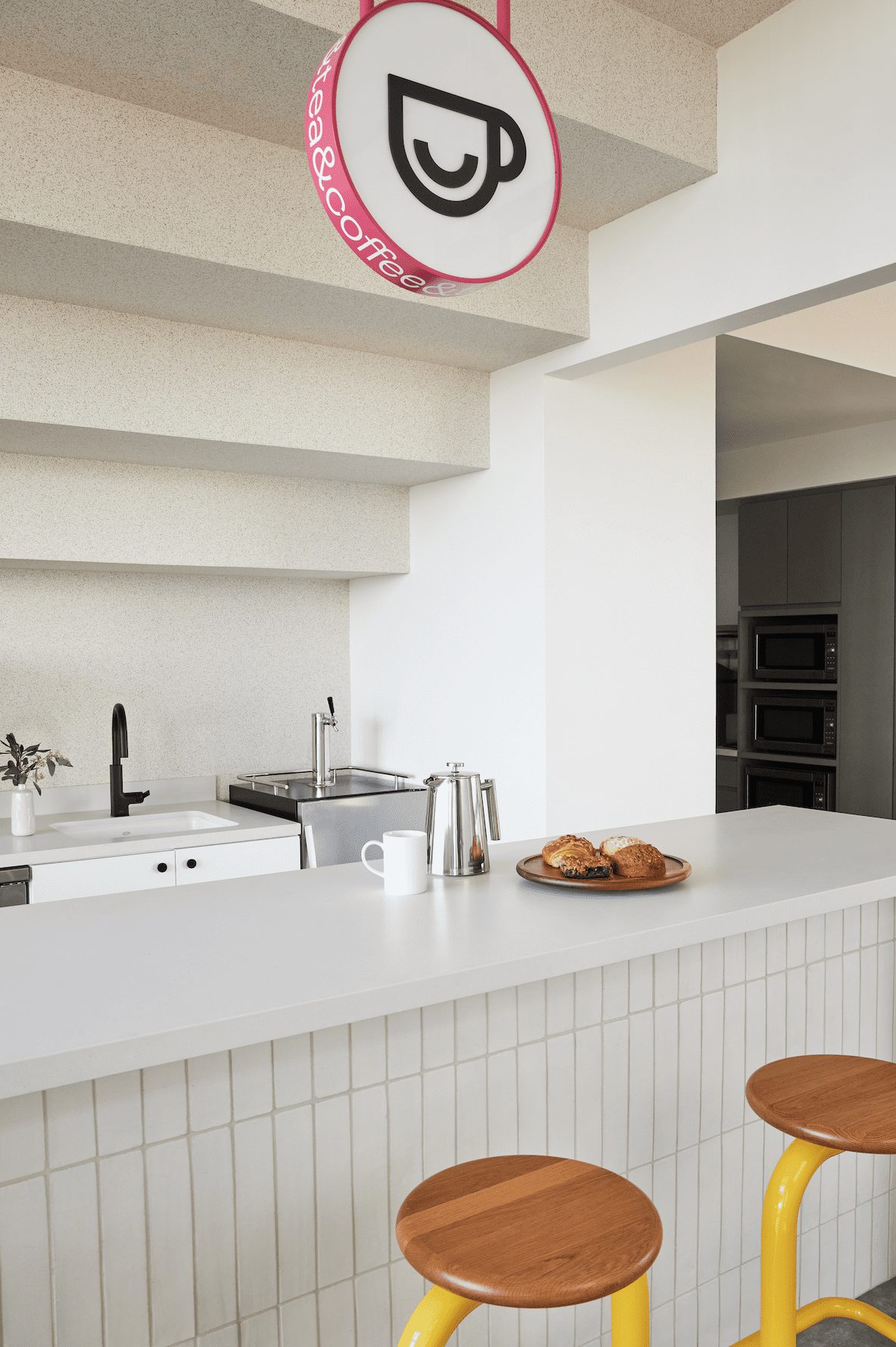 Here, Rapt Studio used modular furniture, flexible partitions, and concealable storage throughout, which allows the room to easily flex between high-touch meetings and internal event hosting, bringing a kind of energy that's not typically expected from the boardrooms of traditional financial companies.
Exuding optimism and cheerfulness that builds upon the company's own data about happy experiences for employees and visitors alike, the space serves as an extension of Happy Money.
"It's an experiential space", says Happy Money of its new headquarters. "It helps visitors get a glimpse into who we are, what we're doing, and the general feeling of us setting out to change the world."
Images by Madeline Tolle