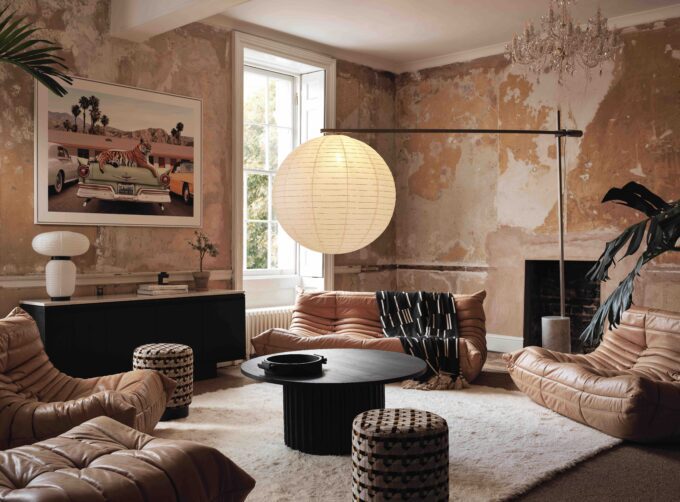 The Session Starts Here: The Old Sessions House, which since the 1780s has looked out over Clerkenwell Green, is embarking on a new life as a Knotel 'workclub', offering a variety of elegant spaces to its clients
Previously, London's largest courthouse, Old Sessions House is today a diverse mix of working environments. Managed by Knotel, the Grade-II* listed building has now become the leading workspace platform's first-ever 'workclub'.
Boasting an impressive set of refined meeting rooms, breakout areas and cosy work zones, the business has reimagined the 18th-century structure as an exciting place to work, connect and innovate: "When we started this project, we asked ourselves what is the future of work? Instead of writing a paper, we wanted to build something. This is the first iteration of this idea."
Located in the heart of Clerkenwell, "the original name of the building was Sessions House, one of the major courthouses in England between 1782-1889," says Dean Connell, creative director at Knotel. Occupying 2,050sq m of space in the Palladian property, Knotel has carefully focused on fostering strong company culture through an array of flexible arrangements.
"The project is a workclub for companies. A place that promotes meetings, co-working and social interactions," he says. Now more than ever, employees need to feel inspired when they go into work, as many would simply prefer to work from home. At Old Sessions House, Knotel aims to get people back into the office, making them feel motivated as they work in a beautifully restored historic building.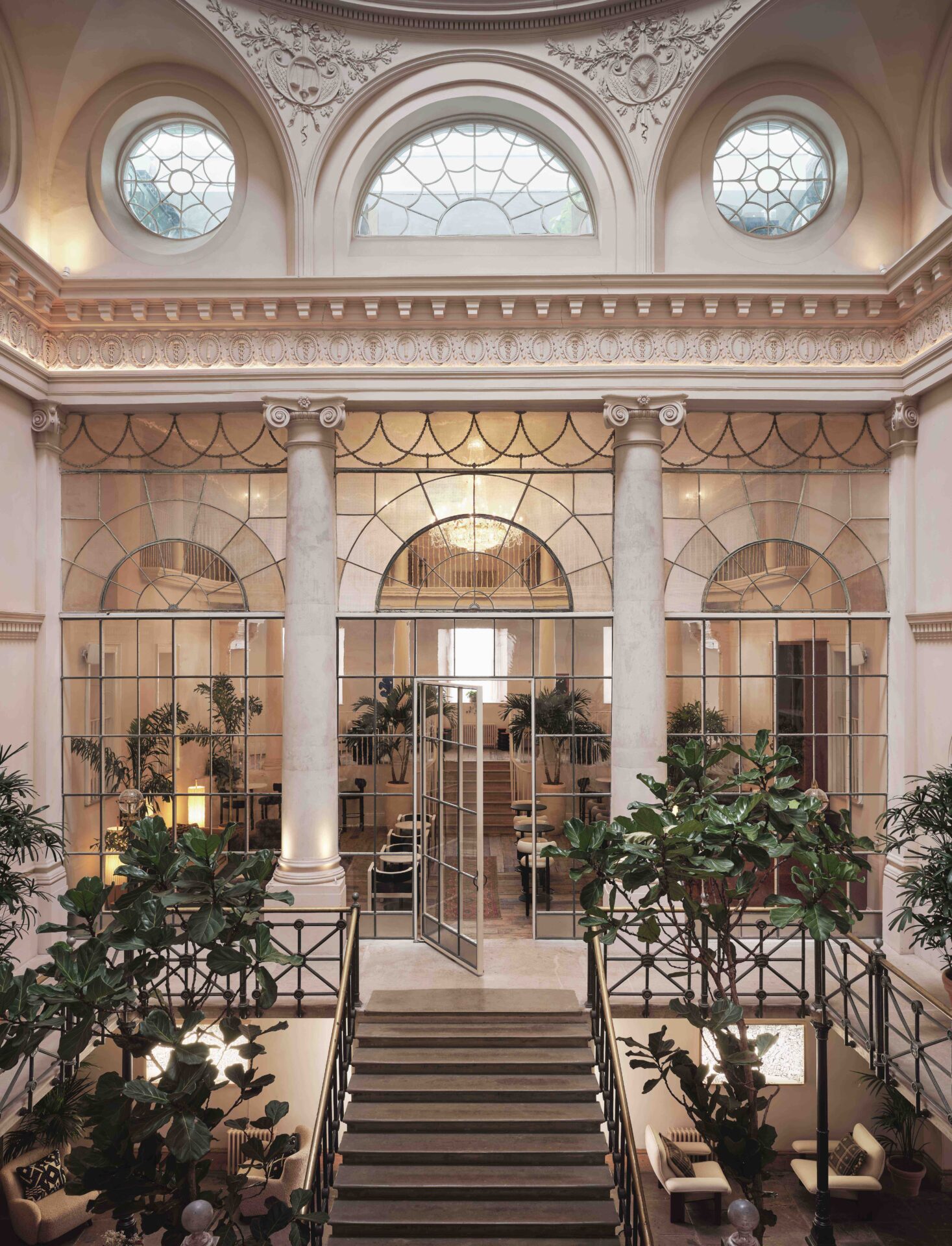 As you enter the property via a set of stairs on Clerkenwell Green you are immediately thrown into a spectacular light-filled atrium space. Here monumental arched windows meet elegant modern furnishings while earthy tones are paired with greens from subtle planting. In this area furniture is deployed in informal arrangements as impromptu meetings and catchups take place. Located on the first floor, this zone features a breathtaking 20m-tall dome designed to emulate the Pantheon in Rome. "People want to be in grand buildings. Therefore, we wanted to tap into the idea that luxury can be accessible. We wanted to create understated elegance," says Connell.
Oozing with personality, this stellar first floor central hall strikes an intricate balance between grandeur and style. Off this main room, refined working zones, humble zoom booths and flexible desk spaces can be found. These areas have differing sound levels, allowing for both quiet independent work and louder team-based activities. This level also incorporates a tasteful serviced-based cafe that features striking Salvadorian paintings by Studio Lenca.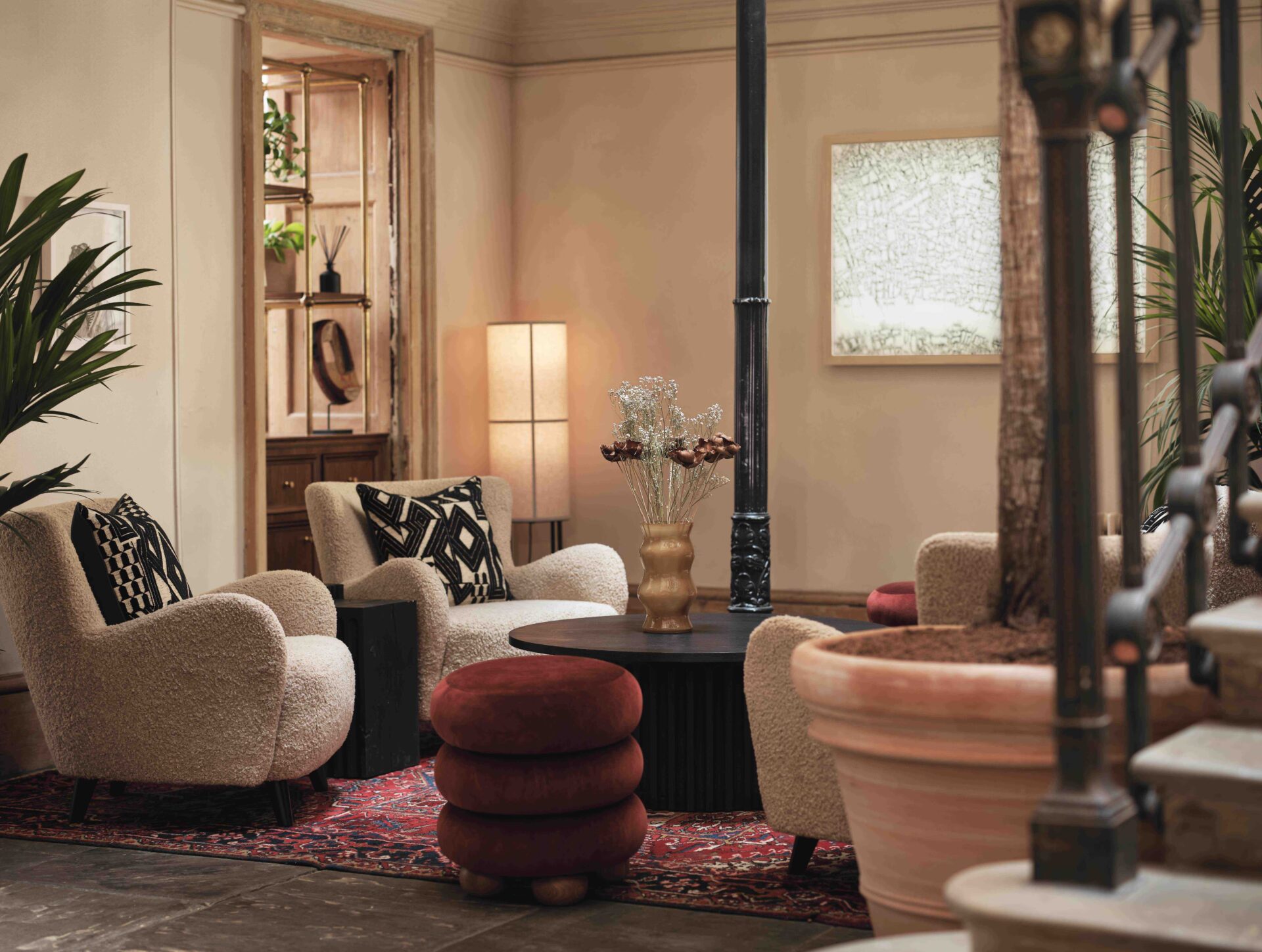 As you venture up the building a carefully restored stone staircase takes you to a magnificent 7m glass screen. Behind it, an eye-catching bar can be found in the former courtroom. This area provides an intimate location for events and gatherings. Here crisp pine flooring is paired with stylish burl walnut panels while black and white furniture is complemented by a triptych of mythical paintings by British-Zambian artist Kay Gasei. Stretching 9m high, the triple-height volume incorporates a viewing gallery that cleverly overlooks the space, allowing for top-down views of the action during social affairs.
Across the bar sits a second former courtroom that can be accessed via another set of stairs. This 8m high room delicately picks up the morning sun through its generous windows. Here Victorian architecture meets contemporary interior design. Like much of the building, the interior is an eclectic mix of raw walls, aged plasterwork and soft furnishings. With a timeless aesthetic, this space can also be used to host team events and gatherings. "We wanted to create a space where companies can empower and inspire their staff," says Connell.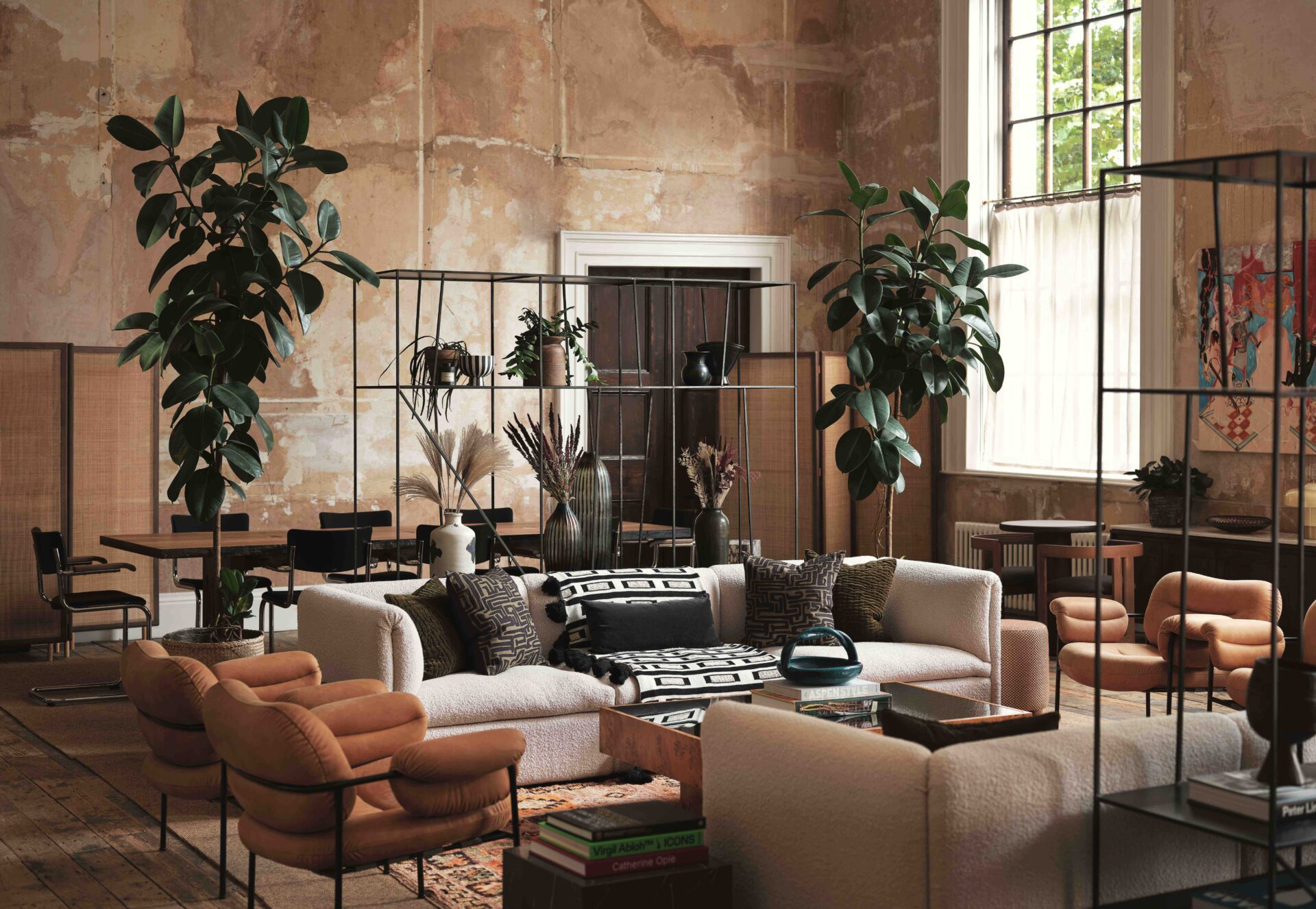 Throughout the Old Sessions House, many of the work zones highlight a rich patina of raw hues and paintwork. Soft brown and cream tones are often contrasted by black furniture, providing sophisticated office environments. Hanging on the walls are stunning art pieces by Zimbabwe-born painter Charmaine Chanakira and multidisciplinary art director Kieren Gallear. Artwork by London-based architect Tannaz Oroumchi can also be seen among the decayed grandeur as you travel around the historic building.
On the upper levels of the property there are rooms reserved for seminars and workshops, while at the top of the Old Sessions House a south-facing private terrace provides magnificent panoramic views across London. Meanwhile at the lowest level of the building, vaulted ceilings and lime-washed brick can be found. Boasting generous ceiling heights, the ground floor incorporates a kitchen alongside a flexible event space. Previously a dungeon that housed prisoners, the footprint of the small cells now gives the lower quarters its unique character.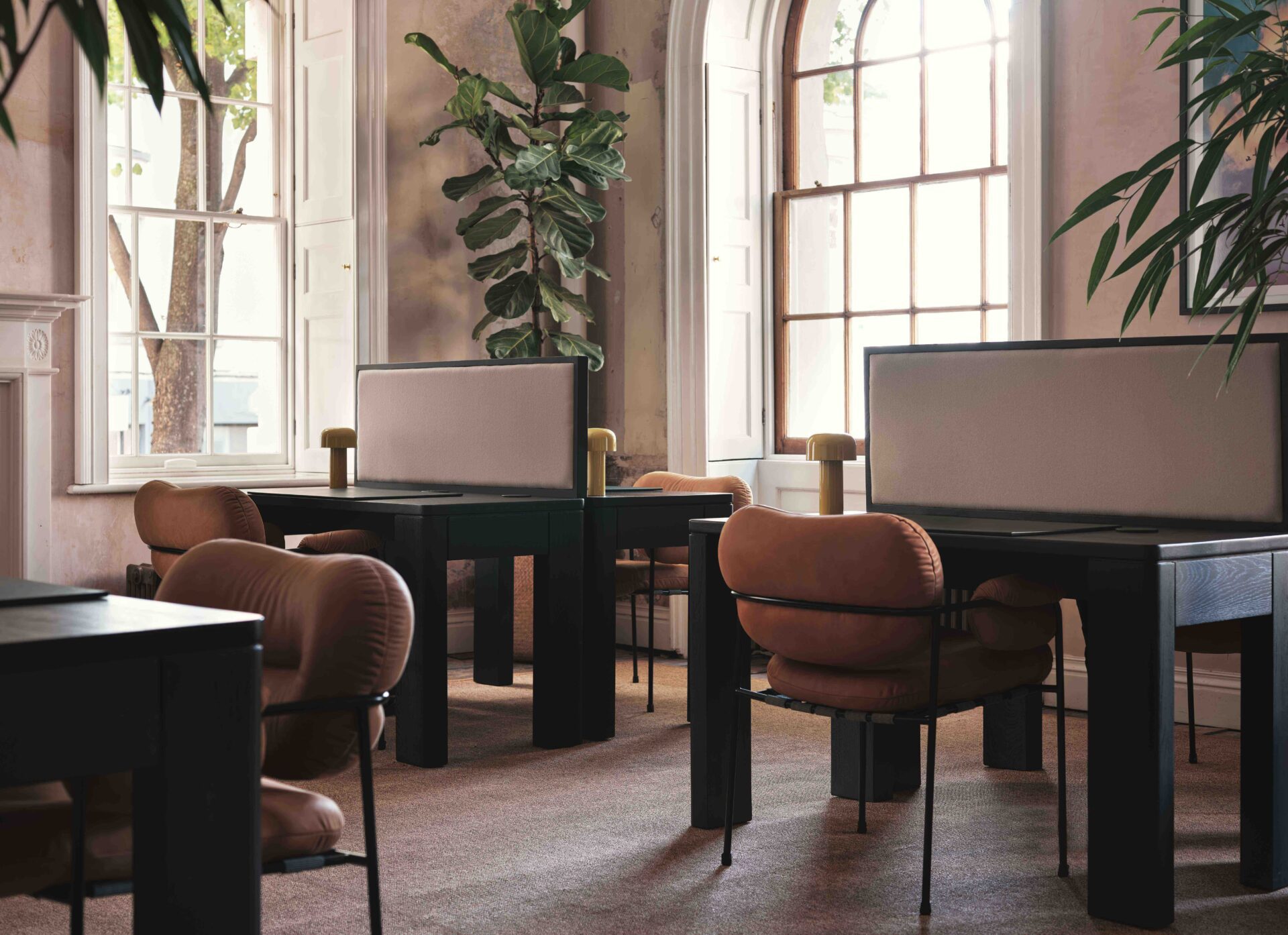 Throughout Old Sessions House there are over 20 rooms which all have base utilities. Knotel's workclub model allows companies and individuals to select from flexible memberships that provide access to desk space, meeting rooms, food and beverage amenities and in-house events.
"For this project we wanted to look at how people are working in a post-pandemic world," says Connell. Members can also use Knotel's mobile app to quickly book areas providing them with freedom and flexibility to adapt to ever-changing workplace needs. Blending modern-day amenities with cultural experiences, the workclub aims to help attract and retain talent.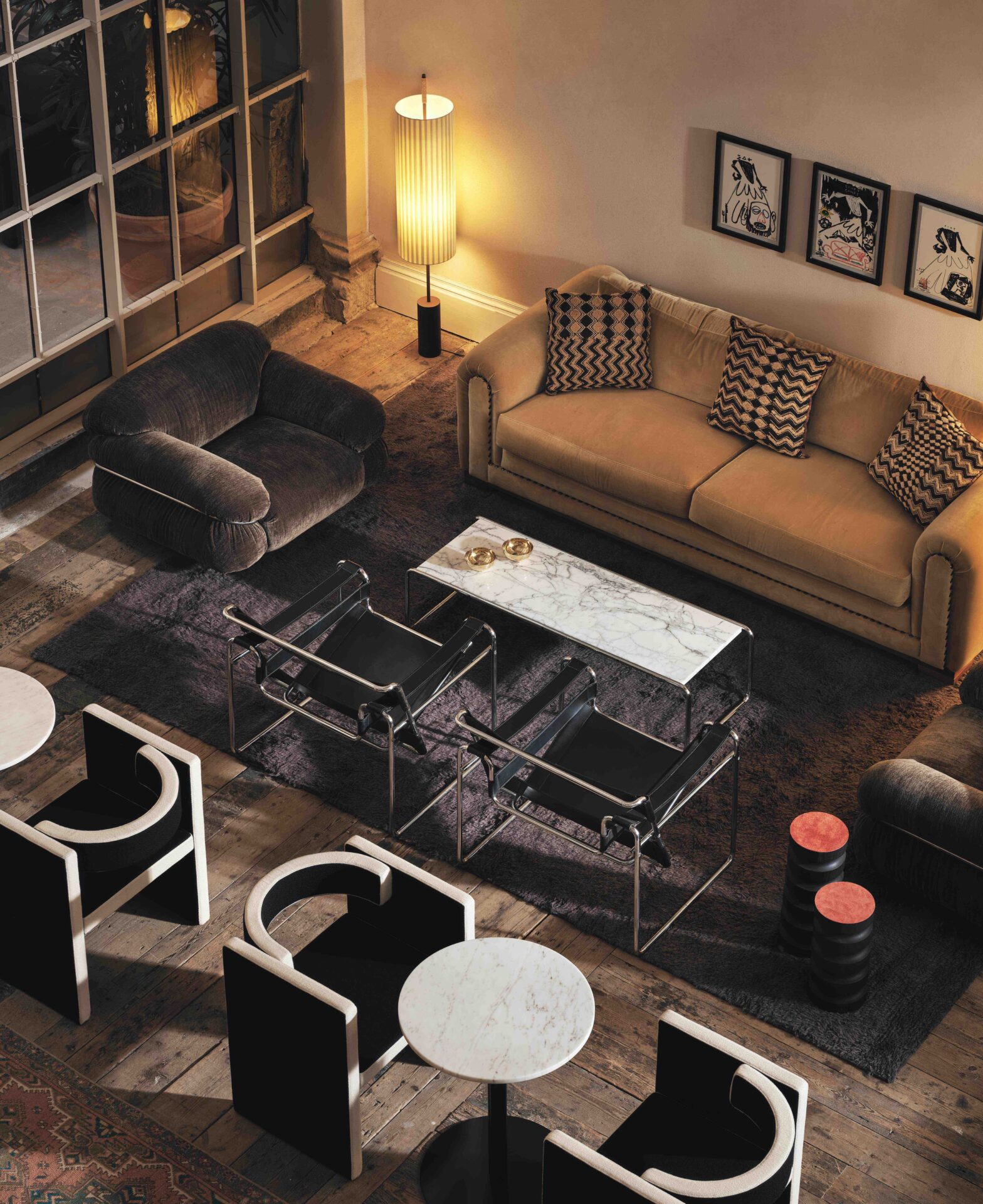 In its latest project, Knotel has added a contemporary twist to a handsome historic building by creating cleverly curated work zones. Spreading offices across multiple floors, it has skilfully overhauled the former courthouse and designed a masterful sequence of elegant and exuberant environments. Celebrating the original fabric, the scheme comprehensively blends modern amenities with post-Covid office needs.
From expansive lounge spaces to intimate meeting rooms, there is something for everyone here. However, Old Sessions House is simply the first stop for Knotel. The workspace platform aims to create a global chain of workclubs each located in distinctive properties. "We believe that the world wants to work differently and that the Knotel workclub can be the conduit for the various 'sessions' that take place throughout one's day," says Connell. "Whether to meet, work or socialise, we help companies adapt to current work trends and offer new cultural experiences."
Images by Felix Speller
As featured in OnOffice 161, Winter 2022. Read a digital version of the issue for free here
During Clerkenwell Design Week Old Sessions House will be home to brand pop-ups and activations, while also acting as the festival hub offering CDW visitors free access between 23 – 25 May
Register for Clerkenwell Design Week for free here