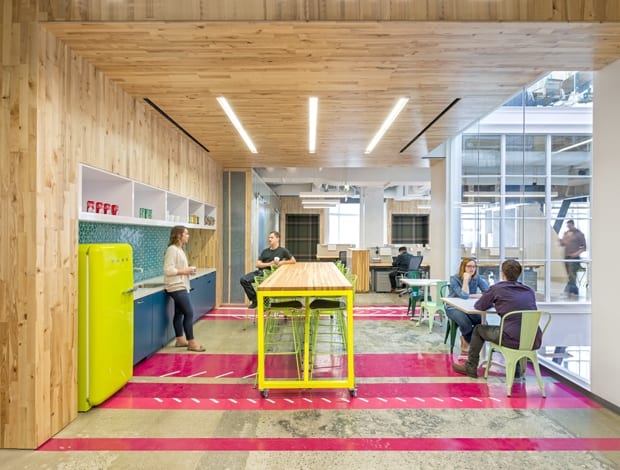 A lime green Smeg and hot pink stripes on the polished concrete|A sculptural stairwell: O+A believes functional elements offer unique opportunities for design|The classroom area includes raw materials such as wood, steel and metal|Bicycle racks are incorporated as a design feature|The tree-house like "nook" for employees to rest in|Hot pink cushions and a glass phone booth beneath the staircase|A quiet spot upholstered in Paul Smith plaid||
Capitol One Labs' new office, designed by Studio O+A, marks a departure from the typical corporate space with pops of neon colour, raw finishes and an elevated 'sleeping nook'.
Bank interiors rarely offer surprises. Carbon-copy layouts, fixed furnishings and a uniform of drab grey with a tick of corporate colour are the custom, reflecting the no-nonsense attitude we expect from financial institutions.
However, US bank Capital One's app team, which creates cutting-edge banking products and experiences for online customers, wanted to distance itself from this somewhat fusty image, its slogan shouts: "Think banking is boring? We're changing that." A crucial step in its reinvention was the redesign of its San Francisco office. Essentially a design studio, staff members wanted a workspace that looked and felt like one.
Studio O+A, which has a client list that includes start-up luminaries such as Yelp, Facebook and Uber, was drafted in to realise this vision and inject a bit of fun into the design.
Polished concrete floors, white ash walls and large expanses of glass and open space provide a neutral backdrop for eye-popping bursts of colour. Eschewing the bank's signature navy and red, the office includes support beams in bright blue, seating cushions in hot pink and a lime green refrigerator. The most striking element is perhaps the stinging-yellow staircase that acts as a sculptural centerpiece in the 325sq m space. This falls in line with O+A's core belief that functional elements offer unique opportunities for design.
For maximum flexibility, the multi-purpose space contains a range of seating options, furniture that can be moved around easily and custom-made wooden tables mounted on casters so they can be reconfigured. To ensure sound is contained within the different areas, O+A incorporated sound blocks made from recycled jeans as an alternative to the usual acoustic panels.
Breakout areas include niches lined in Paul Smith plaid, a glass phone booth and a backlit "nook" that is reached by a ladder. The latter responds to the client's request that the new office included places for its staff to rest.
"The nook… recreates the cozy isolation of a tree house while providing a practical retreat for Capital One's hardworking employees — some of whom participate in one- and two-day brainstorming hack-a-thons during which no one gets much sleep," says O+A.