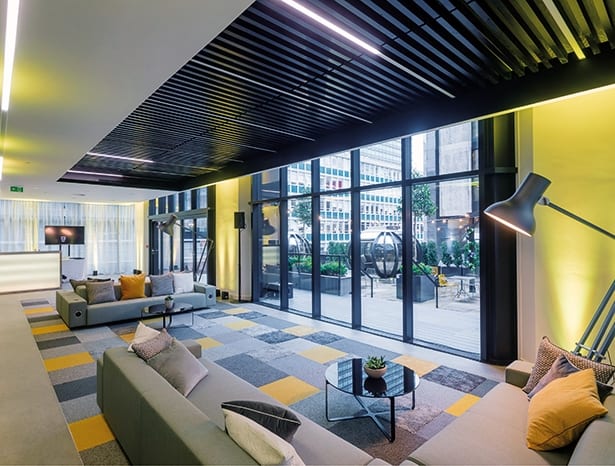 Bruntwood's £8m Neo workspace launched in March|||
In March, Manchester brought its biggest delegation to Mipim in 18 years of attendance and the city's commercial developers have good reason to feel positive. Savills' latest Manchester Office Spotlight report suggests a thriving year ahead for the city.
"Confidence in Manchester's commercial property market is robust. In the offices sector, demand did not waver after the EU referendum," explains James Evans, head of Savills Manchester. "Combined with all the other ingredients Manchester has to offer, the city is well placed to deliver significant high-value business growth and attract further inward investment."
Manchester has the UK's largest office market outside London and is one of the top ten global destinations for foreign direct investment. It has established itself as a hub for various industries – from financial and business services, via manufacturing and logistics, to digital technology and media.
A spiral stair and media wall feature in Bridge Architects' Neo
Known as the first industrial city, its architecture is a melting pot, a mixture of 19th and 20th century styles encompassing the city's famous array of mills and warehouses (many of which have been given new life as office space and apartments) and its extensive modern development.
Office provider Bruntwood boosted its large Manchester portfolio in March with the launch of Neo on Charlotte Street. Located in the former Bank House, which has been totally refurbished by Bridge Architects, the £8m workspace, which is aimed at creatively minded businesses of all sizes, boasts a variety of tech-enabled spaces: co-working space, a screening room, studio space and open-plan offices. A highlight is the large open-air roof terrace with all-weather meeting pods – and there's a £250,000 public digital art space in the reception.
Office interior expert Penketh Group supplied the furniture for Neo and transformed the eighth floor into its own Worklife Showroom to present clients with various office settings, trends and new technologies.
A dramatic blue meeting room in Space Zero's new HQ
Interior design firm Space Zero, recently chose to fit out its own new headquarters at the Zenith Building on Spring Gardens. "Bringing our Manchester HQ into the heart of the commercial district has proved beneficial in a number of ways, and not least because we now feel a real part of the business community," explains its CEO, Wayne Taylor.
The team created a bright design for themselves featuring a colour palette of white and pink teamed with copper accessories. The work settings include a height adjustable desk area, informal "dug out" for collaboration and a library.
Space Zero is known primarily for its work in the education sector so the project provided its designers with "a fantastic opportunity to showcase our commercial interiors design capabilities" in its new neighbourhood. Taylor plans to take full advantage of the location to target Manchester-based clients. His move to establish Space Zero as a leading design firm in the city has already begun and it is now completing its redesign of Zeal Creative's office at MediaCityUK in Salford.
Space Zero's HQ acts as a showcase for the team's interiors skills
A short walk from the Space Zero HQ, co-working specialist Headspace Group has enlisted SA Design to create its new Manchester hub – the group's first space outside London – which opened in February. "Manchester is a thriving hub for small businesses and a genuinely exciting place to be launching. There's been investment and development across the board and there is a growing demand for modern, innovative workspaces," says the group's managing director, Jonny Rosenblatt.
The latest Headspace workspace is located in the Albert Estate, a group of properties around the city's Albert Square, which now provides "flexible workspaces for a variety of businesses including startups, the creative, media and technology sectors", explains Renata Sa, director of SA Design.
Occupying a Grade II* listed building, the youthful hub offers co-working space, themed meeting rooms, private work booths, bars, shower rooms and 60-person event spaces with city views.
Headspace's flexible workspace refers to the city's musical history
SA Design took its inspiration from Manchester's diversity and the city's cultural heritage to develop iconic images and lyrics for the prime spaces. The symbolism of the musical stave runs throughout, while "spaces are linked together with bold transverse lines, linear lighting and wayfinding that unifies the concept design".
Sa believes that Manchester is "changing rapidly" and is fully able to compete with London's most innovative commercial spaces: "Its unique architecture provides an opportunity to allow a dynamic backdrop for the creation of exciting spaces and philosophies on new ways of working, and companies like Headspace are spearheading this opportunity."
On working trends in the city, she says: "It's clear that the recent regeneration of the central areas in the city has stimulated both ongoing and new investment into the region, and with this a desire for collaborative spaces to allow networking and the sharing of ideas. I think we can all feel the confidence growing with the emerging tech, startup and media companies that are generating a new excitement in the region."
The new Headspace hub is in a characterful Grade II* listed building
Upcoming schemes include the £750m Circle Square, which will establish a new neighbourhood at Oxford Road on the BBC's old site. The masterplan combines working, living and social spaces on a site surrounded by some of Manchester's leading centres of knowledge, science and culture. It's an exciting development that plans to connect entrepreneurs, scientists and students and encourage collaboration.
Airport City, directly adjacent to Manchester airport, is another new business destination currently in development and set to be the largest construction project in UK since 2012 London Olympics. The £650m, 464,500sq m neighbourhood will feature offices, hotels and manufacturing, logistics and retail spaces.
Meanwhile, ex-footballers Gary Neville and Ryan Giggs have been making headlines with their £200m St Michael's scheme with Manchester City Council. The original plan to replace three of the city's historic buildings with luxury flats, hotels, offices and restaurants is being refined due to wide criticism from the public and heritage groups.
After furnishing Neo, Penketh has leaser space for a showroom
With several similar mixed-use schemes in the pipeline, St Michael's has shone a spotlight on the need for greater consultation on future plans. Those who hope to take advantage of the demand for development in Manchester will also need to balance sympathy towards the city's cultural and architectural heritage, which is, after all, one of its greatest assets.
Alongside the many new-builds on the horizon, the city is fortunate in the number of existing spaces that can be worked with, says Space Zero's Taylor: "Aside from new stock, there is also a huge variety of secondhand stock in Manchester, much of it in characterful, landmark buildings, which will continue to need re-designing and refurbishing to ensure it remains suitable for modern occupiers and working practices."
Penketh's eighth-floor showroom gives views across the city
The city boasts the largest office market outside London, developments such as the new Airport City and a wave of creative launches