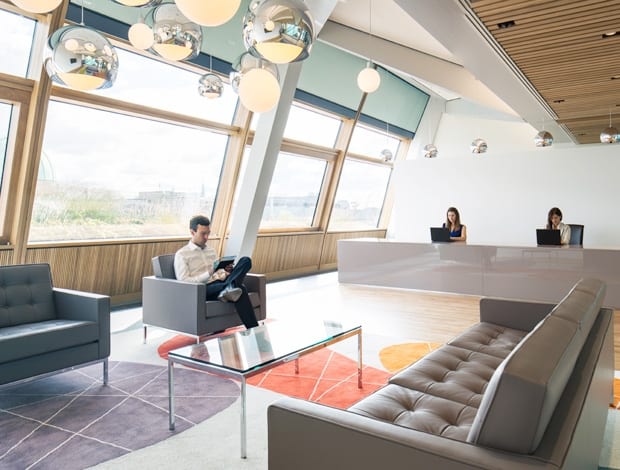 The bespoke rug in reception combines the Case Study Houses colour scheme|Classic Eames chairs were also used in the Case Study Homes|A slanted-ceiling boardroom|Sculptural clusters of lighting in the reception area|'The best of Modernisn' encapsulated in the Mayfair office design|The office boasts spectacular views across the rooftops of central London||
Taking design cues from the iconic Los Angeles Case Study Houses programme, Fletcher Priest has redeveloped a Mayfair office to emphasise the Californian roots of its investment firm client.
Fletcher Priest partner Tim Fyles told onoffice the design takes the best of west coast modernism embodied by the programme. Coincidently the photographer who popularised the style, Julius Shulman, is currently the subject of an exhibition at the Barbican.
The 2700sq m office covers two floors in a Crown Estate landmark redevelopment on Regent Street. It is divided into open-plan and cellular workspaces, as well as conference rooms, staff facilities and reception.
The space already contained timber-framed curtain walling, which Fletcher Priest complemented with materials and colours inspired by the Case Study Houses' interiors. A bespoke designer rug in the reception area brings together these colours to create a focal point for the design intent, and, in combination with the timber flooring and ceiling, creates a homely and inviting atmosphere.
Classic Eames chairs are used in the meeting and dining room, while the reception furniture are Florence Knoll originals. Knoll and Eames created furniture and products for the original Case Study Houses embellishing the link between the office and its historical inspiration.
A variety of shapes of lighting pendants have been hung throughout the office to create visual interest and distinguish the different areas. In the front of house areas, pendant light cluster together to create a sculptural effect.
"Although diverse in shape, these selected fittings are simple and minimalist in design, so as not to deter from the furniture and vibrant colours, but instead to provide a pristine and intriguing light source," said Fyles.
"The open-plan office spaces have linear slot lights with a cool white colour temperature, which ensures the perception of illumination throughout, whereas all the pendant lights in the individual room and areas are warm white to achieve a more homely quality."