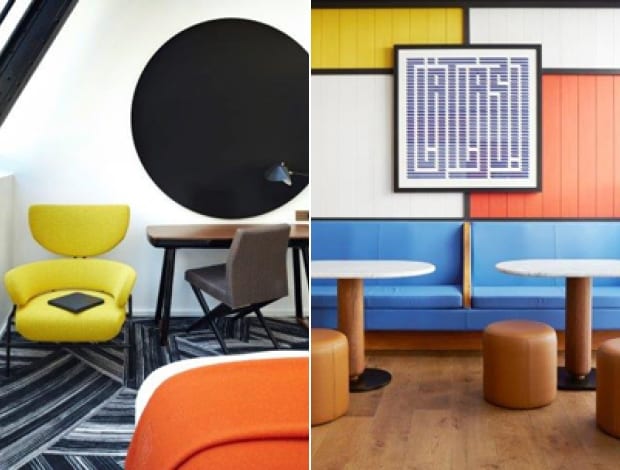 ||
Design-centric Parisian bolthole the Hôtel du Ministère, which originally opened in 2011, has proved so popular that it has taken over some adjacent former artists' studios, adding some suitably creative accommodation.
The extension to the hotel in the city's 8th arrondissement has been carried out by interior designer François Champsaur, who was also responsible for the original hotel. The first manifestation was a playfully over-the-top creation, adorned with colour, contemporary art and graphic design, and the new wing on a side street doesn't disappoint.
Marseille-born Champsaur has added a top-floor skylight and another 18 rooms made up of singles, suites and duplexes. Their look plays on the building's industrial heritage and its former occupants.
So, for example, "the metal structure of one of the building's facades reflects the late-19th-century architectural style of the Eiffel Tower," and rooms overlooking a courtyard have double-height steel-framed glazed walls. The choice of mid-century, tubular steel-framed seating – Carlo Molino's Gilda armchair and Franco Albini's Tre Pezzi – adds to the industrial aesthetic.
Meanwhile, the spirit of the artist's studio is conjured up in "the linear fixtures and fittings, along with the painterly brushstrokes of the black and white carpet", says Champsaur. And the curtains, when drawn, reveal themselves to be a painting.
Four years ago, Champsaur designed each of the 24 bedrooms to be slightly different. For phase two, each room's colour scheme is based on one of the three primary colours. and those on the top floor have glass ceilings, courtesy of the skylight.
The rooms, which are aimed at business people as well as leisure guests, are up to 50sq m, so their lounge areas with work desks convert into secondary sleeping spaces. Bathrooms are mostly black and white and boast an asymmetrical washbasin and mirror for a touch of surrealism.
The old and the new parts of Hôtel du Ministère are joined together by a bright breakfast room, in which more colours abound.
Champsaur was instrumental in picking the art for both phases. "I chose artworks by artists I know personally and for whom I have great admiration. Also, the client wanted a 'private' art collection for the hotel, so I gave him advice as if I was buying for myself." Works on display in the bedrooms, bathrooms and common areas include sculptures by Sébastien Kito, lithographs by David Lynch and works by Carmen Perrin, Stephanie Guglielmetti and French-German artist duo KRM.
The designer now has a string of French hotels to his name: his studio has been responsible for Le Metropolitan and the Hôtel Vernet in the capital, as well as the Royal Evian Hotel in Evian-Les-Bains.
Designer François Champsaur revisits a Parisian boutique hotel to create a new wing with artistic flair