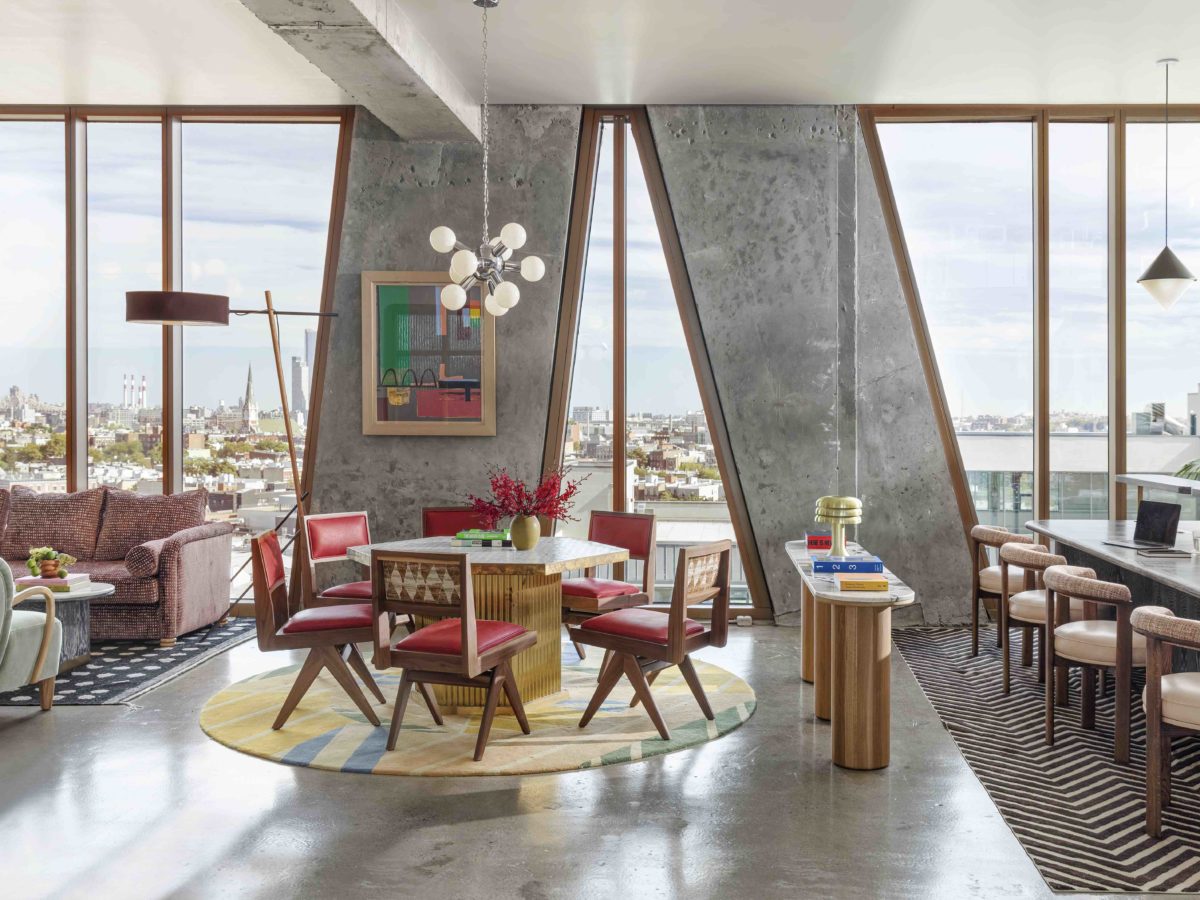 High up in the iconic William Vale building in Williamsburg, The Malin shared workspace offers inspiring interiors and flexible services for its Brooklyn clients
The Malin's design is driven by comfort and productivity – form and function are in balance," says Ciaran McGuigan, the founder of the company behind the new Malin shared workspace in Williamsburg. "We are using the very best materials available but nothing is too precious – we want our members to feel at home."
The Malin Williamsburg is a 930sq m space located on the ninth floor of The William Vale, which includes an upmarket hotel that sits between McCarren Park and the waterfront, on the quieter edge of one of New York's coolest neighbourhoods. The brutalist architecture of the hotel presented an exciting design challenge for McGuigan, who worked with boutique interior architecture and design firm Fettle to bring the space to life.
"Both the greatest and most challenging aspect of this project was the stunning brutalist shell of the iconic William Vale," says Tom Parker, Fettle's co-founder and creative director. "Creating a liveable, cosy interior here involved lots of layering of fabrics, furniture and lighting against the angled concrete and glass shell. The juxtaposition between the harshness of the shell and the warmth of the interior install really gives the space a dynamic feel."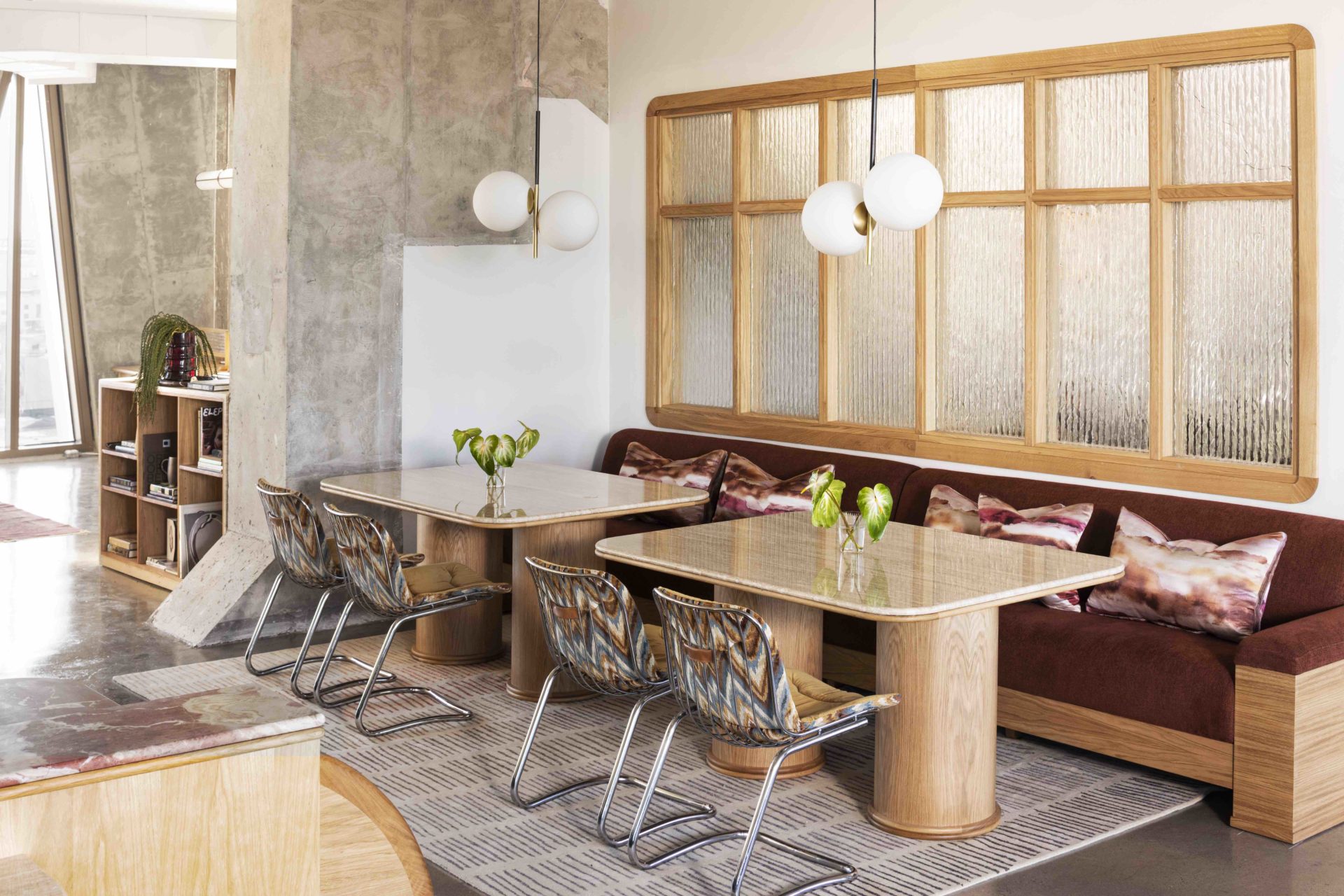 The intimate size of the boutique workspace is complemented by the care and attention taken in its design. On arrival, guests are greeted with an inviting reception area, clad in marble, brass and custom millwork made of solid oak. Accents of gold and green, as well as plenty of potted plants, set the tone for the entire workspace, which also offers 360-degree views of the New York skyline. "Everything is set against views of Greenpoint, Queens, Manhattan and the East River," says McGuigan.
To offset exposed concrete floors and angular shuttered walls of the minimalist architecture, the interiors feature warm, textured materials, such as solid oak millwork and large reeded glass walls. Custom furnishings upholstered in rich velvet and leather are paired with deep rugs, all in hues that reflect the surrounding landscape and views. "There is so much diversity in architecture and colour. We wanted to bring that same energy inside our space," explains McGuigan.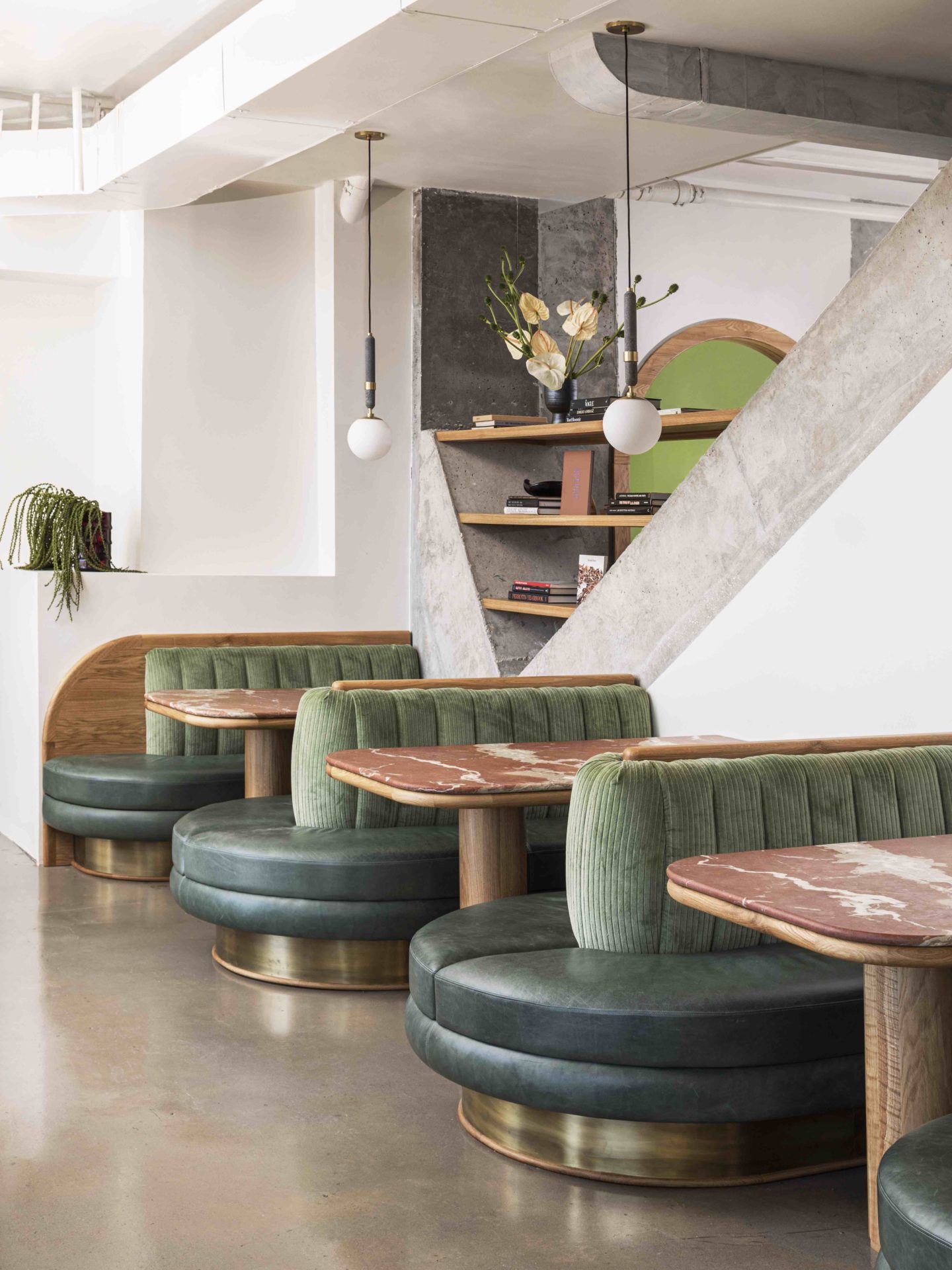 Marble and travertine are used for conference room tables and surfaces throughout. McGuigan and his in-house design team sources lighting by the likes of Roll & Hill, Kelly Wearstler and Thomas O'Brien and added some vintage pieces into the mix.
The cosy common area, which takes up much of the square footage, features standing and sitting desks, breakout areas as well as plenty of plush, deep seating and natural light. "This space is excellent for escaping into deep work or even hosting small business gatherings after hours," says McGuigan.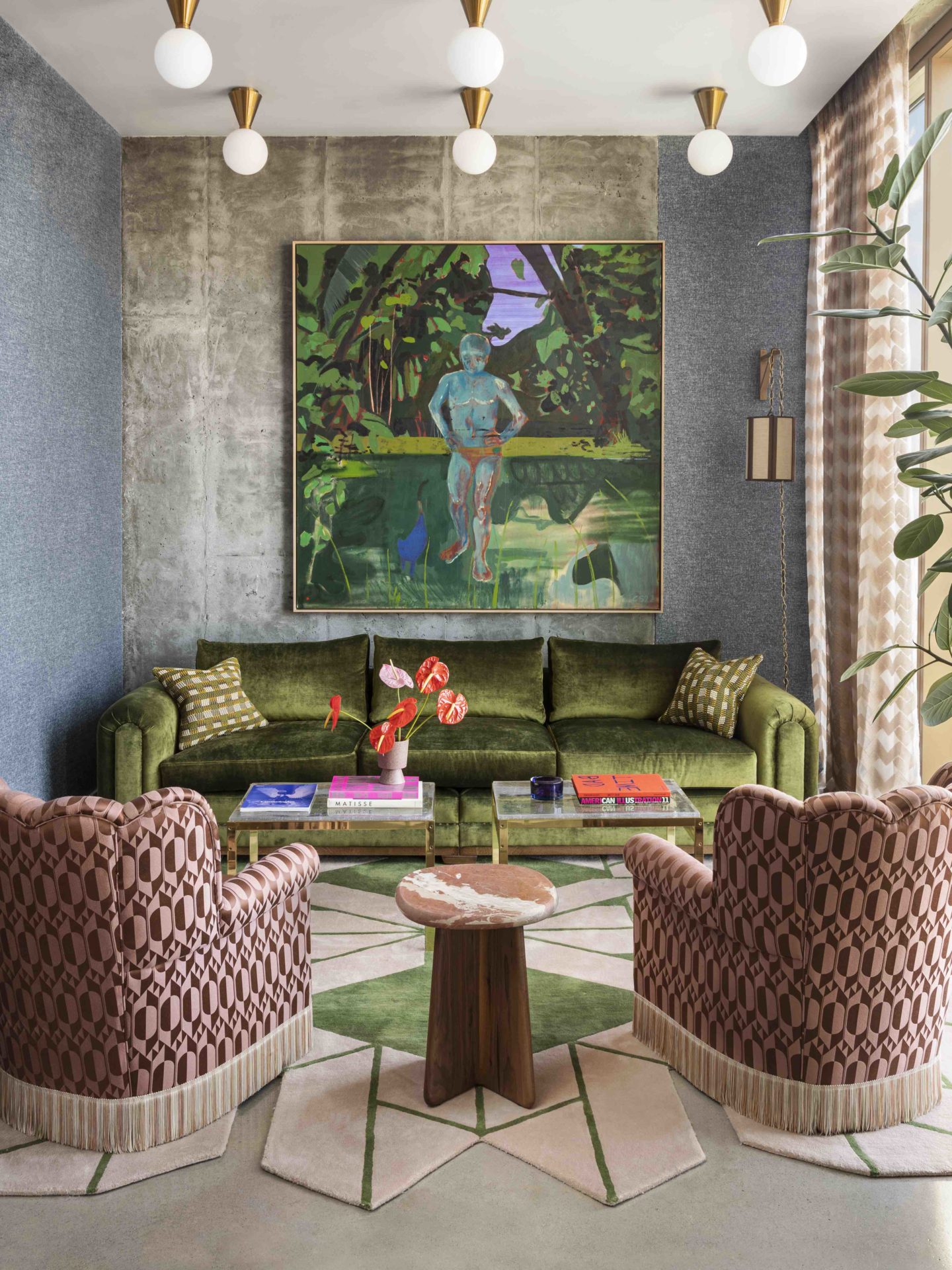 But there are plenty of private spaces too, from the cosy and secluded library to the seven private offices and tech-powered conference rooms, which enable video conferencing, all housed along the window-lined perimeter of the workspace. There are also 40 dedicated desks, which are custom designed in oak with crystal dividers, leather surfaces, built-in power supply and brass hardware. A well-equipped kitchen is also on hand.
The Malin serves small teams and independent professionals and prides itself on being open to anyone – there is no vetting process. It offers support for members, such as prepping for a board meeting, managing a large mail-out, taking notes or running errands in the neighbourhood. "We aim to help alleviate the day-to-day tasks that can be burdensome. You tell us what you need and we can make it happen," says McGuigan. In addition, its membership model allows for a high level of flexibility. "We can offer a team a certain number of dedicated desks, with additional access memberships to be shared across its hybrid workers," he adds.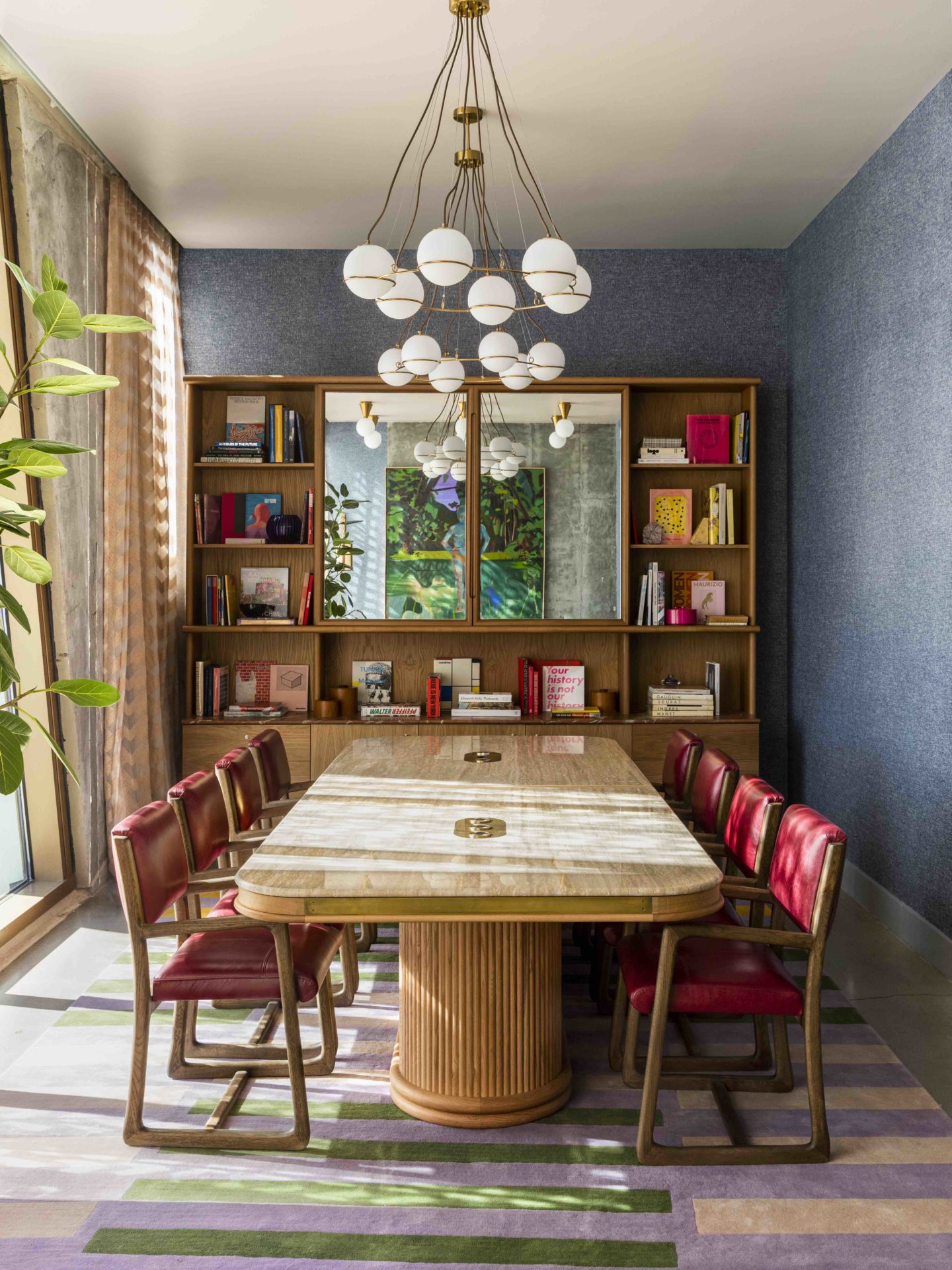 What's more, the Malin is well on its way to establishing itself as a neighbourhood staple, building relationships with the north Brooklyn community. Members get special room rates at the hotel and a discount at the southern Italian restaurant Leuca. Malin guests also receive special discounts at spots such as Modo Yoga, wellness club Recovery Haus, and onsite Isla & Co restaurant, which offers happy-hour perks.
The team behind The Malin, for whom this is a second outing, has hit upon a winning formula – creating a shared office whose elevated design inspires members to do their best work, while offering a bespoke, flexible service that facilitates modern-day working arrangements. "With The Malin, we are meeting the moment of how businesses are engaging with their employees, both remotely and in person," adds McGuigan.
Images by Lesley Unruh
As featured in OnOffice 161, Winter 2022. Read a digital version of the issue for free here
The print version of this article misstates that The Malin was situated in the William Vale, an upmarket hotel. The William Vale refers to the entire building in which both The Malin and a hotel are located.