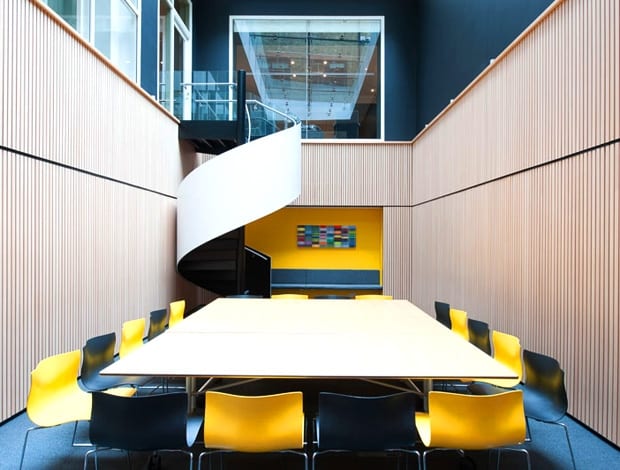 Brady Mallalieu panelled the atrium with an acoustic timber-batten system|The spiral staircase links the atrium to the ground floor and acts as point of interest in the room|The staircase's balustrade is made with glass at the ground floor level to avoid breaking up the horizontal plane of the wooden panelling||
Brady Mallalieu Architects has completed the final phase in the refurbishment of Brown Rudnick's Mayfair office, which has been designed to reflect the evolving architectural style of the area.
The Grade II-listed Georgian house is characterised by oil-painted murals in the entrance hall and an original stone staircase. The building has subsequently been extended to the rear with a modern office building and double-height glass topped atrium that connects the two structures.
Brown Rudnick uses the atrium space for seminars, meetings and social events, however the room's hard, reflective surfaces were found to compromise acoustics. The law firm also required better access from the atrium to the main reception for public functions, rather than relying on the service corridor.
Brady Mallalieu tackled these issues by panelling the walls with an acoustic timber-batten system and installing a spiral staircase that links the atrium to the ground floor and acts as point of interest in the room.
The bespoke steel staircase is coloured white on the outside and black on the inside, but fixes to a glass balustrade when it reaches the upper level so it doesn't interrupt the strong horizontal plane of wood panelling. By chance, both the staircase by EeStairs and the artwork by Ditty Ketting are of Dutch origin, which links the historic and contemporary aspects of the building.
"The atrium is part of a modern office addition to the rear of the listed Georgian house, but can be viewed from some of the historic interiors," the practice's Robin Mallalieu told onoffice. "The character of most old buildings is not the product of a single historical moment but is defined by the accumulated layers of their history and this is the source of their interest and fascination.
"The atrium at Clifford Street is the latest layer of construction for this historic building, contemporary in character but sympathetic in intent and the diversity of styles between old and new, [and provides] a source of visual interest and drama."