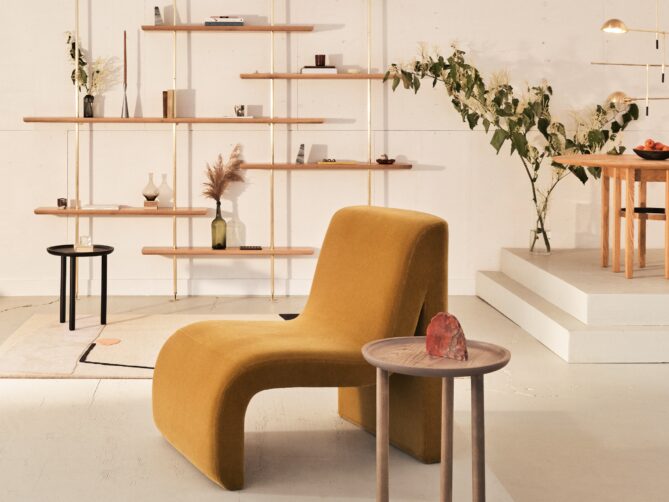 Coil + Drift relocated their design studio – creating an office, showroom and workshop – to the slower-paced Western Catskills, two hours north of New York City
The bucolic, slow-paced Western Catskills, some two hours north of New York City, began to wondrously unfold for John Sorensen-Jolink on regular weekend jaunts up there with his husband and their then exceedingly energetic puppy Lafayette.  "It's rural, a series of small towns that are very interconnected," explains the founder of furniture design studio Coil + Drift, "and there are no highways or strip malls, which is a unique feeling for the U.S."
In autumn 2019, the couple cemented their love for the region by purchasing a weekend house there, a sprawling yet run-down, 10-acre property that required a significant overhaul. But as the pandemic settled in, it became clear to them that city living was no longer a viable option. The country abode transitioned into a full-time residence, and Coil + Drift's modest Brooklyn headquarters relocated to the nearby village of Jeffersonville.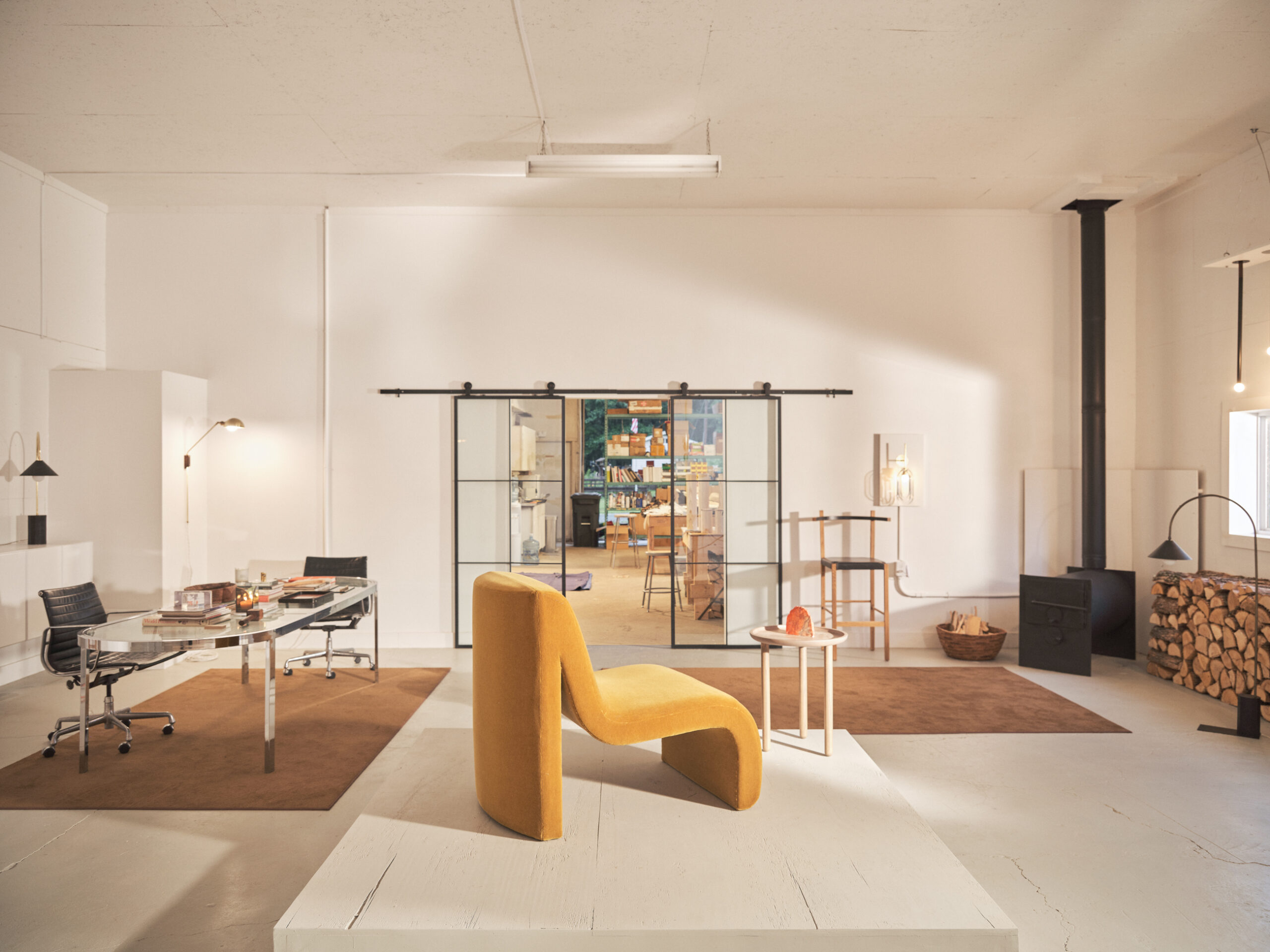 Unlike large neighbouring barns, this 3,000-square-foot space—a former machine garage used by a gravel company—was serendipitously insulated already to accommodate workers in the wintertime, so Sorensen-Jolink could stick to a reasonable timeline for the renovation. For a rustic, minimalist look, he updated the rough interiors with white painted plywood walls—"plywood is super useful because we are constantly taking things on and off the walls and we can drill into it, which you can't necessarily do with drywall," he points out—and demarcated the workshop from the showroom with a sliding double glass door.
The summer that Sorensen-Jolink was searching for Coil + Drift's new home was marred by massive flooding in the area. Worried about future downpours, he crafted pedestals for the showroom, monumental six-foot by six-foot stepped platforms. Fortunately, rain damages have yet to materialise, but these practical sculptural elevations serve as welcoming architectural elements. "They have different heights that give the space a topography that's beautiful," says Sorensen-Jolink.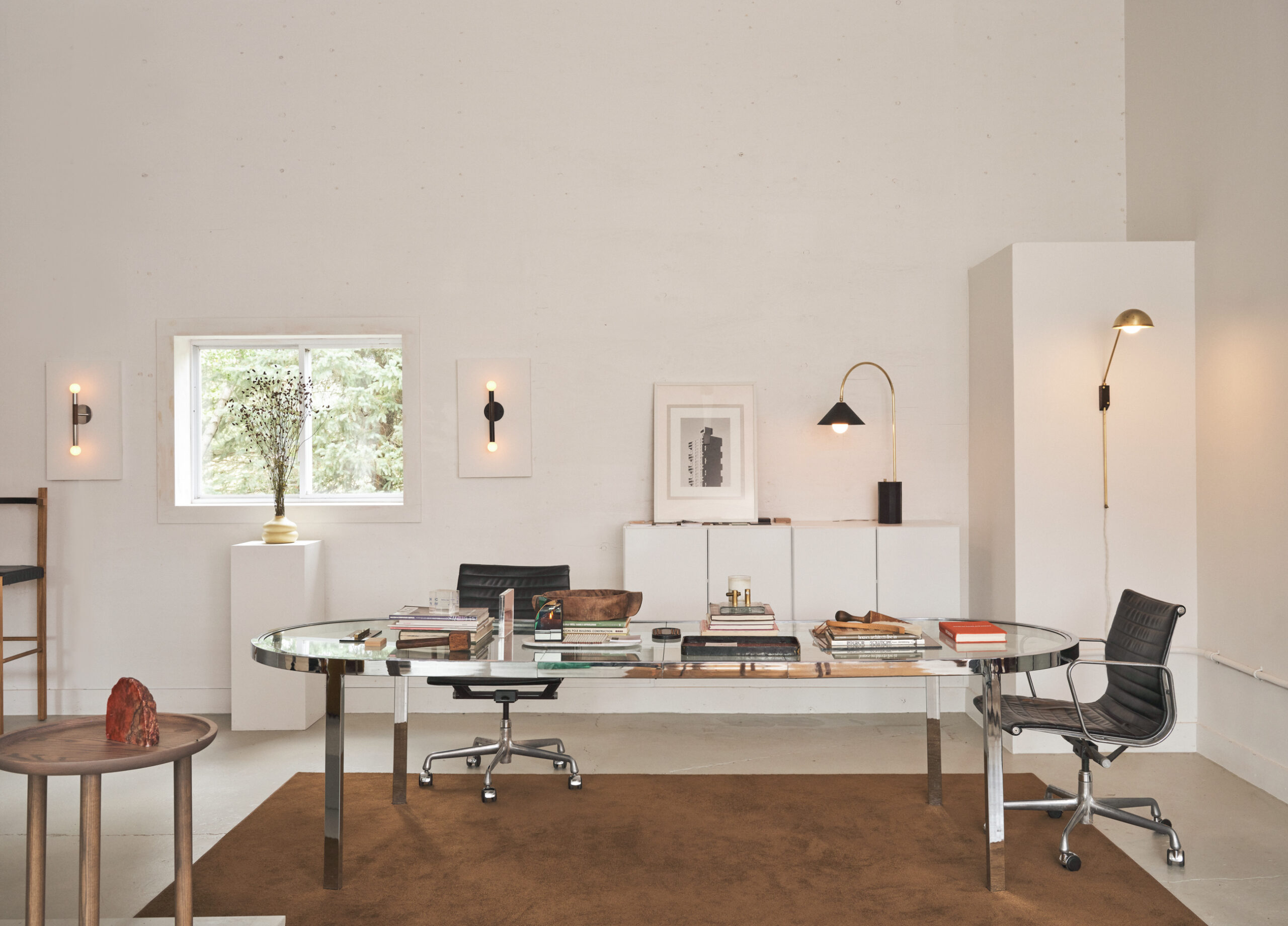 A handmade cast-iron wood stove that "was just sitting there when we moved in," he adds, is also a highlight. After placing it in a corner, installing a chimney, and refinishing it, the black stove looks decidedly modern, pumping out heat all winter long courtesy of the artfully arranged stash of logs beside it.
This uplifting showroom vignette is juxtaposed with a glass and chrome Milo Baughman desk from where most ideas flow as well as Coil + Drift's own creations. The asymmetric brushed brass and white oak Hover shelves, for example, feature an assemblage of objects and botanicals, and the floor-length June mirror, crowned in a mélange of concentric circles embedded into ebony-stained ash, enlivens one of the plinths.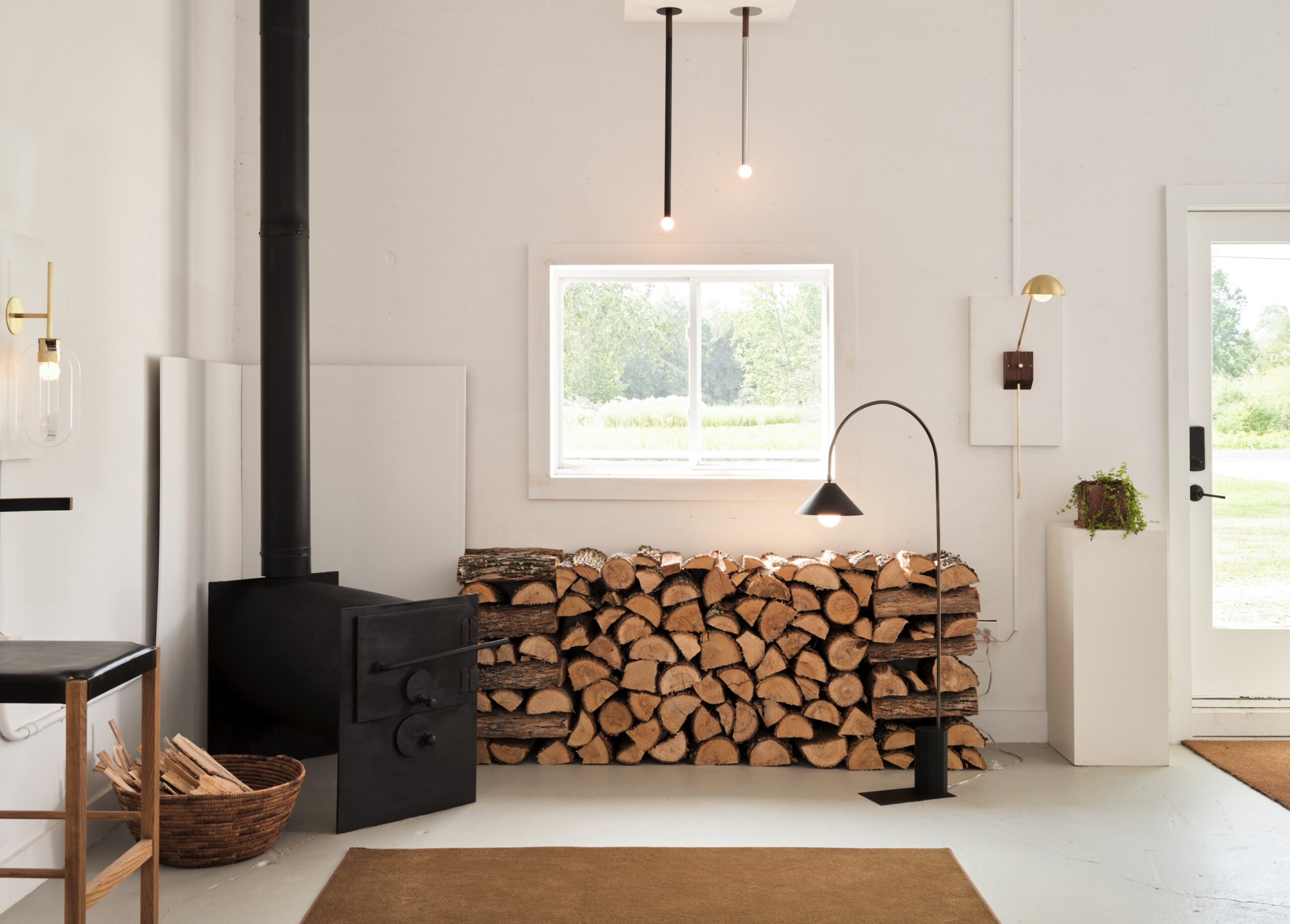 Visitors to the Brooklyn office were rare, but here it's not uncommon for a client to drop by and personally pick up an order or for a design-savvy local to scope out lamps while sipping cider. Sorensen-Jolink hopes to soon host gatherings in the showroom, meshing with the community spirit that is on full display in this fast-rejuvenating swath of the Catskills that was once part of the resort-laden Borscht Belt.
But the most riveting aspect of Coil + Drift's studio is perhaps the workshop's ability to produce lighting (two collections are launching in September). "Every day," says Sorensen-Jolink, "I'm brainstorming, playing, and making new things."
Images by Coil + Drift
Enjoyed this article?  Read more: Tarkett and Note Design Studio interpret circular economy in Tarkett's new Stockholm showroom