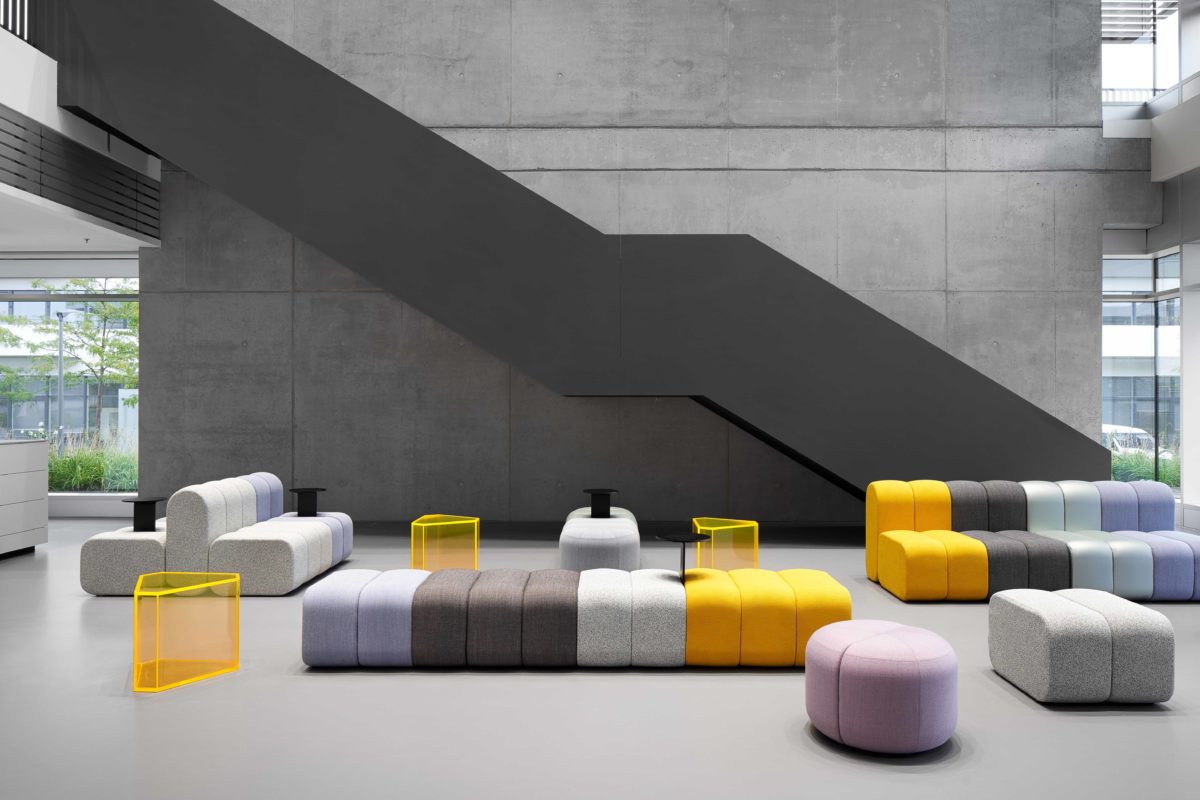 Studio Alexander Fehre has reimagined the Bosch Engineering headquarters in Abstatt, Germany as an inspiring and playful space where ambition and imagination can become a reality
The technology of the future is an exciting prospect, but to transform blue-sky thinking into reality takes ingenious engineering. This is the work of Bosch Engineering (BEG), a pioneering branch of the company that devises electronics systems – from fuel-cell electric vehicles that utilise hydrogen as an energy source to enable long-distance electromobility, to Smart Robotic Functions that allow autonomous vehicles to navigate and detect objects.
Out-of-the-box solutions such as these require out-of-the-box creative thinking. So, when BEG was redesigning its offices in Abstatt, Germany, it enlisted the vision of Stuttgart-based interior design practice Studio Alexander Fehre to craft a flexible, inspiring work environment where the future could be imagined and brought to life.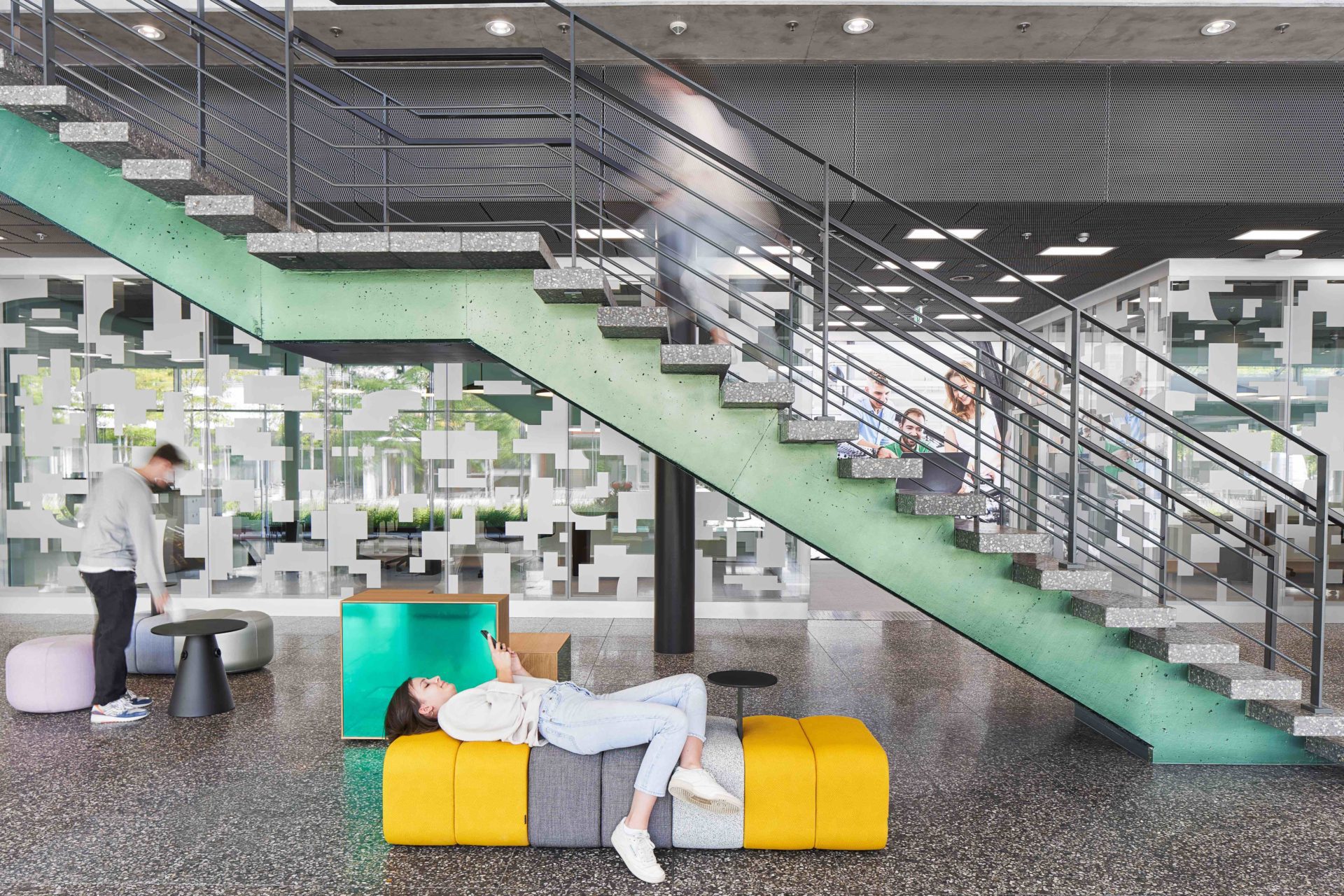 "The Bosch Engineering team is inventing parts for supercars, trains, helicopters and electric vehicles – it's a very special part of the parent company, and Bosch wanted a different and unique workplace to reflect this," says Fehre. "This identity had to be communicated to new and existing employees as well as clients."
The workplace is divided into two parts – the newly constructed building 204 and the existing building 301, which had formerly been a rather uninspiring, traditional office setting. The challenge was to unite these two vastly different spaces with a single interior concept.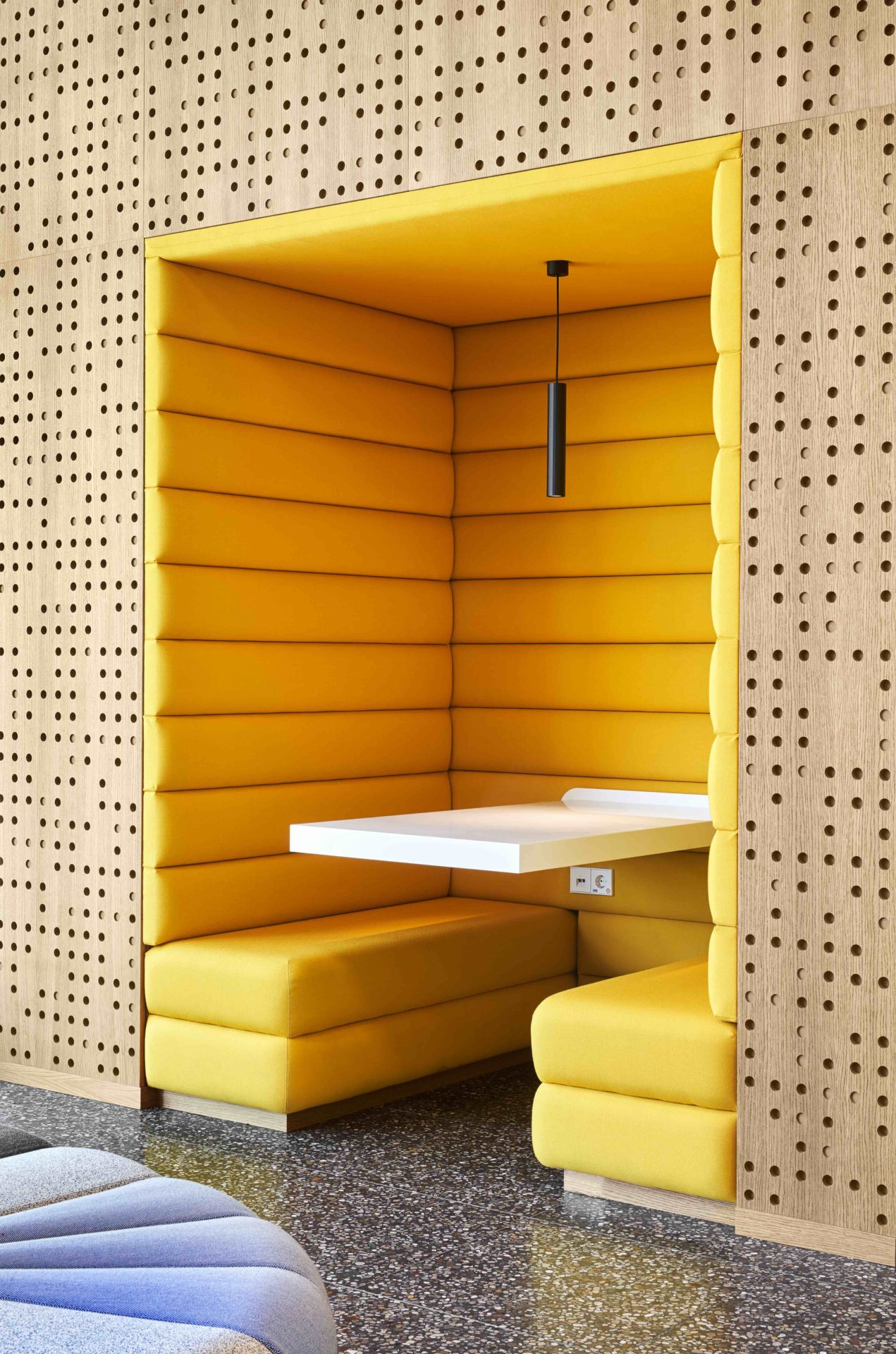 To achieve this ambitious mission, Studio Alexander Fehre developed an innovative, unconventional material palette inspired by the automotive industry – think shimmering lacquers, metallic paints, brightly coloured upholstery and intricately detailed timber-work and metal-work. Both buildings also house flexible, hybrid workspaces and meeting areas that can be adapted as needed, and are furnished with bespoke pieces by Studio Alexander Fehre that cement the new identity and can be used to reconfigure the spaces.
Building 301 features a dramatic entrance lobby that sets the tone for what's to come and gives visiting clients an insight into the values that drive the work of BEG. The two-storey interior has been completely re-imagined, with only the dark stone floor remaining from the previous fit-out.
The two levels are connected via a remarkable staircase painted in shimmering green-blue chromashine lacquer, which is most often used on cars. The entrance lobby not only invites casual meetings in its relaxed break-out spaces and meeting nooks, but doubles as a dynamic exhibition space to showcase the key projects that BEG has previously worked on, such as a full-size supercar.
This playful attention to detail and the way spaces are used every day pervades the entire building. The first-floor kitchenette and meeting nooks are surrounded by timber panelling with milled holes that evoke the punched cards once used in computer programming; boldly coloured furniture – including strikingly graphic side tables crafted from yellow acrylic glass that look like they belong in the electric, data-driven world of Tron – is dotted around; glass meeting rooms punctuate the otherwise open-plan spaces.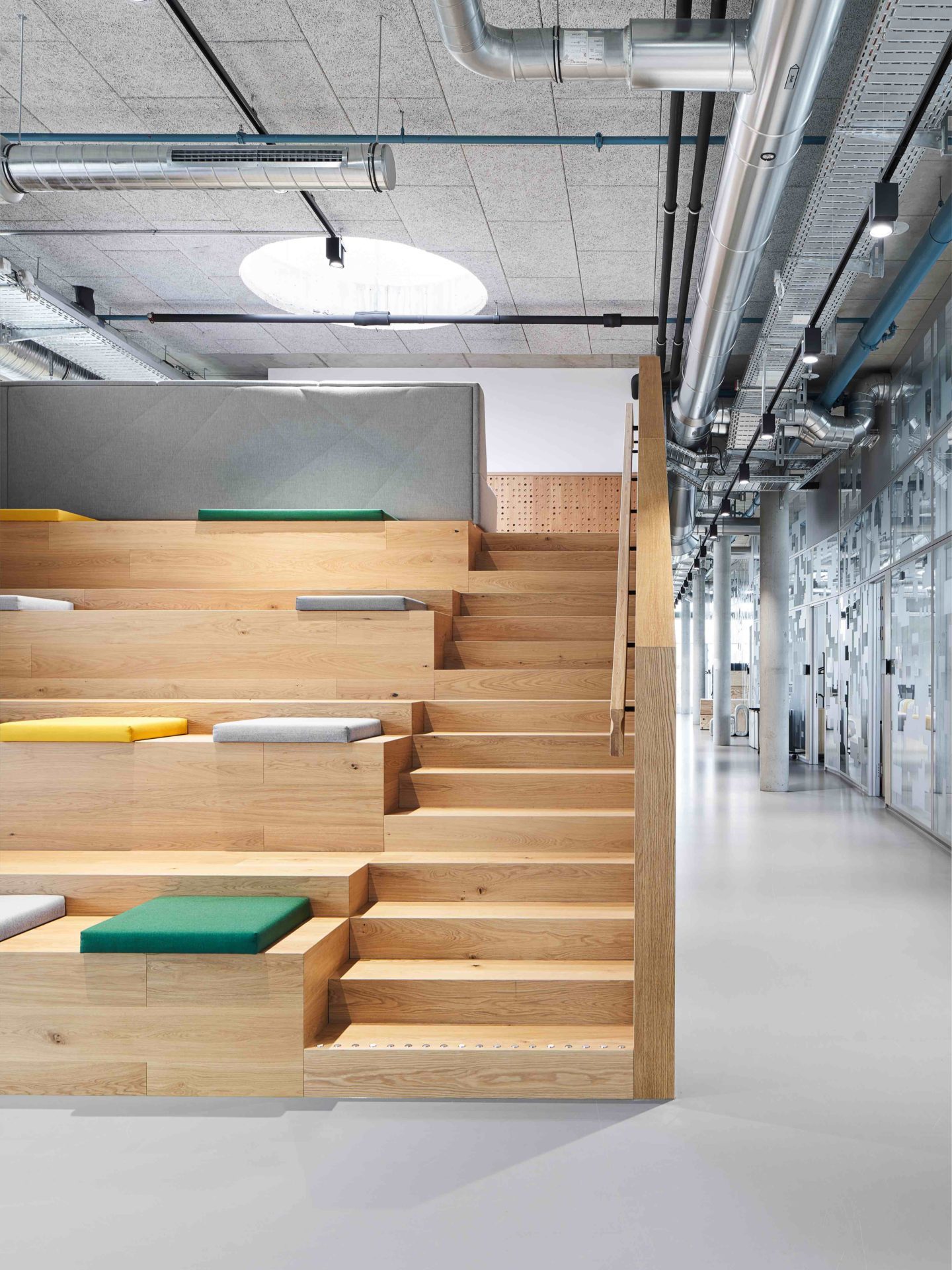 To give a sense of privacy while maintaining visual openness, the glass walls of the meeting rooms are cleverly adorned with the same graphic camouflage pattern used to conceal the form and details of automobile prototypes on the road.
Like building 301, the new-build 204 is a generous, light-filled space with floor-to-ceiling windows that offer panoramic views over the surrounding landscape. It's a space for employees to immerse themselves in projects and the often-challenging process of designing the future, with a mix of flexible workspaces, meeting rooms and break-out spaces that encourage spontaneous collaboration and freedom to work creatively – a sort of 'ideas factory', as Fehre describes it.
Celebrating this approach, enormous, oversized timber stairs with colourful seating pads sit at the heart of the space and offer a place for gathering and the exchange of ideas. They can also be used for various team social events. Set into the back of the timber-stair podium is a sleek kitchenette, offering yet another casual setting for spontaneous meetings. Elsewhere, large meeting rooms – with glass walls adorned with the same camouflage graphics as those in building 301 – offer the opportunity for more formal collaborations and conventional meetings.
"The meeting areas can all be used in different ways and the colourful, playful furniture enhances this," says Fehre. "We have created a variety of environments that allow both employees and clients to structure their day as needed."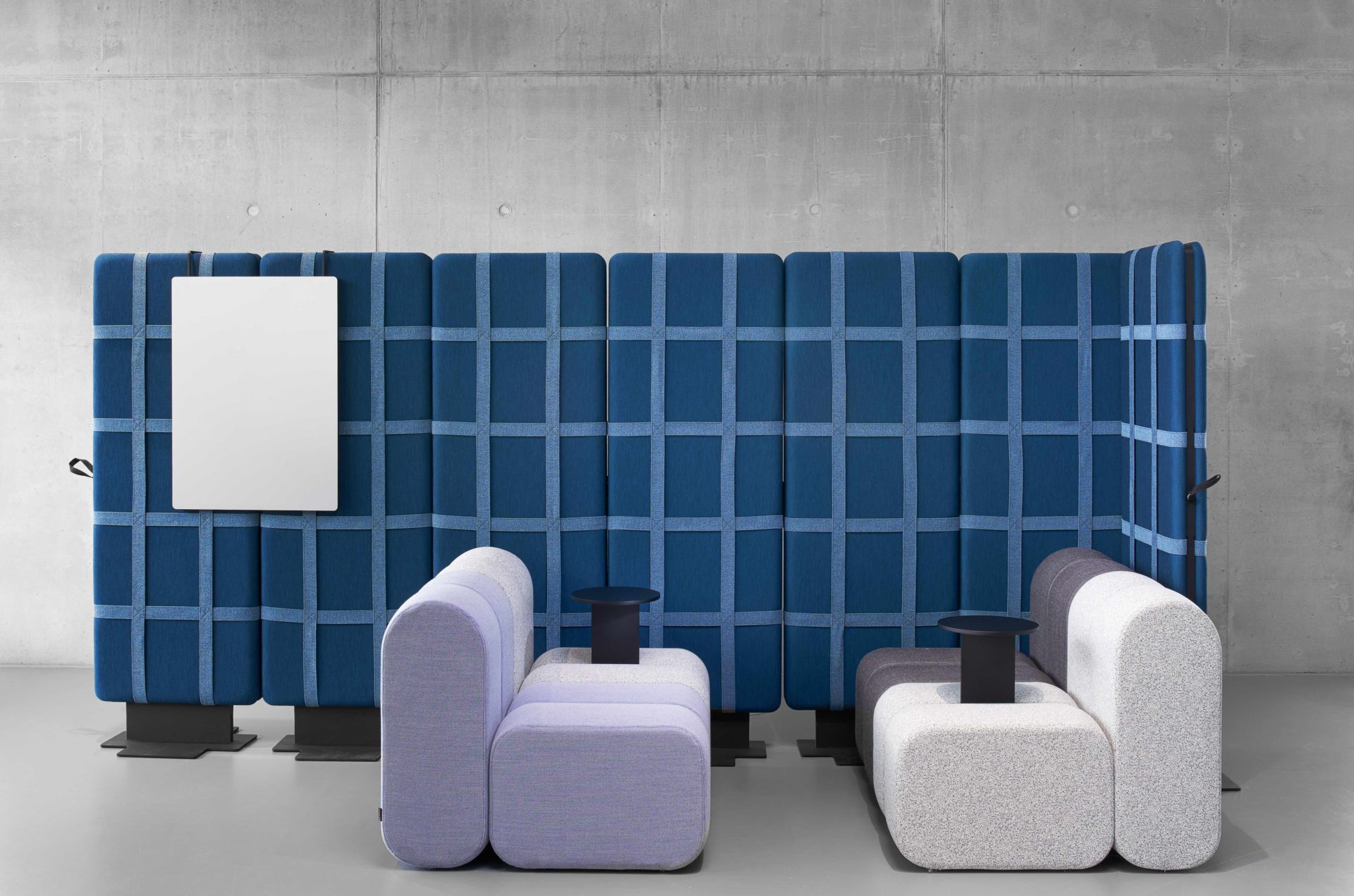 Hidden beneath the timber-stair podium is a computer lab, where the bleeding-edge ideas developed by the BEG team are tested. Here, the punched-card language used in building 304 and on the timber stairs has been applied to metal wall cladding to add texture and evoke a sense of technological mastery in the otherwise minimalist setting. "Entering this room feels like being inside a supercomputer of the future," says Fehre. "Or, inside a paradise for engineers of the present."
While the bespoke furniture in building 301 is driven by a desire to define a clear visual identity, the furniture in the new-build fulfils myriad functional purposes and can be used to reconfigure the various spaces as needs dictate. Take, for example, the origami-like high tables that can be grouped or arranged individually, moveable white boards that double as space dividers, and acoustic screens upholstered in Kvadrat fabrics with tone-on-tone, seatbelt-like details that criss-cross the surface to allow for paperwork to be attached.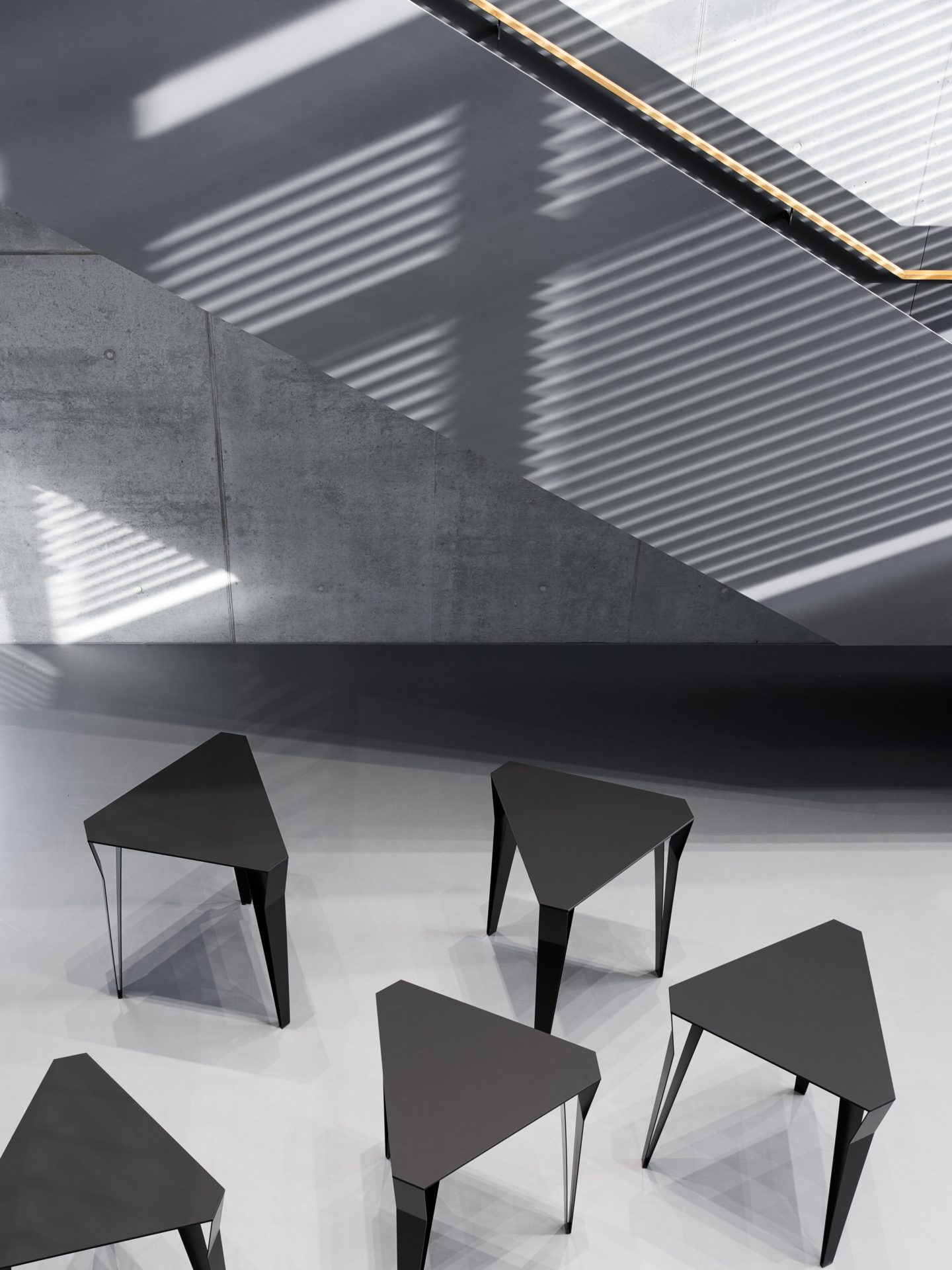 "We developed what we call the 'off-grid' concept," explains Fehre. "Bosch Engineering is a small, creative part of Bosch and needs to be able to think 'off the grid', so we integrated special, bespoke furniture designed to inspire. We also used a bright, uplifting colour scheme to reflect the kind of place it is to work in – it would be a dream to work as an engineer here."
Of course, creating such an unconventional workplace came with its challenges. Most notably, the regulations inevitably found in a large, global corporation such as Bosch. "It could have been a nightmare," admits Fehre. "But Bosch Engineering really fought to have a special interior. Having the opportunity to develop distinctive, bespoke furniture for the project was so rewarding, and this, combined with the flexible space, will ensure that the workplace continues to inspire both now and in the future."
Images by Philip Kottlorz
As featured in OnOffice 160, Autumn 2022. Read a digital version of the issue for free here