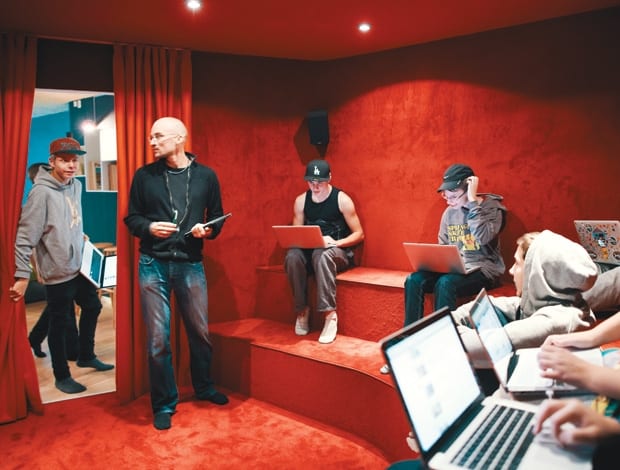 The school has a film lab, red 'cinema cave' and audio lab|The curvy tables were designed to support group work||
Bornholms Efterskole, a Danish free school that has integrated technology into colourful teaching spaces
"This school picks up the kids who have been drilled into thinking that learning is something to avoid," says Danish designer Rosan Bosch. The school in question is Bornholms Efterskole, which Bosch redesigned towards the end of last year. Founded in the 1860s, an efterskole (literally, "afterschool") is a type of free school aimed at 14-16-year-olds who struggle with traditional teaching environments. There are more than 250 in Denmark; this one is on the island of Bornholm, in the Baltic Sea.
Without a desk in sight, Bosch's design is a long way from traditional. Replacing the classrooms is a variety of informal environments, with the onus on 21st-century digital technology. At the heart of the project is the White House, a collaborative space with a focus on audio-visual production, while other areas are more suited for quieter, focused learning.
Driving the project forward was Bornholms' dynamic staff, who believed that by engaging with digital technology, they might "give the students back their lust for life", as Bosch puts it. The school began by striking a deal with Apple and providing each student with a MacBook at the beginning of the year. It soon became clear, however, that the rigid layout of the old building, originally a sanatorium, was thwarting its ambitions. Bosch, whose studio has a proven track record in progressive school design, got the call.
Tight budgets allowed minimal grand architectural moves, so the focus was on integrating technology into the existing floorplate. To this end, one classroom has been converted into a film lab, complete with green screen. Elsewhere, a curving primrose-yellow conference table is designed to support laptop work or group discussions. Connected to this is a cinema room with stepped seating, and walls and floors covered in red carpet. For greater privacy, a quiet nook for reading has also been factored in.
Though the school's colours and fluid shapes are undoubtedly striking, Bosch is far more interested in providing teachers with support for their teaching methods: "The design is nothing but a tool for creating an educational change." The flexibility of the design is mirrored by a culture that encourages students to use the space in the best way they see fit to hit homework deadlines. "We tried to break down these big teaching rooms into lots of different settings," says Bosch. "You have to learn how to learn. Our society is changing so much that kids need different skills in the future."