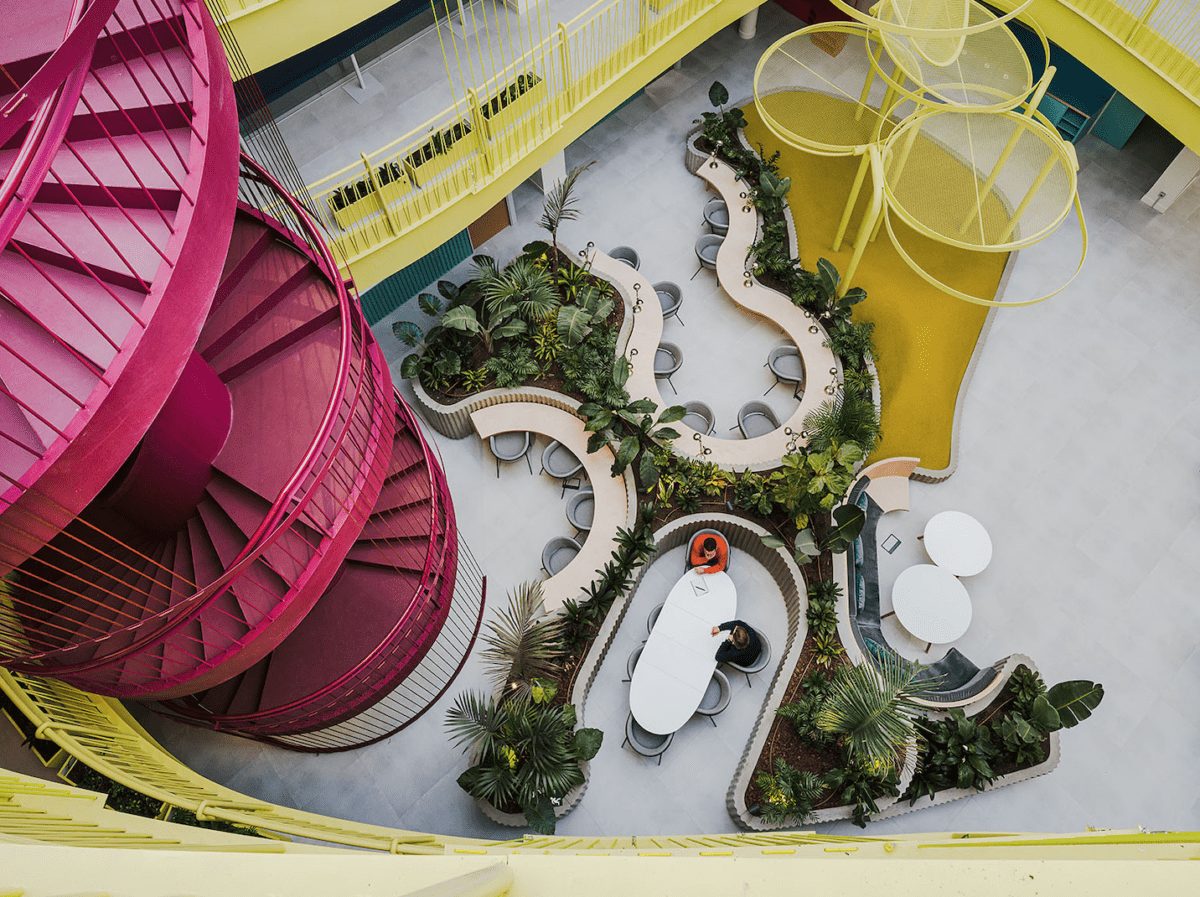 A desolate, former shopping mall in central Madrid has been imaginatively transformed by Spanish, London-based practice Binom Architects into an exuberantly colourful complex housing co-working and events spaces
The 5,600 sq metre venue, situated between Paseo de la Castellana and Paseo de la Habana, houses over 700 workstations, events spaces accommodating over 200 people, a private members' club and a coffee shop.
Built in a large courtyard in the 1970s, the mall was cut off from the adjoining streets. Unused for the past 30 years, it resembled a multi-storey car park. Looking at before and after pictures of the site recalls those movies that switch from black and white to Technicolor.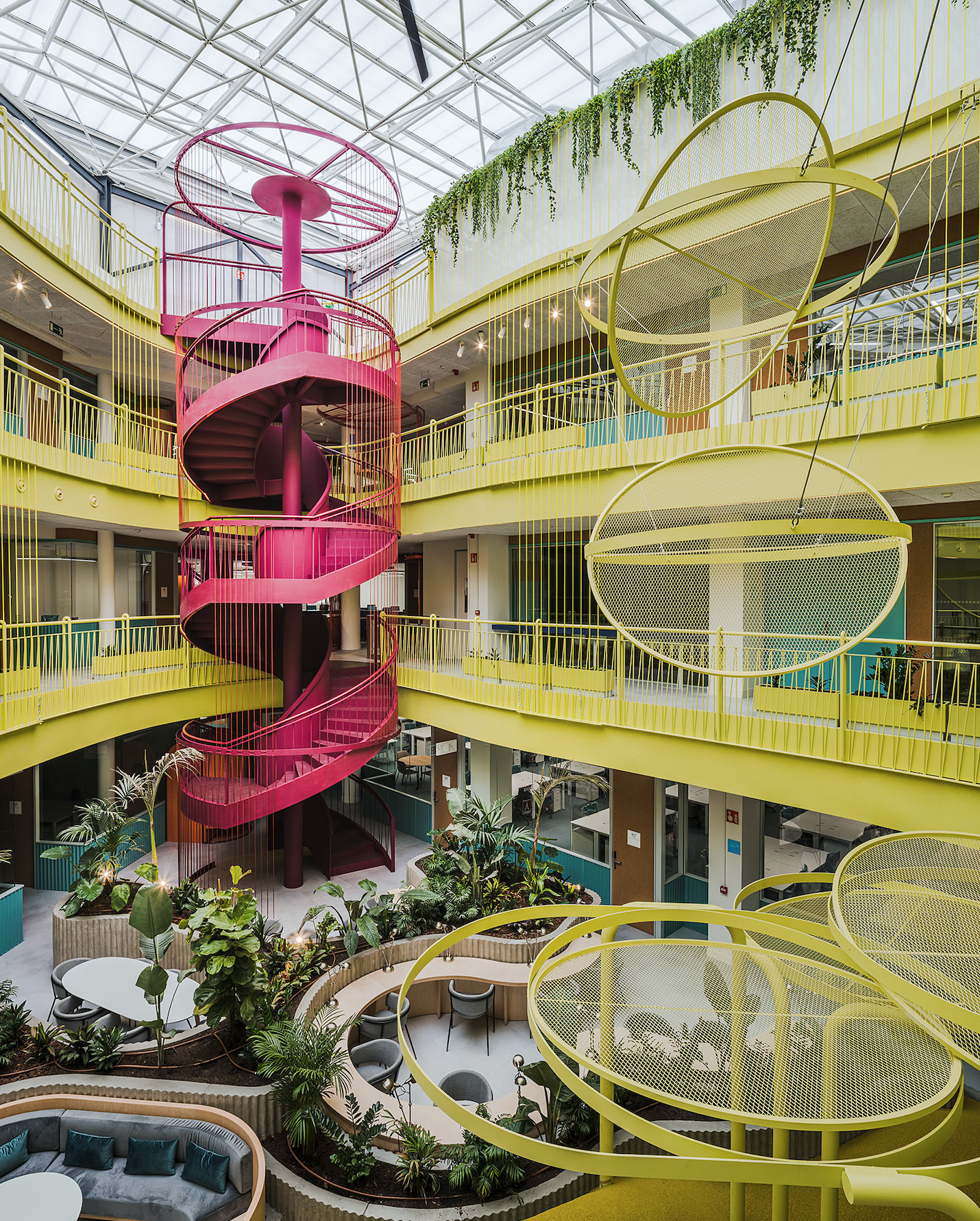 "In 2018, we won a competition organised by our client Utopicus, one of Spain's leading companies providing co-working spaces," explains Marta Granda Nistal, co-founder and director of Binom Architects.
The complex is now reconnected to the street with an enticing entrance and a turquoise façade. In front of it is a metro-like entrance to a basement level.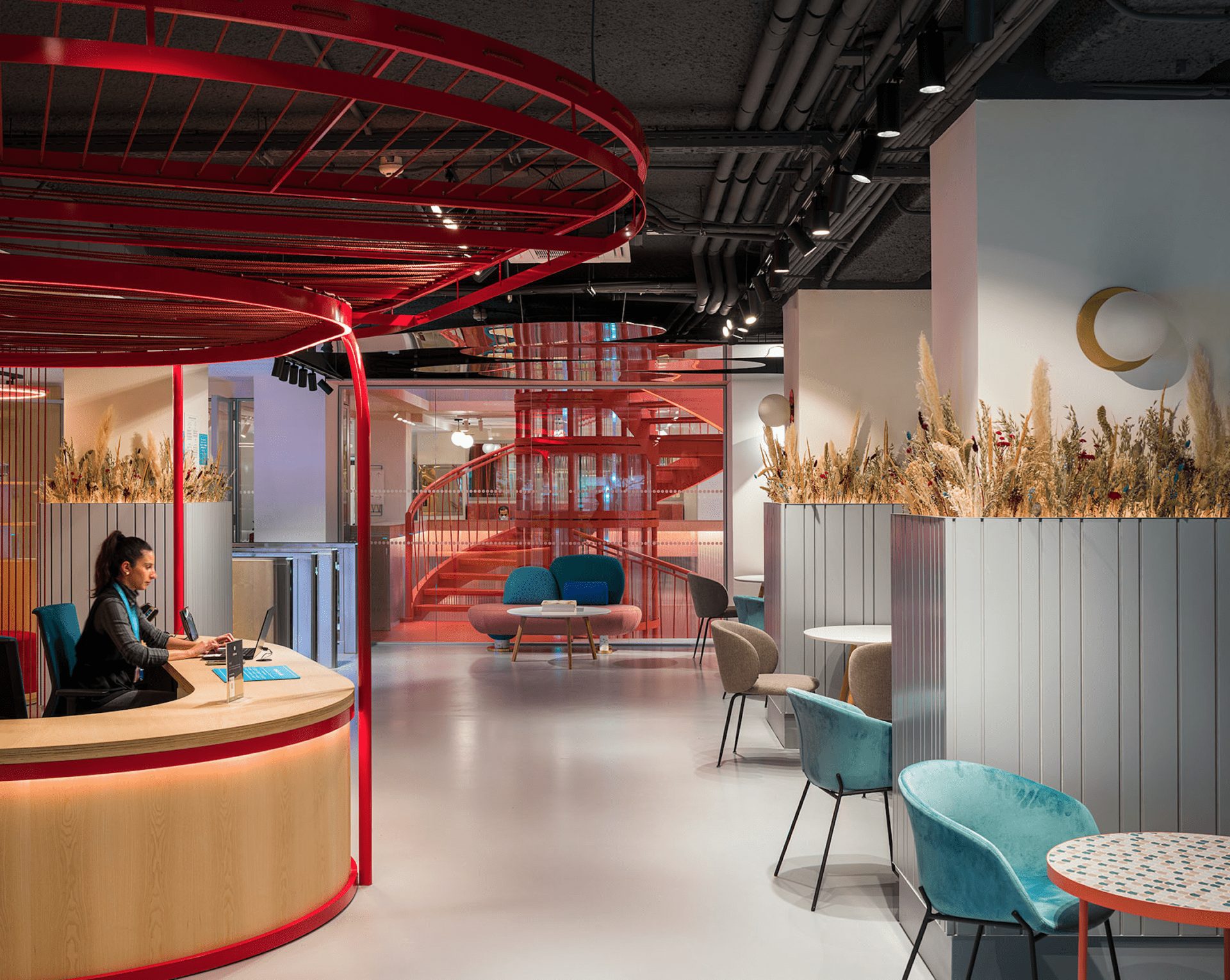 Inside, a skylight draws plenty of natural light into a main atrium whose levels are connected by a spectacular spiral staircase in eye-popping magenta. Surrounding this on each level are galleries with balustrades in a zingy sulphur yellow. The complex boasts two other courtyards, too.
"The idea is to encourage people to use the stairs instead of the lifts," says Nistal. "We included features that stimulate a desire for moving around, such as sculptural spiral stairs, turning circulation into a pleasant promenade through courtyards and landscaped spaces."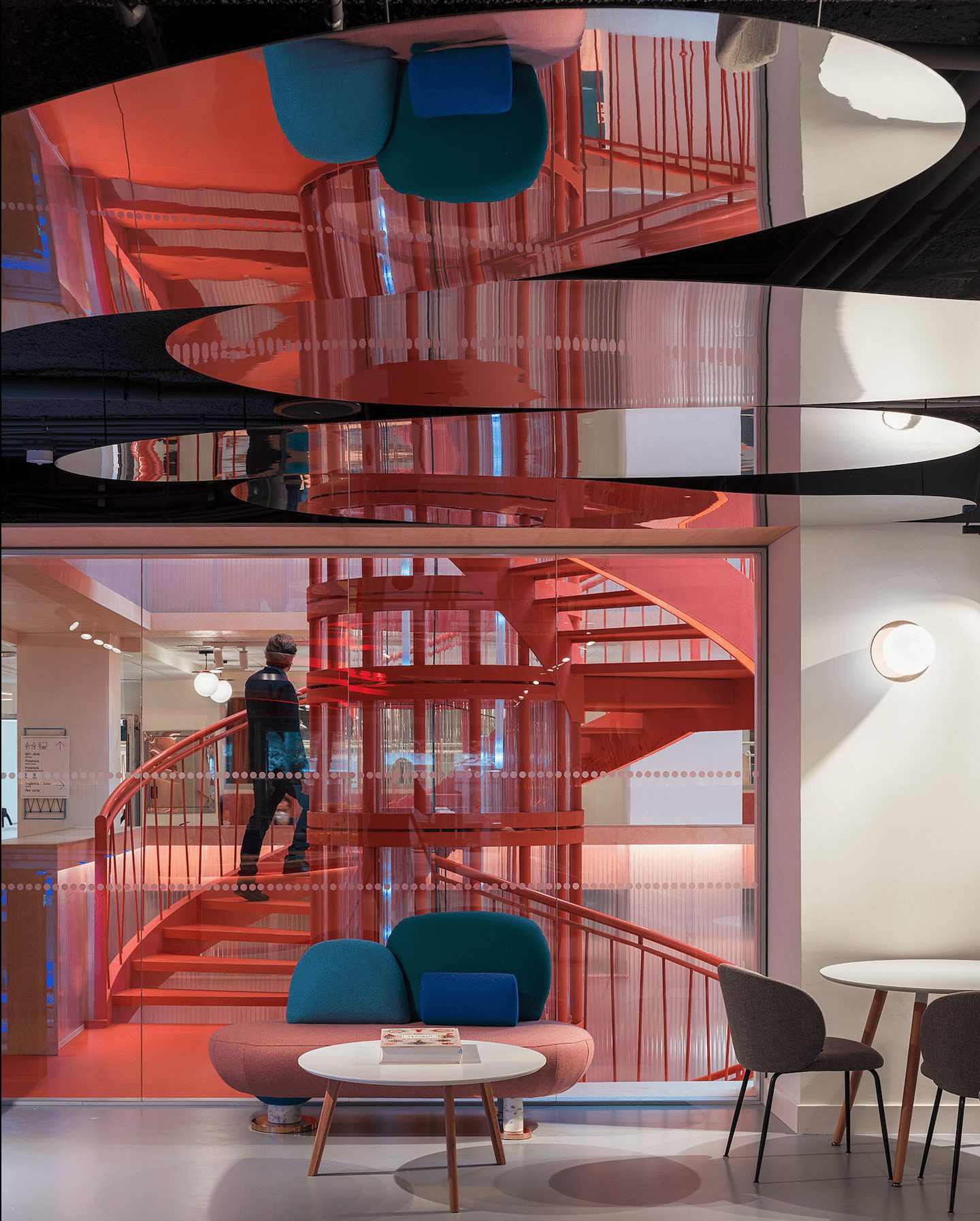 The complex's layout with its meandering routes is designed to encourage social interaction and foster creativity. "In a post-Covid era, the offices offer an attractive alternative to working from home, helping employees to reconnect to their jobs and increase social connections," says Nistal.
Promoting wellbeing was a high priority for the architects. The courtyards are filled with plants. Public seating is positioned next to energy-generating bikes that supply energy to light the spiral staircase. Most office spaces overlook the courtyards and so capitalise on daylight. They also feature glass partitions without vertical mullions to enhance views onto other areas.
One inspiration behind the project was the patio houses with central courtyards typically found in the Mediterranean. "We were also influenced by England's 18th and 19th-century pleasure gardens," continues Nistal. This might be surprising for a project in Spain.
There again Binom Architects is an Anglo-Spanish practice whose other projects include the office of renewable energy supplier Green Network Energy in London. "The pleasure gardens were places of remarkable artistic experimentation in the fields of architecture and design – famous for their follies or 'fantasy structures'," she continues.
"The gardens were also the only places where different social classes mixed." In fact, they were originally conceived as playgrounds for the wealthy but it proved hard to exclude others.
"We wanted to generate the same inclusive spirit – a welcoming, connecting hub for organisations of all kinds," concludes Nistal.
Images by Imagen Subliminal, Miguel de Guzman y Rocío Romero