The New York-based interior architecture firm created a bold workspace for the women's healthcare platform
The full-service women's healthcare platform Tia, which is architecting a new, women-centric model of care with a blend of in-person and virtual services in the U.S., has recently unveiled its bright new Californian clinic and workspace.
Enlisting Alda Ly Architecture to complete its interiors, which features artful pops of colour and pastel-coated walls, the invigorating interior aims to visualise the Tia ethos: to offer a personalised approach to healthcare by fusing OB/GYN, primary care, mental health, and evidenced-based wellness services into an integrative experience that's convenient, collaborative, and focused on prevention.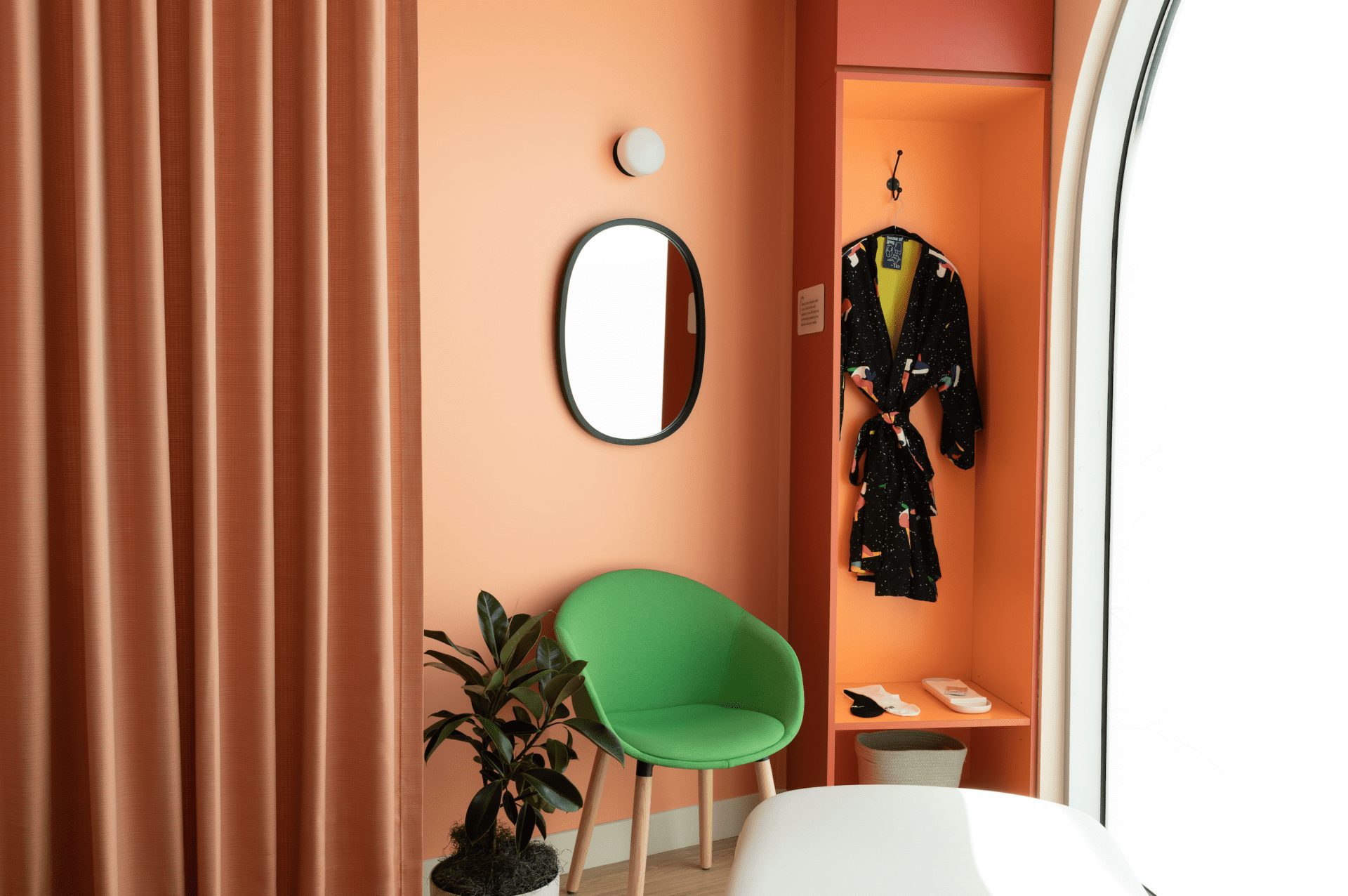 Located on a window-laced second floor, the 3,000 sq ft clinic overlooks a bustling corner of Sunset Boulevard in Silver Lake. The new space will address the rapidly growing Los Angeles neighbourhood's primary care, OB/GYN, and mental health shortages, which currently experiences an average 45-day wait period for a primary care appointment, while the city itself has the second worst OB/GYN shortage in the U.S.
Built to serve as an accessible community hub, Tia chose this location for its accessibility and sense of camaraderie, qualities that frame Alda Ly Architecture's design. "Tia's long-term goal is to be an active community space that offers both accessible individual care and facilitates open, communal conversations about women's health," explains Alda Ly Architecture founder and principal Alda Ly. "With that in mind, the design is inviting, easy to navigate and uplifting."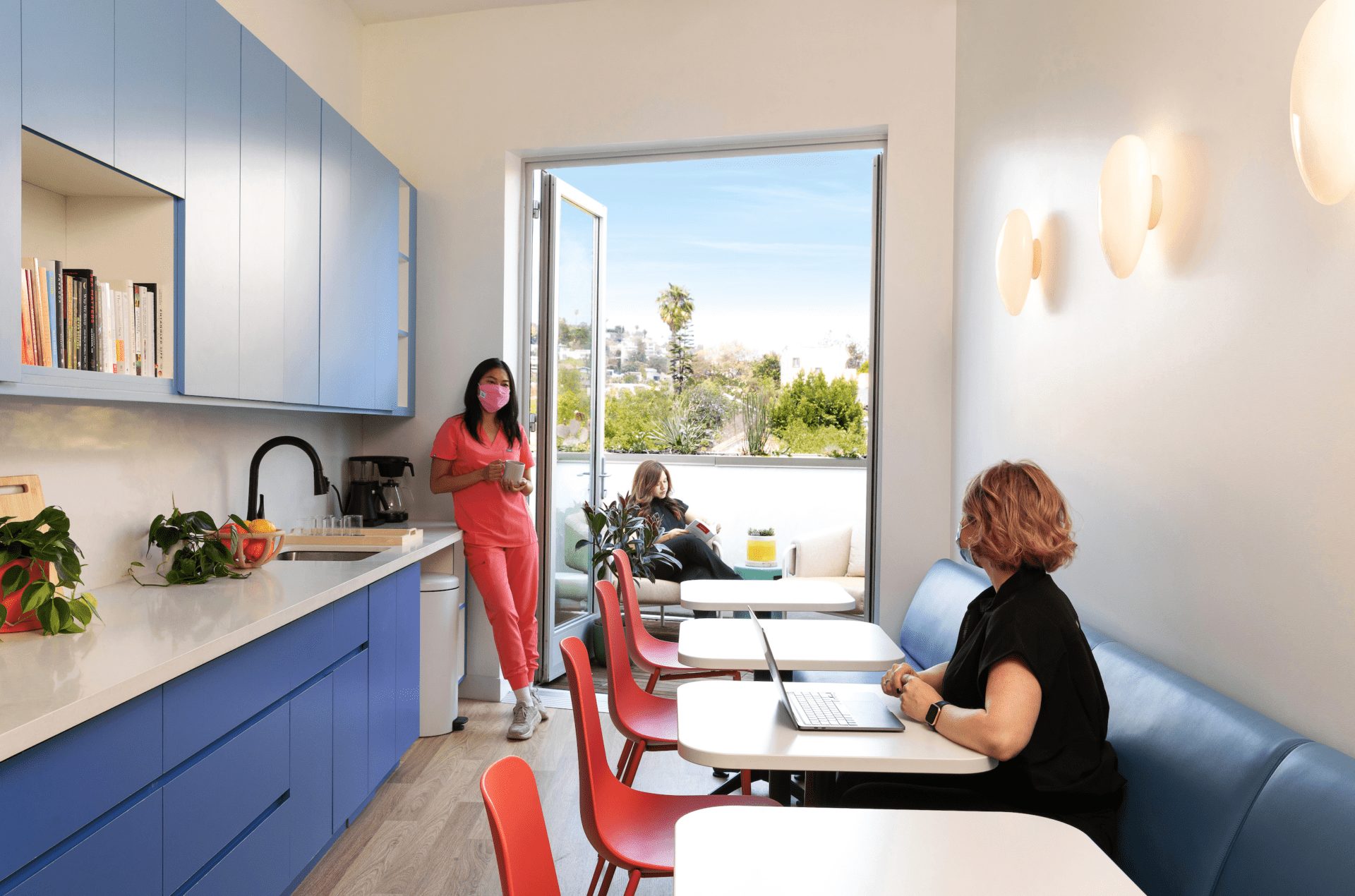 To provide visual transparency and intuitive navigation, the architects developed wayfinding solutions to integrate people, movement and the various spaces, helping guide Tia's patients, staff and providers through their individual and communal care journeys.
A warm colour palette, soft materials and bright graphics—an extension of Tia's identity—anchor the experience and create an uplifting atmosphere that aids health and wellness. Besides wayfinding, Alda Ly Architecture also used several educational snippets in the form of strategically placed plaques with healthcare facts to create a nurturing, stress-free space.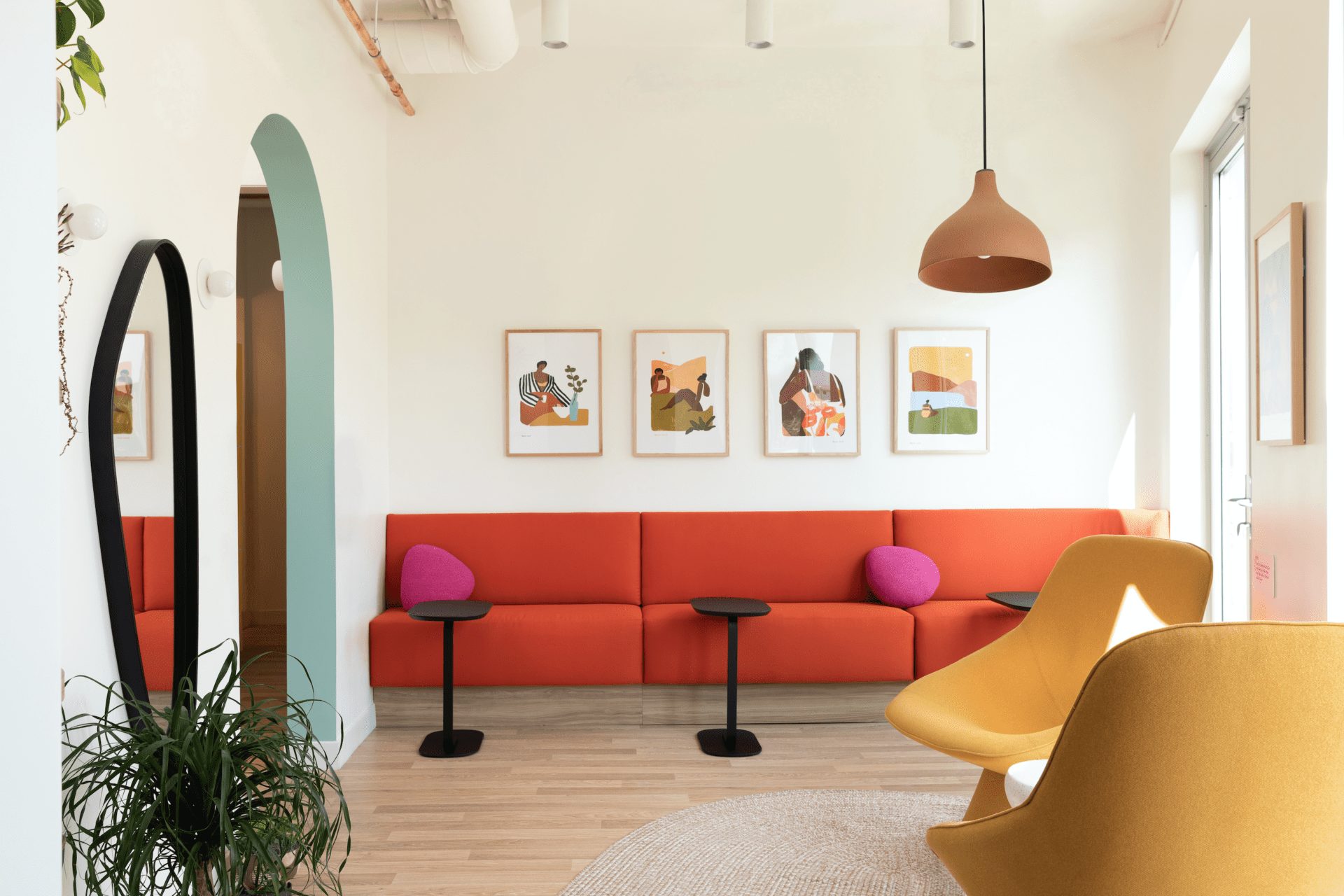 Upon entry, an archway leads towards a Covid-safe indoor/outdoor waiting area which features a botanicals-filled patio with picturesque views of the Hollywood Hills and mountains beyond. A red banquette and yellow lounge chairs offer comfortable seating in uplifting colours, while a hospitality station provides refreshments from vermilion cabinetry, complementing the bright waiting lounge.
Creating calming and inviting spaces for work, continuing education and breaks, Tia and Alda Ly Architecture carefully selected materials for their hygienic properties, durability and sustainability. Meanwhile, a warm, colourful reception area is studded with skylights and a graphic mural, created by a local female artist, setting the overall tone of the space.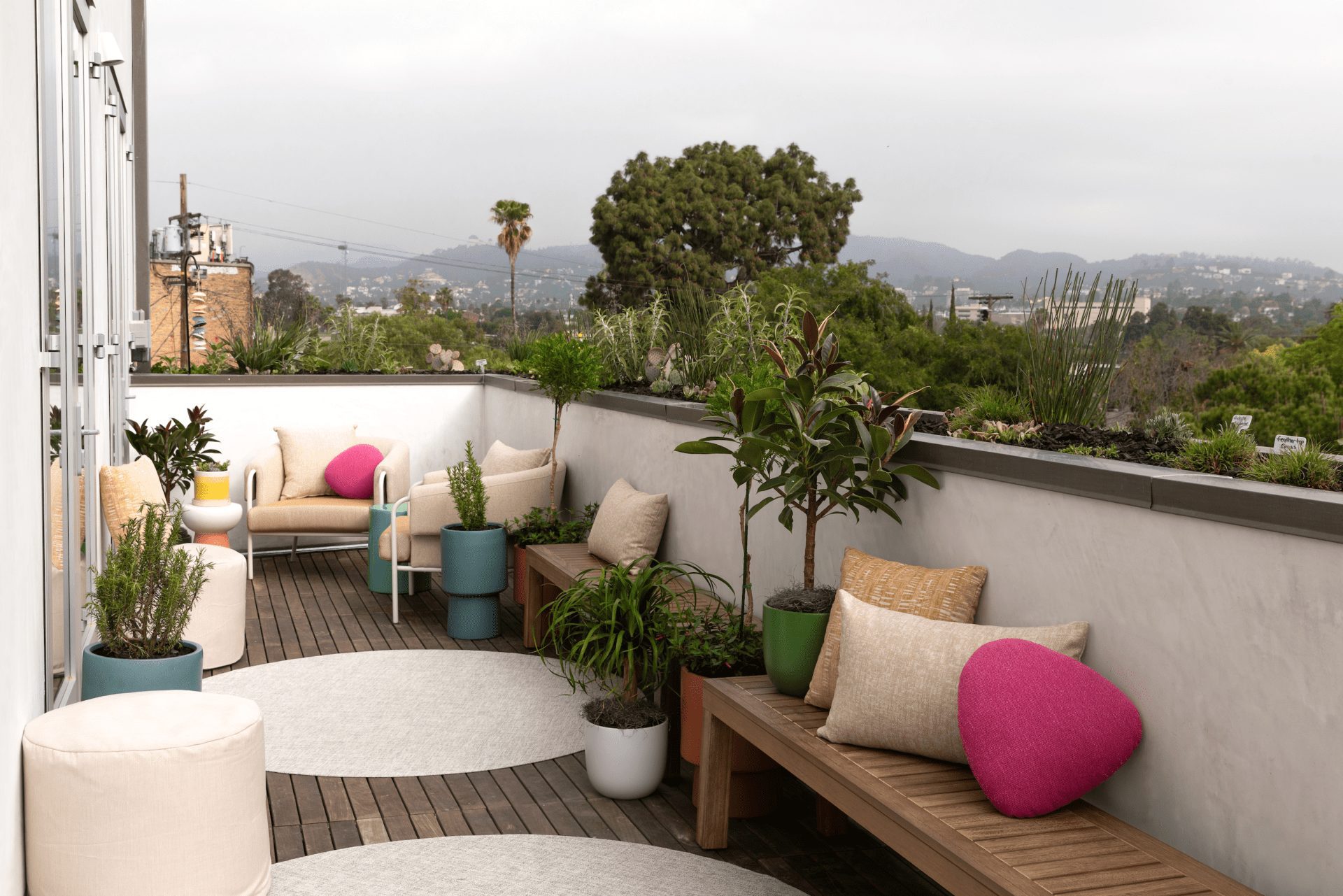 The reception features a softly curving front desk clad in wood-grain laminate, drawing lines towards open archways that bookend the space. Bio-polyurethane flooring resembling light wood runs throughout; an alternative to standard vinyl flooring, the material is resilient and minimises bacteria growth.
A staff break room and lounge complete with plenty of natural light, blue millwork, coral accents, and golden-yellow phone and changing rooms embody Tia's commitment to providing a space that's not just nice to visit, but also pleasant to work within. Open archways continue down the corridor, connecting four exam rooms, each distinguished by a different theme and colour palette.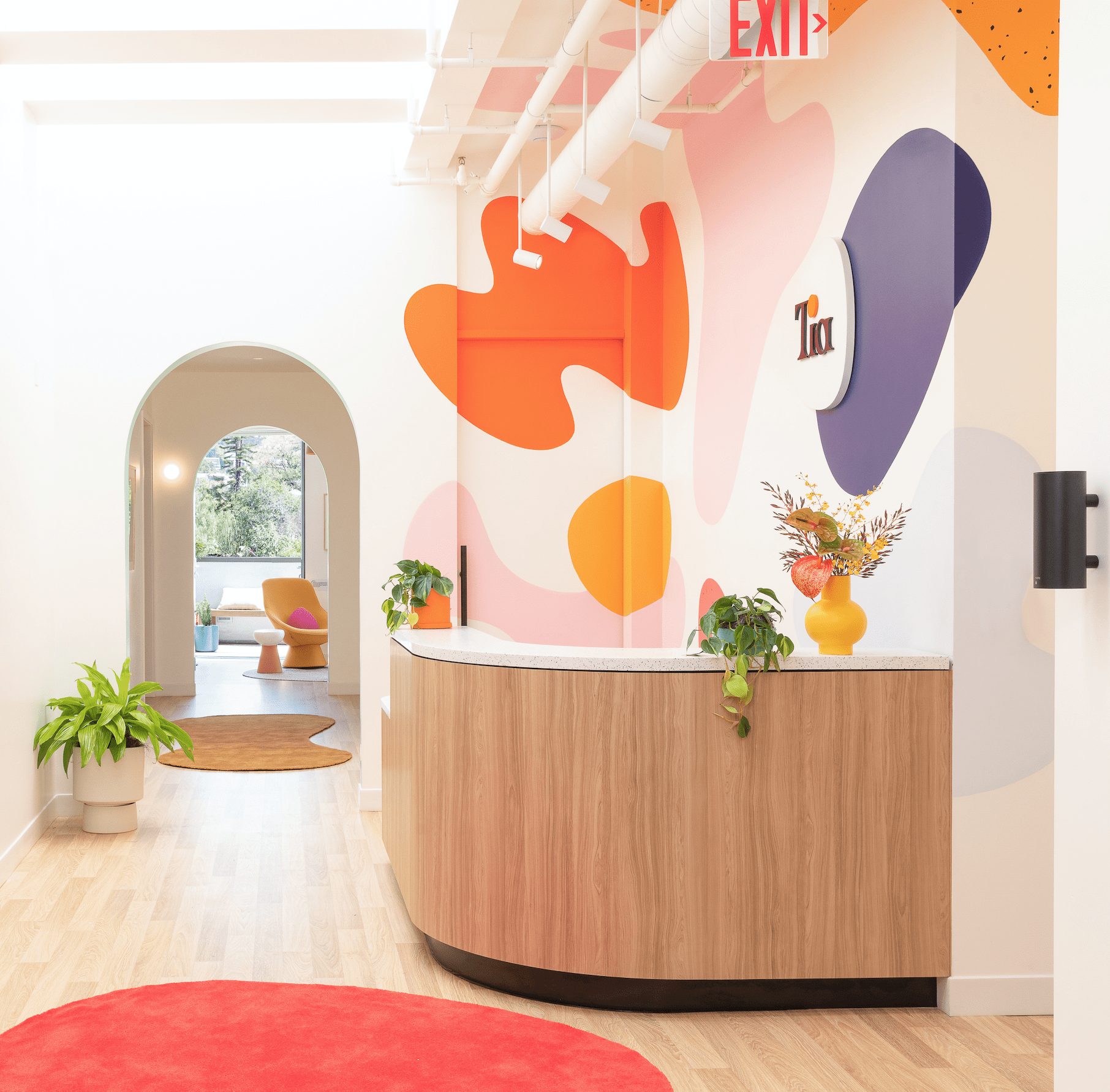 Silicone upholstery is applied to stools and benches across staff lounge and office spaces. Composed of an organic material (sand), these surfaces do not contain solvents or additives, as well as being extremely durable and bleach-cleanable.
Creating human-first healthcare design, Alda Ly Architecture has realised a vibrant and comforting space for Tia's new outpost. Bringing a deep knowledge of biophilic design, cutting-edge technologies and interior strategies that promote ease and empathy, with its inaugural Los Angeles location Tia will serve and care for thousands of patients in the community, and Alda Ly Architecture has helped them do so with a safe space where everyone feels welcome.