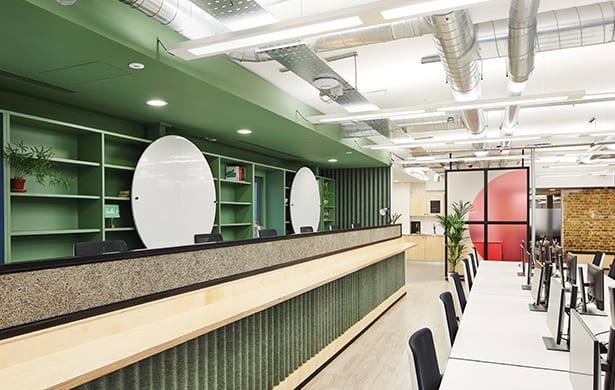 |||
"Our aim was to create a holistic space that created connections: a balance of workspace, social space and areas that supported both collaborative and focused working." Thus goes the design mission of Shoreditch-based YourStudio, which recently designed the new offices for design, technology and ideas company Beyond.
Completed in September last year and spread across the first and third floor of a building in Bermondsey, south London, the new space is a fluid interpretation of the modern workplace where, as is increasingly the case, agility is key. Lead designer Isobel Scott explains the goal was to "create a fluid and dynamic ecosystem that can shapeshift" according to the client's needs.
And shapeshift it does, via a series of work landscapes that range between standing tables, shared desks and an elevated perch bar, the underside of which is clad in jade green acoustic felt panelling. In fact, acoustics are an important theme throughout, with a medley of soft upholstery, partitioning curtains and wall finishes providing much-needed relief in the open-plan space.
De Vorm acoustic felt wall panels were used to separate the kitchen from the main workspace, while felt curtains helped with both sound and privacy in the semi-open meeting room adjacent to the open-plan area. More focused work happens at the other end of the space, where YourStudio built in two smaller, enclosed meeting rooms, including a phone booth.
Scott explains the most challenging aspect of the project was to "create a space that felt holistic across two floors", ensuring that the environment would support the dynamic nature of the company. To foster better communication and improve the flow across both floors, the designers therefore opened up the communal area, providing a shared space "to support and nurture the company's vibrant social culture".
Equally important was the welcome area, which had to "capture the energy of the agency". Scott explains that digital integration was key, so YourStudio further built in a tech and innovation area with banquette seating and a tech cabinet, allowing teams to test and review their work.
Overall, the designers' focus, much like the client's, was on wellbeing. "In a high-pace industry like digital innovation it was important that the space we designed brought balance to the studio and created a space that can aid team connection, creative thinking and support growth," says Scott.
Fittingly, the environment is clean and rather serene, two characteristics likely helped by a natural material palette and a calming shade of green, balanced with more vibrant touches like living plants and exposed brick. "We wanted to ensure that we had a balance of soft and refined materials that enhanced the environment and brought biophilia into play," Scott explains.
YourStudio's portfolio ranges from strategy and branding to interior design, with an approach that focuses on creating experience-led retail spaces. For Scott, however, experience doesn't stop at the retail sector.
"Experience is at the heart of the way people engage with an environment," she says. "Understanding the human emotion and bringing empathy to our thinking is vital to the space being a success, so we ensure that our design direction always has experience at the core."
YourStudio's offices for technology company Beyond stretch the possibilities of open-plan working