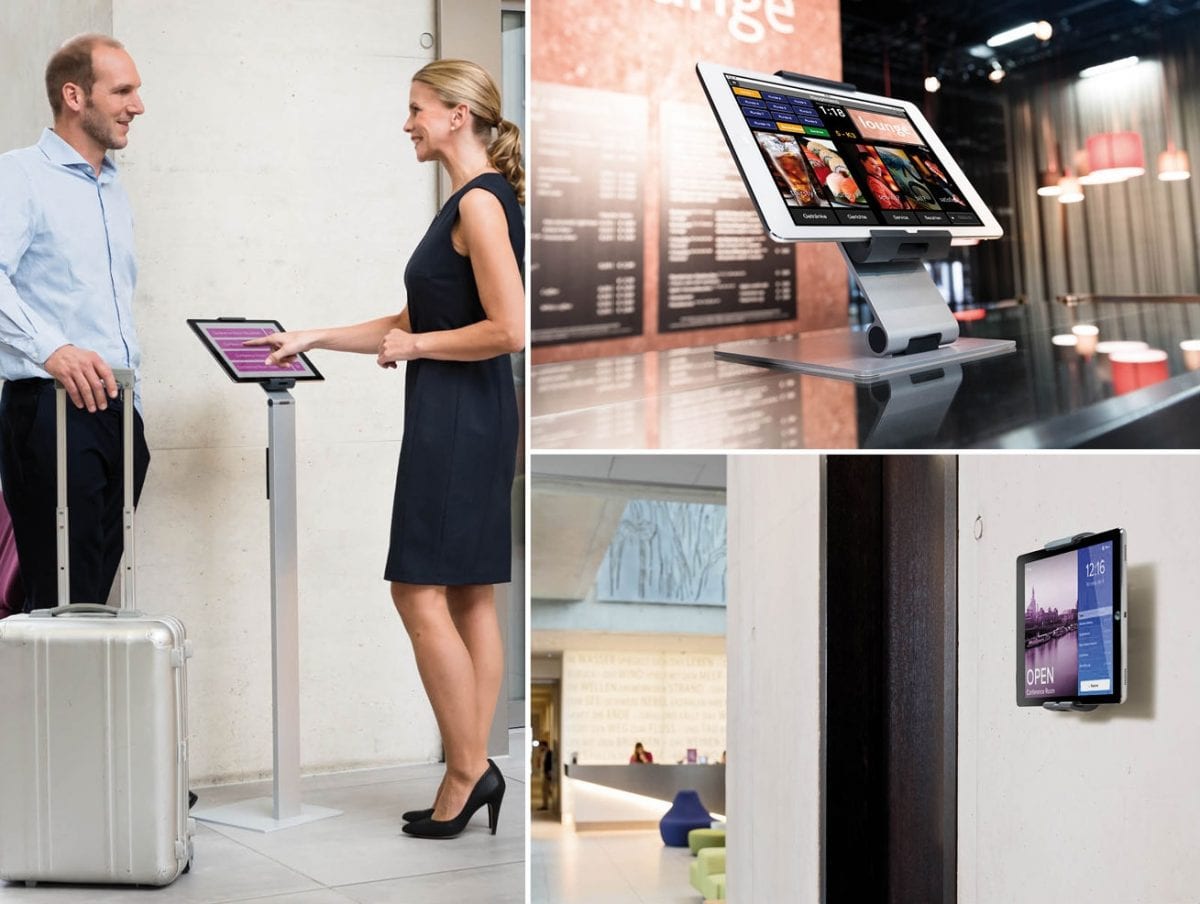 |||
It is estimated that, by 2019, over 59 million mobile POS units will be in use. The trend for using tablets in business has increased significantly over recent years, as they can provide a customised user experience and offer better ways to interact with customers.
You've probably heard about businesses using mobile devices to gather analytics on the buying behaviours of their customers, but they are also taking over professional tasks such as product service demonstrations, information points, content creation, data review and presentations.
With a need for information and presentation systems to integrate into a variety of working environments, DURABLE have developed a premium Tablet Holder range for an extensive array of applications.
For your guests
Tablets can be used in hotels for marketing and to enhance guest experiences. DURABLE's range of table, wall and floor tablet holders facilitates the professional presentation of information and interactive features for guests.
Whether used for front desk check-in, in-room control and entertainment, or in high-traffic areas such as lobbies, the sleek aluminium finish of the tablet holder can be integrated seamlessly into any environment, providing a versatile solution for information, guest services or even digital signage. Floor models can be moved to various locations and feature a cable management system that allows the tablets to charge while keeping unattractive cables out of sight.
For your staff
Tablets are powerful business tools. Their relatively low purchase price makes them an attractive option and their ease of use reduces support and training costs. Offices are becoming more fluid environments; traditional meeting rooms are being replaced with collaboration areas and modern technology is superseding the traditional office PC.
When space is at a premium, the tablet holder wall arm or table clamp can provide a space-saving solution that holds any make and model of tablet between 7" – 13". The ergonomic swivel arm can be placed in a number of positions, tilted and even rotated 360° to ensure that users have an optimum reading angle at all times.
For you
Tablets have found their way into our living rooms, kitchens, classrooms and now our offices. Use them for presentations, trade shows or for placing orders if your role takes you on the road.
In an increasingly digital age, our places of work are adopting new technologies to communicate corporate messages. Reception areas are often the first impression a visitor will get of your premises and tablets can be a professional way to communicate with them. Whilst these areas are manned by personnel, security is also a consideration so Durable tablet holders have in-built security measures to ensure that tablets can be inserted into the holder with ease, yet securely locked in place to prevent theft.
This is an advertorial feature.