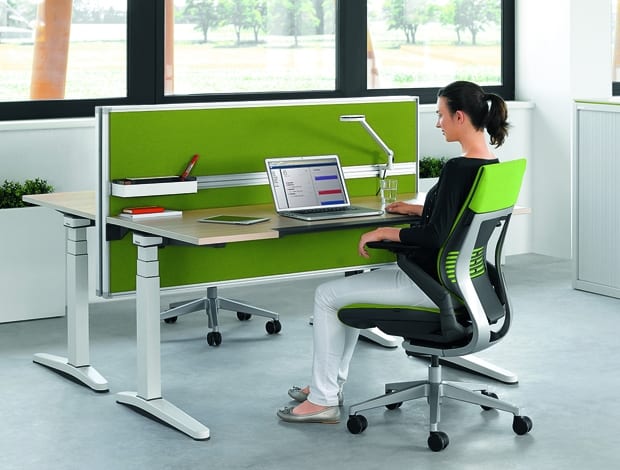 Ology addresses issues with sedentary working habits|The desking system include five height settings||
Office furniture behemoth Steelcase has introduced what it claims is the first desking system to both support the physiology of users and reduce the spread of germs. Ology, which can be set at five different heights, including standing, is designed to encourage desk-bound employees to alter their posture throughout the working day.
The launch follows a recent study by Strathclyde University, Glasgow, which found that people who spend more than eight hours a day in a chair during the working week are more than twice as likely to be anxious and four times as likely to be depressed as those who stand up for short periods of time.
Dr Mike Loosemore, who headed up the research, explained that even small amounts of regular physical activity, like standing up and walking short distances, can improve health in the long term and reduce risks of high blood pressure, heart disease and even cancer.
"It is important to remember that every movement is an active one," Loosemore said. "In other words, even the smallest increase in activity during your working routine can have long-term benefits to your health."
Users can programme three height settings or use the up and down buttons to manually adjust the desk to suit their needs. Ology can also rise to an average standing height at the push of a button.
"Not only it is more comfortable and convenient," said Bostjan Ljubic, vice president Steelcase UK and Ireland. "It is proven more effective and also gives users one more reason to stand. In addition, the soft edge profile reduces shoulder and neck fatigue during lengthy computer use.
Ology is also Steelcase's first product to be manufactured with the option of antimicrobial components. Bactiblock technology uses ionic silver to inhibit the growth of bacteria, mold, fungus and other microorganisms.