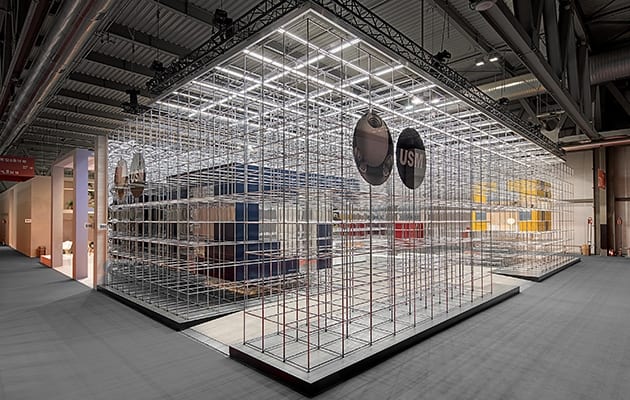 |||
This year's edition of Salone del Mobile was the biggest ever, with over 1,841 exhibitors showcasing their products in Milan's mile-long Fiera pavillions.
With so many exhibitors, stand design has become an absolutely vital part of making Milan design week a success. A striking stand ensures brands catch the eye of teh 300,000 plus visitors that made it to Salone del Mobile this year.
There were some clear trends when it comes to stand design: lots of steel frames and winter-gardens. Millenial pink, and pastel hues were also abundant. But which stands were successful, and which fell flat?
After an intense week of stand-hopping, OnOffice ahs compiled a list of the most successful stands from Salone del Mobile 2018.
USM
The USM stand at Salone del Mobile 2018
Built entirely from USM's own flagship modular steel furniture, the stand was a playground of design and activity. Conceived by UNStudio's and USM, the stand's structure was made entirely from the Swiss company's Haller system of bollards and rods, with colourful breakout spaces which invited the visitors in. The booth itself was the biggest item of furniture built from USM pieces, and was made out of 1,015 panels, 5,008 balls, and 13,318 tubes, and weighed 8.9 tonnes.
Cappellini
Cappellini The USM stand at Salone del Mobile 2018
From the creative mind of Giulio Cappellini himself, the company's stand was comprised mostly of neon frames and grey walls, suspending and highlighting a whole range of new Cappellini products. The neon light created a series of architectural elements that pay homage to the work of Dan Flavin and Lucio Fontana. By hanging the objects from the walls or framing them unconventionally within the light frames, Cappellini created a futuristic, slightly surreal space that welcomed and challenged visitors in equal measure.
Pedrali
The Pedrali stand at Salone del Mobile 2018
Building on their 2017 success, Pedrali partnered with Milan studio Calvi Brambilla again to produce a monolitic structure of pure white. Set against the red carpet and dark steel beams of the Fiera, the gleaming white structure was visible from the other end of the hall. The stand drew inspiration from the modest lightbulb, and paid tribure to Pedrali's 'latest good ideas', by producing a display that was both a museum installation and product dramatisation.
Arper
The Arper stand at Salone del Mobile 2018
Partnering with Barcelona studio MAIO, Arper produced a showstopping stand made almost entirely out of untreated wood. The structure featured natural wood panels, cut into points and geometric arches and housing a number of breakaway spaces of pure colour showcasing distinct lines. The goal was to put relationships in the centre of design, and by allowing the neutral stand to act as a solid bacground to the colouful collections Arper created a cosy yet striking environment, in which the yellow pieces from Ichiro iwasaki's collection of modular seating really stood out.
Kartell
The Kartell stand at Salone del Mobile 2018
Under the tagline 'Smart design for smart people', Kartell's 2018 Salone del Mobile stand was all about celebrating the technological innovation thats comprised the backbone of Kartell design. The display was made of eight distinct platforms, each representing a micro-theme of the brand's design strategy: wood, bio materials, smart technology, outdoors, livign and sitting, lighting, and a new collaborations with La DoubleJ. Woven throughout the stand were Kartell classics and new products alike.
Montana
The Montana stand at Salone del Mobile 2018
One of the most colourful stands at Fiera this year was by Danish brand Montana, whichw as entirely composed in shades of red, pink, and mauve. The stand was designed by Helena Laursen, Architect and Head of Spatial Designs at Montana Furniture, and incorporated the company's new freestanding shelving system, Montana Free, designed by the Danish designer Jakob Wagner. Built into tall arches of deep-red the the shelves created the atmosphere of a colour cathedral of design, accented by spotlights and vibrant green plants.
The biggest week of the design calendar has wrapped, and as the stands at the Milano Fiera are taken down, OnOffice has a look back at some of the most striking and interesting stands at this year's Salone del Mobile.