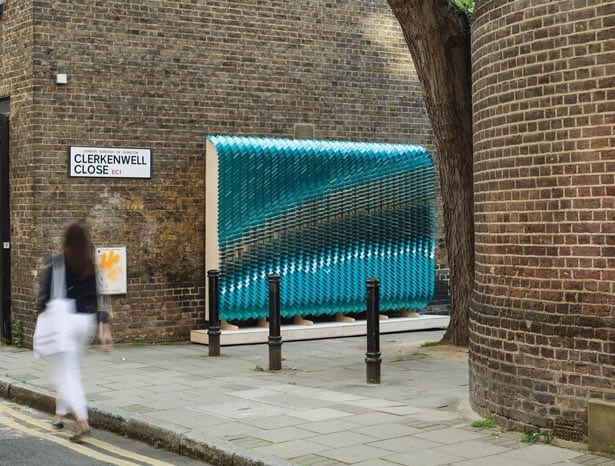 |||
British Ceramic Tile (above)
Surfaces wunderkind Giles Miller worked his magic at various locations around Clerkenwell to produce a range of 'Billboards' placed around various parts of EC1 to subtly direct visitors around the area. Each Billboard is composed of a different colour of glass covering the structure which is intended to be a wayfinding tool, with the light piercing through the surface to show a visual sign to visitors.
Haberdashery
The staircase in Fabric was adorned with an ethereal lighting installation by Haberdashery that was one of the most memorable bits of the Icon House of Culture, using dozens of the firm's new Leaf components. These clear-glazed English fine bone china leaves hovered delicately above visitors' heads and mirrored panels above enhanced the impact.
Boss Design
OnOffice was lucky enough to have a sneak preview of the Trinetic chair a few months ago when we visited the manufacturer's Midlands facility where Boss's design director Mark Barrell talked us through it. The wait was over for the rest of the community when it was presented at CDW. Instead of multiple widgets, it uses just three pivots points that combine to follow the movement of the user for a perfect fit. It's intended not just as a task chair but one that would equally be at home in a touchdown, meeting or conference space.
Bisley
Located just behind the Zetter hotel in St John's Square, storage specialists Bisley attracted the crowds thanks to an unusual public art installation, in collaboration with Acrylicize and The Fountain Company. Entitled 'Workflow', the display uses Bisley's seminal Multidraw as the centrepiece in creating an illuminated public water fountain. It plays on the idea of the product no longer being just used in office but in a wider storage context for everything from art tools to fashion accessories.
Knightsbridge
Bradford-based furniture manufacturer Knightsbridge assembled a quartet of designers for its latest launches for the workplace and hospitality sectors.
Among them was Rok by Jim Hamilton, a solid looking piece, inspired by ancient architecture and finished in Yorkshire wool tweed and cashmere to tie in with the firm's Northern roots and harnessing the company's 80 years experience in producing furniture.
Allermuir
Allermuir has a bumper crop of launches at its Northburgh Street showroom, among them Baudot. Taking the idea of acoustic privacy and having some fun with it, the range, which takes its name from the Baudot code which predates the Morse code, takes the form of colourful domes and cylinders. These include Baudot Wall, which improves acoustics without losing floor space and Zero, the double-sided dome design that is height adjustable and has a sturdy concrete base plus the colourful foam 'Strings'.
Museum of Making
The subjects of our February cover story White, a major player in the Scandinavian architectural scene, made their mark in one of the most prominent locations in Clerkenwell with their Museum of Making installation. Built of Equitone cement facade, the museum, billed as a 'deconstructed barn structure' displayed items from the Museum of London's archive, as well as contemporary makers' work. Featuring several visual workshops and brightly coloured sections, the museum was an Instagrammers' delight.
Jennifer Newman
OnOffice's association with Jennifer Newman dates back to 2008, when she graced our cover. Since then it's fair to say both brands have gone from strength to strength. The latest chapter in Jennifer Newman's history is the opening of a brand new showroom space in prime position on the historic site of Clerkenwell Green, coinciding with her own return to London to live. New collections on display include the Club table and the Disk table, with both typefying the designers' uncomplicated and colourful silhouettes.
Another gloriously sunny three days for the EC1-based event in May saw installations and new product launches aplenty