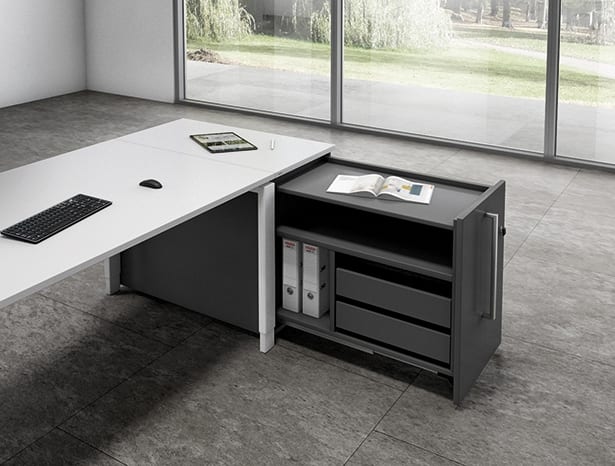 |||
Designers from the UK and abroad will show off new products and collections at London's Clerkenwell Design Week, now in its eighth year. Here are some that we are looking forward to.
Assmann Büromöbel (above)
Assmann Büromöbel is launching a highly adaptable collection of office containers for flexible working environments, designed to meet the rise of bench solutions and project workstations. Pedestals come with various fittings and can be easily moved to different workstations. Containers come in standing, desk and sitting heights and their interiors can be fitted in various options, from shelves to drawers, lockable containers and seat cushions.
Cube Spaces
Cube Spaces will bring two new soft seating ranges to Clerkenwell: Roost & Perch and Lagoon. The comfortable Roost & Perch sofa collection is designed to promote wellbeing, by creating environments where staff can unwind and socialise. In three different sizes – single, double and double+ – they allow individuals and groups to nestle down on them to relax. The collection features a chaise unit, armrest and high/low perch stools.
Ondarreta
Ondarreta's new Lana seating collection was designed by Spanish studio Yonah and is defined by simple and contemporary lines. The intersection of the backrest and the seating structure creates an interesting and appealing aesthetic, with the frame available in wood or metal, supporting an upholstered seat and backrest. This set of multipurpose chairs come with high and low backs, with one or two seats, offering a versatile option.
Moventi
Office furniture specialist Moventi is celebrating its first year exhibiting at Clerkenwell Design Week with a selection of new designs. These new collections include Taper and Metropolis, two families of tables and stools, which have been designed and developed for use in social breakout spaces. The solid oak framework ensures structural strength and support while offering a homely aesthetic when teamed with the cushion.
Isomi
Edition and Outline are Isomi's debut table collections. Edition in concrete and Outline (pictured) in solid surface are both modular at point of specification but installed as finished pieces. The tables can be specified for use at any scale – as a conference table, shared workspace or workstation. Edition continues Isomi's work in lightweight, stain-resistant concrete and Outline combines a fluid appearance with a durable, repairable, long-lasting finish.
Dedar
Italian fabric house Dedar returns to Clerkenwell's Detail exhibition for the second year running. Known for its vibrant textiles and wallcoverings, for residential and contract environments, its 2017 collection explores the relationship between visual expression and textile art. The brand will also launch a range of bold patterned fabrics including Fresco, Geometric Pic Nic and Pachisi, plus fire-retardant textiles for the hospitality sector.
Morgan
Katerina Zachariades has designed two launches for Morgan: additions to the Havana family of lounge chairs, and a new Goodwood armchair collection (pictured) with timber details inspired by mid-century shapes. Morgan will also host a series of thought-events at its Dallington Street showroom, on the theme of "Underlying Geometry". British artist Mark McClure will transform the showroom into a geometric world with his painted timber wall.
Camira
Camira will present its newest fabrics in its water-inspired showroom in Brewhouse Yard, with the title "Textile Fluidity: Weaving Wool for Water". Dynamic drapes, displays and droplets will be created using the Synergy collection of wool-blend fabrics and bast fibre fabrics Patina and Main Line Flax Stripe. Visitors can learn more about Camira's CSR work with water charity, Just a Drop and enjoy daily live spinning demonstrations at its flash factory.
Vitra
Vitra has an impressive amount in store: a Secret Garden installation at its showroom, a Classics & Authenticity exhibition and a Task Chair Centre for UK market launches. Visitors can view the new spring collection at the garden including the Panton chair in a new Sunlight colourway and Jasper Morrison's All Plastic Chair in seven colours. At the Task Chair Point, a UK launch highlight is Barber & Osgerby's Pacific Chair (pictured).
Bill Amberg
Bill Amberg Studio will exhibit for the first time at Project, St James Church. Amberg is an innovator in leatherwork and has specialised in the craft for over 30 years. His studio will present a curated display of products, each crafted in the studio's west London workshops by his team of specialist workers. There will also be the chance to take part in 30-minute leather masterclasses, which are bookable at the stand or online at the CDW website.
Clerkenwell Design Week takes place from 23 to 25 May 2017 in London
Local and international talent compete to create dramatic spectacles this year, with everything from installations to spinning demonstrations