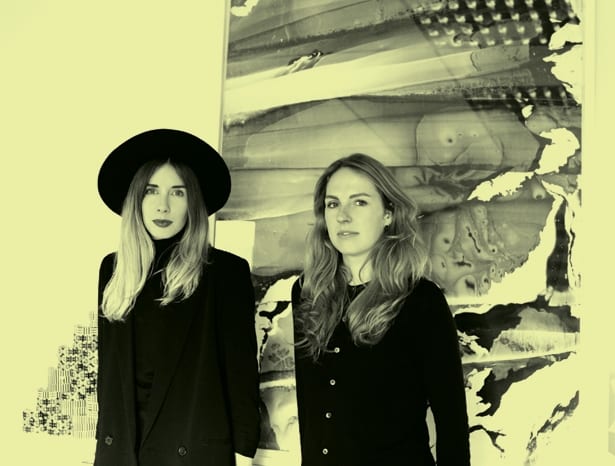 |||
Having a quick dip in the hotel swimming pool or finding time for a workout in the gym is one thing. Being able to have a go on a hotel climbing wall is quite another – yet that is exactly what greets guests at London's Ace Hotel in Shoreditch, courtesy of a "beautiful yet practical" installation, entitled Ascension Bouldering Wall, by those mistresses of monochrome, Patternity.
The piece is part of Ready Made Go 2, which was curated by the Modern Design Review magazine as part of this year's London Design Festival. As the title suggests, this was the sophomore outing for the exhibition, which looked at the working everyday objects, both large and small, within a hotel environment. Other elements include a soap dish by Silo Studio, a handmade quilt design – The Doublet – from Toogood, and Here & There signage by Kellenberger-White.
"We worked within the limitations of the space," says Patternity's Anna Murray (seen on the left in the picture above, with co-founder Grace Winteringham), adding that a completely open brief would not have fired up their creativity in quite the same way. The spot in question, on a back wall in the basement gym, adjoins a mirror where those exercising can not only check themselves out but also revel in some beautiful reflections made by the structure.
The climbing wall features a calming monochrome gradient
This creation by the self-styled "cult pattern pioneers" was inspired by ideas of topography and movement. The final bouldering wall design features a dynamic gradient pattern handpainted on to a plywood wall, with handholds providing a pleasingly textural addition. Its angle can be adjusted from 11-50 degrees to make monkeying around that much harder.
Last year Patternity wowed at the LDF offering at Somerset House with a black and white playground of pattern, with a riot of stripes, dots and squiggles in a large-scale physical realisation of a series of graphics originally completed for e-commerce company Paperless Post's electronic invitations.
Ascension Bouldering Wall is a celebration of climbing itself, the duo says: a reward for all that perseverance. "Also, we always go for something peaceful and quite calm," adds Winteringham, whose product design background complements Murray's experience in photography and art direction. While we admire Patternity's ingenuity and creativity, we're not sure our upper body strength is up to it.
The designers' pleasingly textural climbing wall has been inspired by topography and movement