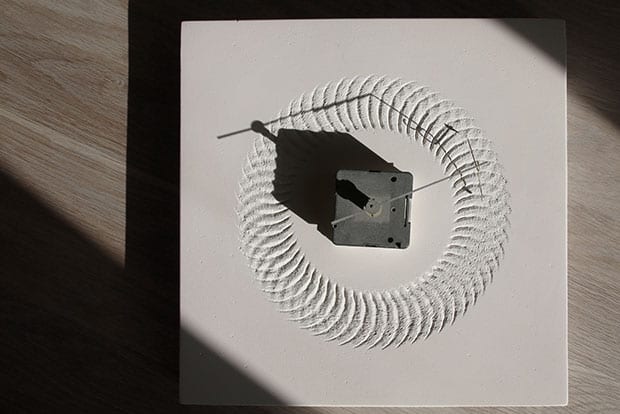 |||
Newcastle-based Nick Kennedy and Oslo-based Isaac Voelcker formed North Sea Collaborations in 2015, their partnership having officially emerged over a number of years from a shared interest in similar themes and disciplines.
These interests fell among the sculptural, highly architectural and artistic, which have led the duo to create technical lighting designs inspired by Scandinavian and British craft.
So where did it all begin? The two first met in 2003 during their undergraduate courses in Newcastle. Throughout their studies – with Kennedy practising art and Voelcker architecture – their "healthy exchange of ideas" flourished, as Voelcker tells me. Their studies led on to respective professions as artist and architect.
"As a direct offshoot of [Kennedy's] mechanical drawing explorations, we made some experimental pieces of work which sought to transplant patterns of geometrical movement," says Voelcker.
After moving to Oslo with his family in 2014, Voelcker explains how he then began developing sculptural lighting that utilised these aspects of movement: "The design used rhythmical
two-dimensional profiles to create a curving, geometric three-dimensional form."
The Tulip pendant lampshade was the studio's first commercially available piece – released in 2016 – which not only presented a sound mesh between Nordic and British design traditions, but also a passion for the process of making, drawn from its founders' professions. "The artist and architect collaboration is key to what we do," says Voelcker.
"As an architect, I tend to channel the design process into achieving a specific end result… Whereas Kennedy, as an artist, is more interested in the design process itself, and is particularly open to the emergence of the unexpected during the process of making," Voelcker adds.
"He sees opportunity in chance, in happenstance, and in playful experimentation within a defined set of rules and boundaries, materials and processes."
This duality – and the fusion of two polarised methods of thinking – has shaped North Sea Collaborations in a way that enables the duo to create unusual and highly innovative products.
"Our collaborative work therefore represents a fusion between fresh, playful experimentation and refined, honed and deliberate execution," explains Voelcker.
"We are also interested in blurring the boundaries between design disciplines such as product design, installation and art. The emerging theme in all our projects is a fascination with natural form, with elemental geometries and universal rhythms."
Location is key to their practice, as is the emergence of this "natural form" found in all of their designs. Rooted primarily in Newcastle and the UK, the duo pull from Scandinavian design traditions – this is clearly portrayed among the lampshade collection, which Voelcker declares is "arguably the direct result of the North Sea connection".
Among the collection, expect to find an arrangement of a pared-down colour palette, minimalist design, Italian cartridge paper, high quality Nordic birch plywood and light. Each lampshade uses single repeating paper profiles that project a complex three-dimensional form – which is their current area of sculptural exploration.
This minimalist approach is typical of the Scandinavian influence, which Voelcker adds is "more intuitive than conscious and deliberate".
In this sense, he tells me how Scandinavian furniture design is commonly rooted in the look and feel of untreated materials – the natural finish of timber, for example – and "pure" lines
and forms as well as "crisp slimline metalwork".
"We constantly find ourselves returning to this same pursuit of the pure, the elemental and the geometric in our own work. The use of light itself as a design ingredient – a key concept for North Sea Collaborations – is also prevalent in Norway, Sweden and Denmark."
North Sea Collaborations' well-tailored design is suitable for a variety of uses, including public places, shared spaces, commercial buildings and the workplace.
"Our lampshades work well both as centrally positioned statement pieces and as background moodsetters,"says Voelcker. "Similarly, they complement both contemporary, minimalist spaces and richer, more classically ornamented spaces."
By bringing versatile and highly executed Scandinavian techniques to the UK, their work continues to collaboratively push the barriers of the conventional by bringing forward their own concept of design. That is, their own language and fusion between polarised locations and professions.
But what does this mean for the future of design? "Design in general seems to be as eclectic as ever, with a multitude
of styles and languages all running parallel to each other," Voelcker concludes.
"Across many design disciplines, the use of honest real material in its 'as-found' state has firmly established itself as a theme. We absolutely welcome this direction."
A Newcastle artist and an Oslo-based architect are creating designs that mix the sculptural with the intuitive