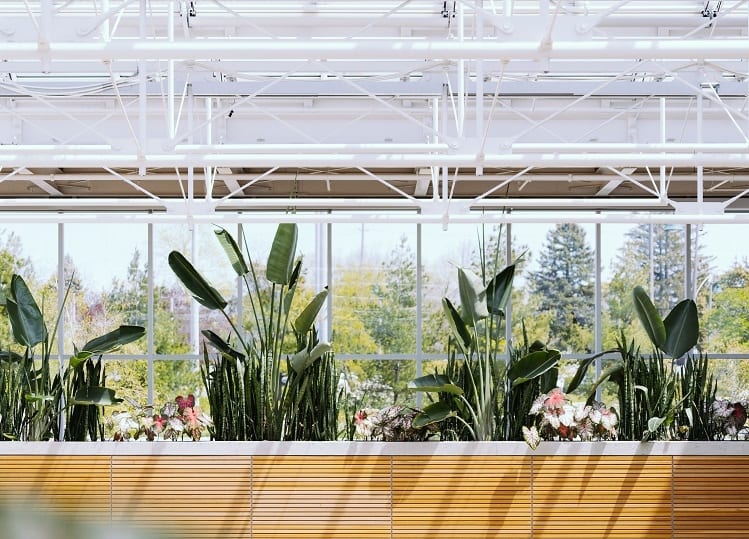 |||
The modern office has transformed significantly in the past decade. As "job hopping" among millennials increases (in large part due to an increased desire for mentorship and strong company culture), the office has become one of the levers to try to keep people around, as well as to increase productivity and job satisfaction.
The tech industry is at the forefront of this transformation, likely because young companies are unhindered by the bureaucratic barriers that large, established companies face. Notably, tech companies are known to use their office space to maximize employee engagement, many using the techniques outlined below. The case for focusing on engagement is a strong one—a study by Gallup shows companies with an engaged staff earn 147 percent more per share than their peers.
In addition to increasing engagement, these adjustments also help companies put their best foot forward when recruiting. A well-coordinated and thoughtful workspace gets prospective employees excited about the chance to work for a company that focuses on the wellbeing of its staff. Even in some of the most expensive markets in the world like (New York, London, and San Francisco), small businesses are investing in their office space to attract and retain top talent.
You don't have to be a tech company to adopt some of the meaningful tactics that have been proven to drive engagement, wellness, and satisfaction. Here's a list of practical changes businesses of all sizes can implement to make to the office somewhere employees want to work—and it doesn't have to mean swapping out your chairs for bean bags or having IPAs on tap!
Strike a balance between openness and privacy
1. Two common complaints about modern office spaces (especially those with open-floor plans) are that they often lack privacy and are rife with distractions. While openness is important for fostering a collaborative culture, it's just as crucial that employees are able to zone into their work.
Make sure your office has a few zones specifically for collaborative working, as well semi-private spaces where employees can go for interruption-free work.
2. To mitigate the negative effects of an open office, install acoustic privacy panels between desks. This reduces both acoustic and visual distractions when employees want to put their head down and get things done, but also easily allows for discussion when desired.
Boost productivity and savings through sustainability
3. Diminish the unpleasant intensity of fluorescent lights with energy-efficient, soft white bulbs. This may entail replacing fluorescent bulbs altogether, or simply placing floor lamps around the office to vary your office's lighting.
4. Put indoor plants around the office. A bit of greenery around the office can improve focus and creativity, as well as the air employees breathe.
5. Invest in ergonomic furniture that maximizes comfort—it's hard to be content and productive when suffering from neck or back pain because of a bad chair.
6. Keep a reasonable temperature in the office at all times—there is no legal maximum or minimum in the UK, but guidelines suggest between 20°C and 24°C is comfortable for most people.
Stay flexible
7. The supply and demand of flexible office space has been driven by the tech industry, which has proven the value of being able to react quickly to change. When searching for a new office space, it's important to keep flexibility in mind. You want to be ready to respond to any organizational changes that may arise, especially if you don't have a clear snapshot of what the business will look like next year.
8. Look for turnkey space that's ready for move-in. This will help you avoid the time and expense of setting up an office from scratch. Alternatively, you may want to consider office management services that will do the legwork of setting up an office for you.
The typical commercial lease ranges from 5-15 years—a long time for small-to-medium business that don't have a clear projection of growth and expenses. While the upfront cost may be higher, look into short-term lease options (anywhere from monthly to 3 years) to better adapt to your changing headcount needs.
9. Invest in portable and minimal-assembly furniture and workstations—whoever is in charge of overseeing your next office move will thank you!
With culture and retention becoming key issues for businesses today, designing a company's workspace has now become a critical step to defining company culture. Our tips for revitalizing your office space will help you develop a strong culture, attract top talent, and keep employees happy.
Graham Shorr is the Chief of Staff at SquareFoot, a commercial real estate technology firm dedicated to finding the perfect office space for businesses as they evolve