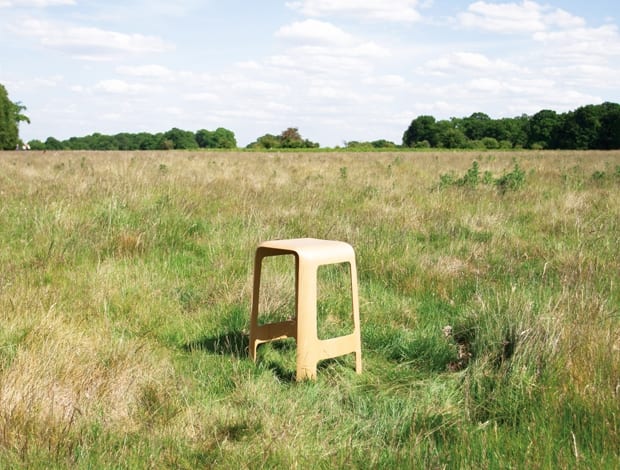 ||

Every year, 100% Design brings together a panel of judges to pick out the most exciting designer at graduate show New Designers, awarding them a free stand within its Emerging Brands section at the September event. From a strong crop of new talent (see onoffice's full review on p115 for proof), the panel selected Camberwell College of Arts graduate Mu Hau Kao's Ply stacking stool for its striking use of material ingenuity.
The super-slim, lightweight design features uncannily smooth curves in three-dimensional moulded plywood. The aim, Kao says, was to enhance the simplicity and texture of the material by using "quiet and humble" natural curves, formed from a single sheet of plywood.
"After looking into the history of plywood furniture, I realised designers like Alvar Aalto and Charles and Ray Eames wanted to achieve compound curves in the plywood," he says, "so it's fascinating to tackle the same challenge that those people were considering in the past."
And because Ply features compound curves (concave on the frame and an indent on the seat) it made for a tricky manufacturing process. The form is made up of small 3D curves compressed into shape using a four-sided mould. Danzer, which supplied the plywood for the project, praised Kao, saying the material was usually limited to forming large curves.
"During testing I encountered a lot of failings; when I almost solved one problem, another would appear, and every testing required a new mould, which is a huge cost for a student," he says. "However it was worth it in the end."
"For me the design is about less design," he continues, describing his ethos for honesty with materials, embracing the way a material "should be". Next, he hopes to find a manufacturer with a "daring spirit" to develop it for production. Meanwhile, he is about to begin studying for a masters in Design Products at the RCA.
The judges for the 100% Design award included onoffice editor Helen Parton, Icon editor David Michon, Kirsteen Martin from Studio Design UK and show director William Knight, who said that Kao's design "was an example of determination to succeed against the advice of manufacturers. By experiment and commitment a simple, practical and commercially primed product emerged." See the Ply stool for yourself – alongside the work of many other new talents – at the show.
Alongside established brands, emerging designers are an essential component of 100% Design. Graduate designer Mu Hau Kao will be showing his award-winning moulded plywood stool at Olympia, challenging manufacturers to step up