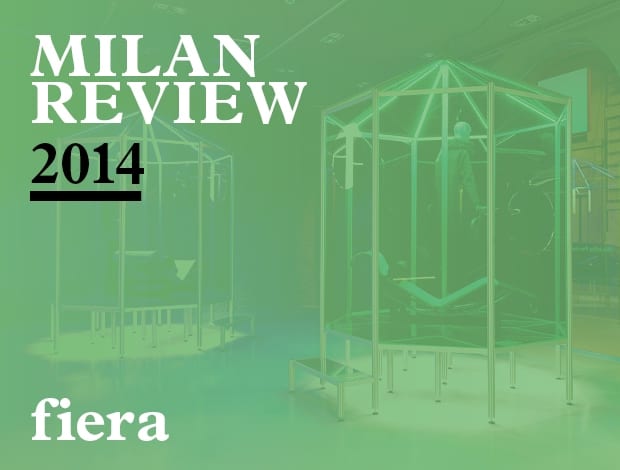 ||
Visitors to the main showground were up 13% at this year's Salone, there was talk of a new confidence in Italy's mightly-but-maligned furniture industry. If you didn't make it or need a bit of recap here's our edit of the highlights from Fiera.
Startlingly lightweight, you can comfortably dangle Coalesse's stackable Carbon Fiber Chair (pictured) from your little finger. Designed by British-born, Hong Kong-based industrial designer Michael Young – and manufactured at a high-performance bicycle factory – the chair weighs in at 2.3kg but can support 136kg before buckling. Meanwhile, Milan-based designer Toan Nguyen has created the Lagunitas flexible sofa and table combo, which has several iterations that produce varying levels of privacy and recline-ability for the sitter, as well as power options.
With an impressively large stand at this year's show, Arper introduced more than one soft seating range by Spanish design studio Lievore Altherr Molina. The group's Colina armchairs – originally designed to complement the Loop modular sofa system – are upholstered in leather or fabric and available in small, medium and large sizes. The chairs feature a solid upholstered base, although the medium size also has options for cantilever, sled or four-leg wooden bases.
Arper also launched Lievore Altherr Molina's deep-seated Zinta modular sofa system (pictured). The wooden shell is available in natural, brown and dark oak veneer, with painted aluminium legs and optional plywood armrests.
The Agnese armchair sees Tacchini work with Gianfranco Frattini Archivio to revive Frattini's mid-century modern armchair, 849, first designed in 1956. The new incarnation features an ash wood structure supporting soft upholstery, while a matching ottoman accompanies the chair. Gordon Guillaumier's Spindle table collection (pictured) features die-cast aluminium legs inspired by the spindles once used to twist yarn; the legs are removable and the tables stackable, while the top comes in square and oblong shapes in a variety of sizes. Finally, Swedish design studio Claesson Koivisto Rune's has extended its Kelly collection, to include an upholstered meeting room chair, occasional table, pouf and footstool.
For its 33rd appearance at Salone del Mobile, Lapalma focused its collection around modular sofa and bench system ADD (pictured), designed by the brand's new creative director Francesco Rota. A range of add-ons, such as coffee tables, trays, magazine racks and tables with electric sockets, aims ADD mainly at the contract market. However, Rota says: "I really believe in crossover products where you can change the finishes so you can enter the office or the outdoor environment. Big brands like Vitra answer with highly technical solutions, but we want to create office furniture that doesn't go so deep or stay so specialised."
German design duo Eva Paster and Michael Geldmacher, known jointly as Neuland, have created the Sharky chair for Kristalia (pictured). The name Sharky comes from the fin-like protrusions that create the join between the base and the legs, which are available in solid beech or European oak, while the base is polyurethane. Sharky is available in black, white, beige, terracotta, brown, olive green and light blue.
Offering new additions to established ranges, Plank showed off Konstantin Grcic's Miura stackable table and stool set (pictured). The table's steel frame is topped by either metal, MDF or high-pressure laminate, has three height options and is available in black, white and red. The injection-moulded polyurethane stool now comes in a wider range of colours including orange, light blue and yellow-green.
Ross Lovegrove says a boyhood fascination with fossils inspired the design of the stackable Diatom chair), which is named after an ancient single-cell organism and made from cast aluminium sheeting. Moroso also launched the Jörg Schellmann collection (pictured), including Library – a steel bookshelf with two aluminium sliding doors – and Double Table, so-named because it can be extended to twice its size.
A contrast to all the light carbon fibre and polyurethane, wrought iron is the material of choice for Ronan & Erwan Bouroullec's Officina collection (pictired); the pair have used it to create a range of industrial-looking table stands that support steel, wood and glass tops. Also launched for Magis was Philippe Starck's Big Will table, its cheeky name presumably a pun on its wheeled legs and the extending top that allows it to seat up to eight people.