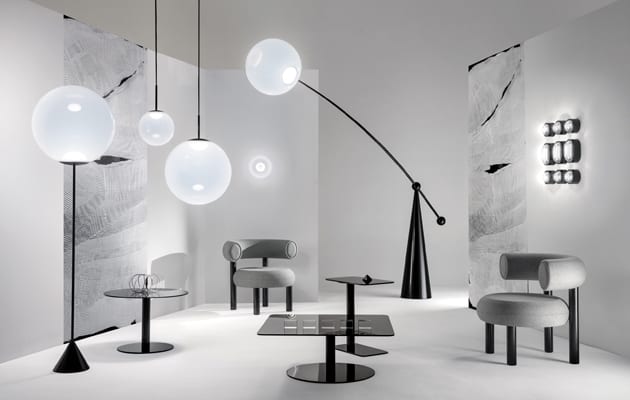 Tom Dixon's range launching in Milan|||
On 9-14 April, eyes will turn to Milan for the annual Salone del Mobile – the world's largest furniture fair that transforms Italy's capital of fashion and design. For this year's 58th edition, the fair will not only bring together more than 2,500 exhibitors across more than 270,000sq m of space, but it will also celebrate the 500th anniversary of Leonardo da Vinci's death.
De-Signo, an installation by curator Davide Rampello, will draw a connection between Da Vinci's engineering and furniture designs. Additionally, Aqua, by events director Marco Balich, will look at the mechanics of water as one of the Renaissance's focus points.
Da Vinci will serve as a muse for many of the products appearing at Salone and Euroluce, but all in all, the Italian spirit and longstanding history of quality and craftsmanship is set to resonate throughout the city once again.
To mark the occasion, we've picked out three exciting launches and exhibitions to expect at this year's benchmark affair.
Marjan van Aubel lights up Milan
Crowned the winner of Swarovski's Designers of the Future project back in 2017, Dutch designer Marjan van Aubel is set to return to Milan this year, where she will present her light in three iterations: two pendant lights, a new floor lamp and wall sconce. With a focus on sustainability and collaboration, the pioneering designer has worked with institutions such as Swarovski and the ECN (the Dutch Energy Centre), making it her mission to promote extreme energy efficiency, which she translates into sophisticated designs. We're keeping our eyes peeled for this leading light.
Tom Dixon launches The Manzoni
Following a year's absence from the Salone, London design pioneer Tom Dixon makes a bold comeback to Italy's design capital with the opening of the brand's first mainland European home, The Manzoni.
The new 100-cover restaurant and future showroom, designed by Dixon's Design Research Studio, will see a pre-opening at the beginning of April to coincide with Milan Design Week and after the flurry of the show will become a permanent restaurant and showroom, where visitors can experience Dixon's products in a live setting.
Expect to see new collections including Fat, an upholstery chair range celebrating form and function. Spring will unveil a series of three pendant lamps, while Opal, a family of translucent globes, will feature Dixon's own custom recipes of tinted white opalescent polycarbonate, which imparts a certain celestial quality to the lighting collection.
Norwegian presence looks to sustainability
Join, the five-day exhibition by Norwegian Presence, returns to Zona for this year's Salone del Mobile with a curation of 21 of Norway's most forward-thinking designers and craft artists.
Centred on community and sustainability, curators Kråkvik & D'Orazio explore the social, environmental and economic dimensions of circular design – in a spectacular show of furniture and textiles, sculpture and ceramics, lighting and jewellery.
The exploration of sustainability is key throughout.The products and pieces shown were all chosen by the curators for their response to these pillars – that is, sustainability and community, as well as form, process and function.
Highlights include sculptural furniture made from granite offcuts by Kent Fonn Skåre, bone jewellery by Máret Ánne Sara and Matt Lambert, an abstract interpretation of a chair by Mijo Studio, a flexible storage unit by KnudsenBergHindenes, and the Ekstrem by Varier, which deliberately challenges our perceptions of what makes a comfortable chair.
We round up the exhibitions and launches to keep an eye out for ahead of Salone and Euroluce