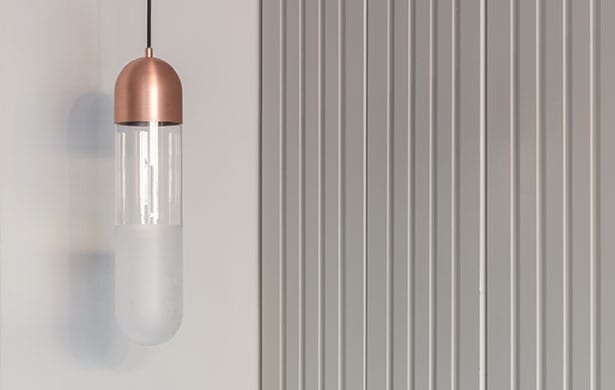 |||
During this year's Clerkenwell Design Week, which took place over 22-24 May 2018, Danish ethical design brand Mater unveiled its new showroom, titled Mater Earth Gallery.
Founded by Copenhagen-based Henrik Marstrand in 2006, Mater has evolved into a renowned studio synonymous with conscious and ethical design. In order to progress with the studio's ethics and values, the team needed a hub that represented its philosophy and craftsmanship across the Danish sea. The Earth Gallery, based in Clerkenwell, London, is now the brand's second home; developed as a concept store and showroom for the Mater brand, the space aims to showcase new collections – including the Nestor Chair in collaboration with designer Tom Stepp – exclusive Earth Gallery Editions and demonstrate sustainable methods and materials incorporated within the designs. Architect Eva Harlou, who took the reigns on the interiors and overall function of the Earth Gallery, headed up the project and introduced a sleek, minimalist aesthetic and typically Scandinavian extension of the Mater brand.
We spoke to Marstrand to find out more about the Mater ethos, why he expanded to the new Clerkenwell location and his thoughts on where design is heading in the near future.
Run us through your background: how did you get into design and what were your reasons for starting Mater?
I have a commercial background from studying at Copenhagen Business School, but since I graduated, I have had several leading positions within international consumer brands, such as Kraft Foods, Diageo, Smirnoff and Johnnie Walker. When travelling the world with these companies it became clear how strong Denmark is as a design nation, and I wanted to set up a brand that played to the strengths of this heritage. After a period of analysis in 2006 and 2007 prior to the launch, there was a clear gap in the market for a brand that had green thinking and sustainability rooted in every product.
What is the Mater ethos – what does the studio stand for and what do you aim to achieve through design?
Our ethos is rooted in design, craftsmanship and ethics. If we do not develop aesthetically amazing products, we will not accomplish our mission in supporting craftsmanship or pushing a green agenda. But the ethics are really where we stand out; we were one of the first to get a complete wood FSC approval in the entire value chain, and we see ourselves as a brand that supports pioneering new materials and tries to incorporate them into the products before anybody else. Our newly founded Earth Studio is a new and innovative way to present to our clients and is designed with sustainability in mind, without any compromise on the design language. Now we can partner with leading procurement houses or architect firms to give input and present solutions about our sustainable thinking. We strive to achieve beauty in a waste product by making it as nice as anything else on the market. We acknowledge that we compete against everybody else and accept that the best design must always win. That is why we work with the best external design teams when commissioning new furniture or lighting for our permanent range.
What are your thoughts on the current state of design – do you think the industry is doing enough in terms of sustainability?
You can never do enough and there's always something you can improve. Smaller and leaner companies can adapt faster to new market conditions, like the growing demand for ethically made products. This industry has definitely progressed slower than other industries, which is puzzling to me as designers are often are very innovative. Manufactures are slower thinking, even here in Denmark. I strongly feel that we have made a landmark with Mater, despite what the established industry said when we launched. We as manufacturers need to support new materials without being concerned about how much material is available and whether it's priced higher than competitors (which is normally one of the barriers that traditional manufactures would see). As long as the price seems fair and within reasonable range of competing materials, our goal is to make our designs so alluring that people will choose it for its beauty and maybe not wonder if you could get it £50 cheaper.
What were your reasons for bringing the Mater Earth Gallery to Clerkenwell? Would you say that the showroom's purpose is to educate its visitors about sustainable methods in design?
This is exactly what we want to achieve with the Earth Gallery in Clerkenwell. We have realised that in order for architects, specifiers and end consumers to fully understand our brand, we need a space that allows the stories to unfold. The location is in the heart of design in Europe and we want to encourage architects to experience all that we can by pushing design and ethical thinking – and this requires a physical presence. We have paid a lot of attention to the detail to the interiors as a showcase of what we can do, not only in terms of product design. We have tried to grab as much of the atmosphere from our Copenhagen Gallery, which is situated in an old renovated car repair shop with concrete flooring. We even painted the front in "Copenhagen green". Plus, a key element going forward is our material bench that shows not just what materials we work with at the moment, but also what the future brings. In our showrooms and in the design fairs this is the first thing you see when visiting us – and it's not a product.
Do you see your products being used in an office? What do you think your designs would add to the working environment?
All the furniture and lighting that we design should look and function within any private home as well as in restaurants and hotels. But offices also use our products, as there is a general tendency to combine the "home" feeling with work. Our use of wood will give any office warmth and an organic feeling, adding to a more relaxed atmosphere. And it also adds a "feel good" vibe when you realise that each design in based on a good ethical story.
What are your plans for the near future – are there any major projects to look out for?
Since the ethical multi-stage venture fund North East Venture invested in us last year, we have an even more ambitious future ahead. We have paced our product pipeline and several new galleries will open this year and the next. We are currently working on Hamburg, with Munich, Stockholm and Oslo and possibly Los Angeles following in 2019. The Clerkenwell Gallery will host a number of events in the remainder of the year and will stay in line with our ethics. We plan to take what has worked really well in our Copenhagen Gallery, which involves hosting dinners (serving and drinking ethically sourced food and wine), collaborations with sustainable partners from other sectors and material partners, sustainable tea tasting, workshops in making pure cosmetics or plant-based colouring for clothing.
Subscribe to the OnOffice newsletter for more exclusive updates
Mater's new Earth Gallery in Clerkenwell is the Danish brand's second home, and aims to educate and delight visitors in equal measure