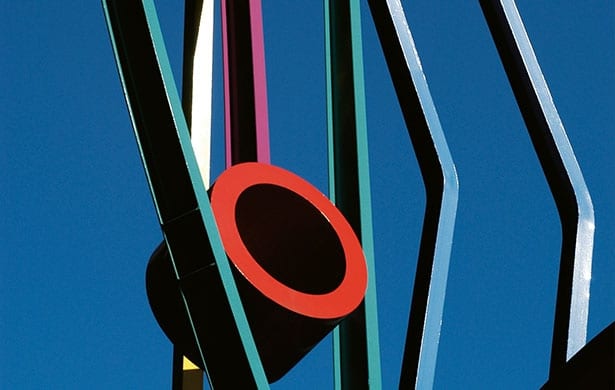 |||
Art is a powerful thing: numerous studies have suggested the potential for looking at art as a creativity booster, stress reliever, and antidote to "mental fatigue." One such study, led by University College London's chair in neuroaesthetics, Professor Semir Zeki, showed that blood flow to the brain increased when participants looked at a "beautiful" painting, "just as it increases when you look at somebody you love. It tells us art induces a feel good sensation direct to the brain".
Findings by Dr Craig Knight, head of the University of Exeter's research group Identity Realisation (IDR) – reported in The Guardian last year – indicated that aiming for "lean" distraction-free workplaces in an attempt to encourage productivity was in fact counter-productive. "If you enrich a space, people feel much happier and work better; a very good way of doing this is by using art," said Knight.
Bruce McLean's Eye-I winks at the City workers in Broadgate
In various tests with groups of employees comparing "lean" spaces with those "enriched" by artworks, the most happy and productive staff were those who were not only provided with artworks and plants for their space, but who were also empowered to choose where and how they were displayed in a space.
A 2014 Harvard study backed this up, suggesting that art in the workplace "promotes social interactions, elicits emotional responses, facilitates personal connection-making, generally enhances the workplace environment and fosters learning".
A few areas are notable in harnessing the cognitive and aesthetic powers of art for workers. Broadgate is a 12ha fully managed estate in the heart of London's Square Mile that houses companies like architect Bjarke Ingels Group, Kantar Media, Royal Mail, Lloyds Banking Group, WeWork and numerous other mainly finance-focused firms. It has a longstanding and wide-ranging commitment to art, showing that art and workspaces aren't simply about lobbies, but about public-
facing outdoor pieces too.
Acrylicize's Contours installation for Tableau Software in Seattle
Among the external art interventions in the area are: Chromarama, a tall tumbling series of 35 illuminated lightbox cuboids by David Batchelor at Finsbury Avenue Square; Fernando Botero's sumptuous Broadgate Venus sculpture at Exchange Square; Bruce McLean's deliciously bold and peculiar geometries on Eye-I, right on the pavement at Bishopsgate; and the rather abstract Poured Paint, Red, White, Red by Ian Davenport
at Exchange Square.
Given our profound neurological responses to art, it is little surprise that many firms are catching on to the value of incorporating artworks into workspaces. After all, now that most of us are dining al desko, it's unlikely many of us have to time to scoot round a gallery at lunchtime, even if we're lucky enough to be based anywhere near one. So why not bring the art to us?
That's exactly what German investment bank Deutsche Bank has been doing, placing more than 60,000 artworks in across its 900 worldwide offices. Its London reception features art by Anish Kapoor and Damien Hirst, while an interactive app informs its employees about works on show. The company also hosts artists' talks at its offices.
Fernando Botero's Broadgate Venus in Exchange Square
Acrylicize is a London-based studio that specialises in creating art and interior features for commercial and residential spaces, and has worked with the likes of Google, Heinz and Coca-Cola to create pieces for their spaces. It bases its work around the idea of "art as identity", and sees its installations as not only enhancing workspaces for those working in them, but as invaluable assets to a brand's external recognition.
Among the studio's most recent projects is Contours – a huge site-specific acrylic LED sculpture for the Tableau Software global HQ in Northedge, Seattle, that "explores an overriding theme of discovery". Acrylicize says: "The contours themselves are a nod to an iconic data visualisation, while the flowing forms look to create a calm energy that responds directly to the space."
Subscribe to OnOffice for the full feature
Employers are starting to realise that art in the workplace is more than just decoration – it can change the way employees think and feel