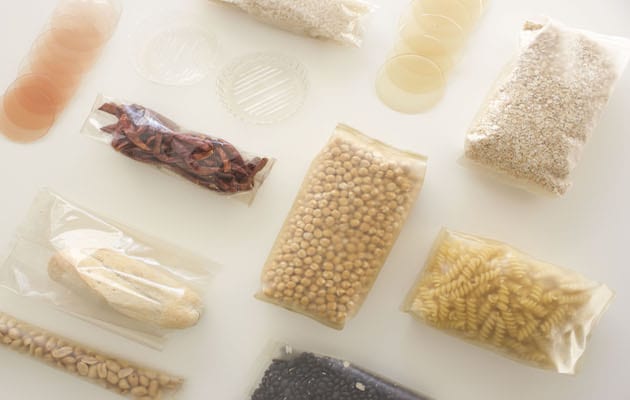 |||
At Material Studio, as part of 100% Design, Chilean designer Margarita Talep showed how she is taking on single-use plastics with a material made from algae.
Please tell me about your contribution to Material Studio. What is Desintegra.me?
Desintegra.me is the name of my project which intends to replace single-use plastics with a new material made from raw material extracted from algae. In Spanish, Desintegra.me means that the material 'disappears' if you use it. The material is visually very similar to plastic but degrades over a period of two to four months, depending on atmospheric conditions.
How did this project start?
In a university workshop. We were tasked with looking into biopolymers and during our first class we were asked to come prepared with several polymer samples that interested us. In our group, we selected casein, the milk protein, and ended up developing a milk-based bioplastic that had incredible results. That project was the initial kick to motivate me to start experimenting with natural polymers. For my final project, I questioned whether milk was viable to develop what I had in mind. I then searched for alternative polymers that were not sourced from an animal, but were found locally and in abundance so as not harm local ecosystems. That summer I started exploring the potential of algae.
A polysaccharide is primarily extracted from red algae
Can you describe the process of making the bioplastics?
The biomaterial is manufactured with agar, a polysaccharide that is primarily extracted from red algae. The process varies depending on the final material you want to achieve. For this, only the proportions of the mixture are altered (polymer + plasticiser + additive). First, the liquid mixture is brought to a temperature of approximately 80°C and is deposited on the surface or mould. When the temperature of the mixture falls below 20°C, the mixture is transformed into a gel. Subsequently, the material dries in ventilated environments maintained at a constant temperature.
Why algae?
For two reasons, because algae is found in abundance in my country, Chile, and because I wanted the raw material not to come from an animal.
Agar is boiled to 80°C with natural dyes then transferred to a mould
What inspired you to create Desintegra.me?
I was questioning myself and the design discipline about the lack of organic materials that could replace plastics, especially when most of them are only single use. Why use an indestructible material for a disposable product? So I started to ask how to replace plastics in situations where its use is ephemeral, and its usefulness is minimal.
How long have you been working with bioplastics? What about this particular material interests you?
I have been working with bioplastics for more than three years – what interests me about these materials is their versatility, and also how incredible it is to develop materials of natural origin that can prove to have a concrete application in the commercial market.
Dyes of plant origin ensure the products as natural as possible
How do you think the design industry – or maybe even the world – can incorporate bioplastics more?
The answer varies depending on the country you're in. Although designers may be creating more and more bio-based materials there must be a body or an institution that facilitates the task of bringing these materials to the market. In Chile, at least, that is a slow and complex process.
Do you think bioplastics have untapped potential?
Yes, definitely. I believe that the future of bioplastics is viable, but it has to be accompanied by a changed mindset about how society uses the materials available to us. We have to understand that most of the materials around us are limited resources. There is so much we have yet to discover about bioplastics, I just hope it is not too late when we do.
Margarita believes that the future of bioplastics is viable
Meet the designer turning to nature to create an innovative bioplastic