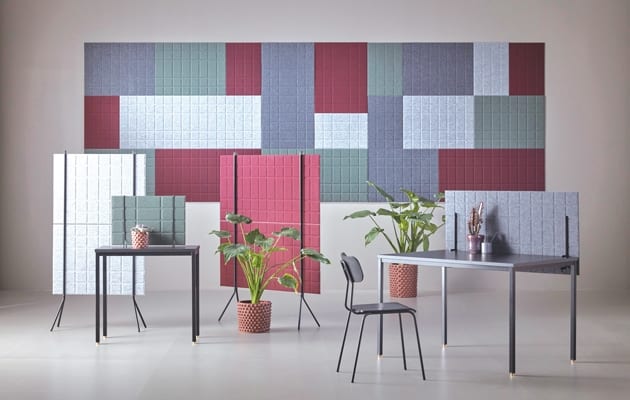 Textiles by Nordifa|||
The Stockholm Furniture & Light Fair is coming back with the latest innovations in interior design and lighting. Running during Stockholm Design Week, from 5-9 February, the world's leading event for Scandinavian design will be brimming with new products, materials and trends, as well as an enticing Talks programme featuring designers such as Tom Dixon, Sabine Marcelis and this year's Guest of Honour for 2019 – Neri&Hu. With a theme of Diversity and Awareness, Greenhouse – the fair's hall for emerging designers – will also be back with a flurry of designers from 21 countries. In preparation for the event, OnOffice presents ten emerging designers to watch out for at the fair.
Neil David
Dutch company Neil David believes in the simplicity of geometric forms and in the unprecedented quality of locally made products. "We design products where the idea is, and stays, the centrepiece of the design process," the company's website says, and the products showcased at this year's Stockholm Fair embody this statement entirely. Among others, Neil David will exhibit the Twig Chair, named after the twig that inspired the design of its solid ash wood legs, the Angle sofa and chairs, and the Wabi Bookcase (pictured above).
Örsjö
Swedish company Örsjö Belysning will be launching two new designs by the highly revered architects Gert Wingårdhs and Ingegerd Råman. Wingårdhs' Boa is available as an uplighter, a floor reading lamp and a pendant light. Its distinctive funnel shape makes it compact, while the black leather endows it with a certain elegance. By contrast, Råman's Virvel (pictured) is based on a folded circular paper of pure white. An example of Råman's refined, focused design, Virvel is made from one same paper circle that is folded in different ways to create a different lamp every time.
Bent Hansen
Danish brand Bent Hansen will be exhibiting a number of novelties at Stockholm Furniture Fair this year, including the Primum Sofa and Lounge Chair with arm rest (pictured). Designed by Bent Hansen Studio – led by Henrik Hvid Hansen – and featuring a flexible back support and Kvadrat fabric, the sofa and lounge chair joins the brand's existing Primum dining table, bar stools and dining chair. Speaking of which, the latter is now available in 33 different colours of sensuous velvet and will also be shown at the fair.
Studio Hayo Gebauer
Studio Hayo Gebauer is a Berlin-based creative practice that specialises in product design. Its emphasis lies on thoughtfully merging concept with form and material in the realm of everyday objects and furniture. Led by Design Academy Eindhoven alumnus Hayo Gebauer, the studio will exhibit a series of products such as Slope – a multiple-surface side table constructed from a single sheet of anodised aluminium, Frame – a slim chair (pictured), which features a clever combination of its individual parts resulting in an elaborate and solid construction, and Blackbird – a single sheet steel LED light with incorporated motion sensor that functions as the on/off switch.
Northern
Northern's creative reach goes beyond its Norwegian heritage to meet the modern need for laid-back luxury and cutting-edge cool. The brand will launch several products in Stockholm, as well as extended versions of existing products. These will include the Oblong sofa, designed by Mario Tsai and characterised by two upholstered oblong shapes, accented by a minimalist frame, a drop-shaped Ink Wall lamp by Felix Isidorsson, the Oaki dining chair by Stine Aas – now in a black finish that gives the grain a soft sheen – and the Peek wall mirror series by Elina Ulvio (pictured).
Camira
Camira will launch two new fabrics as part of a collaboration with the late Danish American furniture designer Jens Risom. Inspired by mid-century modern design and architecture, Camira's stand will display bold, organic, upholstered forms and floating architecture against a backdrop of blond wood. This will be the setting for Risom's textiles (pictured), Zap – a wool blend fabric in a mix of 30 zesty, poppy and vibrant colours – and Armadillo, which maximises on texture and colour contrast using wool and flax, available in 12 colours.
Nordifa
Nordifa has produced textiles since the 19th century and offers a complete production process, from fibre to functional product. Today, it is Sweden's only manufacturer of pressed felt and to showcase the material's ability at the fair, Nordifa will exhibit a number of products including Hay's Nobody Chair, designed by Boris Belin & Poul Christansen as well as the newer SPLIT Acoustic Screen (pictured), produced by AJ Produkter and designed by Elin Basander André.
ARKKI by Lovi is a new brand created by Finnish company Lovi. Eco-friendly and flat-placked for easy shipping, the product line includes up to 4m tall acoustic trees made from acoustic PET felt and birch plywood, acoustic ceiling panels and wall art, as well as ARKKI Skirt & Drum – a new collection of lightweight cardboard lamps that can be treated with 100% non-toxic fire retardant. The iconic Lovi Tree (pictured) is a favourite in hotel lobbies, offices and public spaces alike and will be displayed along ARKKI by Lovi's other products.
Savo
With the versatile Savo Soul suitable for workplace and conference spaces, Savo's popularity has been steadily growing in recent years. The 2019 edition of Stockholm Furniture & Light Fair will see a new take on the best-selling chair and feature Savo Joi (pictured) – a height-adjustable stool available in three different standard colours of metal. Ideal for short impromptu meetings, Savo Joi comes with a gas stem that can be normal sized, long or extra long with a footrest.
Brunner
Brunner's first participation at the Stockholm fair will see the company take over 100 sq m to display more than 10 new products from the Office and Public Space divisions. Among these will feature Brunner's A-Collection – including a new upholstered A-Lounge lounge seat, the Ray collection – whose high-end conference family has been expanded to include Ray Soft (pictured), plus the Crona collection. Brunner's Managing Director, Dr. Marc Brunner, comments: "We see the Stockholm fair as the ideal opportunity to introduce Brunner and all of our very latest innovations to our customers in Scandinavia."
These are the emerging brands at Stockholm Furniture Fair to keep your eye on.