The Sunny lounge chair, which blurs the boundary between furniture for public and private spaces, just launched at Stockholm Design Week in the brand's newly refurbished showroom
Stockholm Design Week (8th-14th February) is a celebration of Scandinavian design – and is the perfect setting for an installation that brings together some of the Swedish design industry's most recognised names. Iconic furniture brand Lammhults is showcasing three new product launches in Space Matters, an installation at their fully refurbished flagship Stockholm showroom.
One of these new products is Sunny, a lounge chair that is the combined vision of Gunilla Allard – one of Sweden's most esteemed furniture designers and a longtime collaborator with Lammhults – and Note Design Studio, a multidisciplinary collective of creatives based in Stockholm. "The mission was to make a softer seating . . . a little lower, a little more relaxed, a little cooler, a little dreamier, with a lounge-feeling that crossed the boundaries between public and private," says Allard.
The designers found inspiration in the Eames Case Study House, which combines a rigorous architectural identity with a richly layered collection of found objects that give it a soft, personal quality. "It's an expression that you would yearn for in your home, but without compromising on the quality needed in the contract market," says Note Design Studio. "The icons from the past have that type of quality that would make them last over time."
The structure of the Sunny chair is crafted from bent steel tubing, which supports a lightweight "basket-like" fabric seat onto which a thick, soft cushion is fastened with push buttons. A U-shaped foot cast in zinc allows several armchairs to be easily connected together to create straight or curved lounge formations, with or without tables. Looking ahead, there are plans to expand the collection into a versatile full-range furniture system.
The versatile lounge offers an innovative solution for today's fast-changing workplace, where dedicated workspace may have to expand and shrink as needed, flexible co-working spaces are on the rise, and the divide between home and office is becoming increasingly blurred. "Sunny doesn't communicate that it's an office product," says Note Design. "Rather, it's something you would easily have in your home."
Alongside Sunny, Lammhults is also launching new work by Peter Andersson and Danish design duo Johannes Foersom & Peter Hiort-Lorenzen. These three new pieces will be showcased in the refurbished showroom in various settings, from a hotel lobby to a living room, which can also be viewed via virtual tour in response to the ongoing pandemic.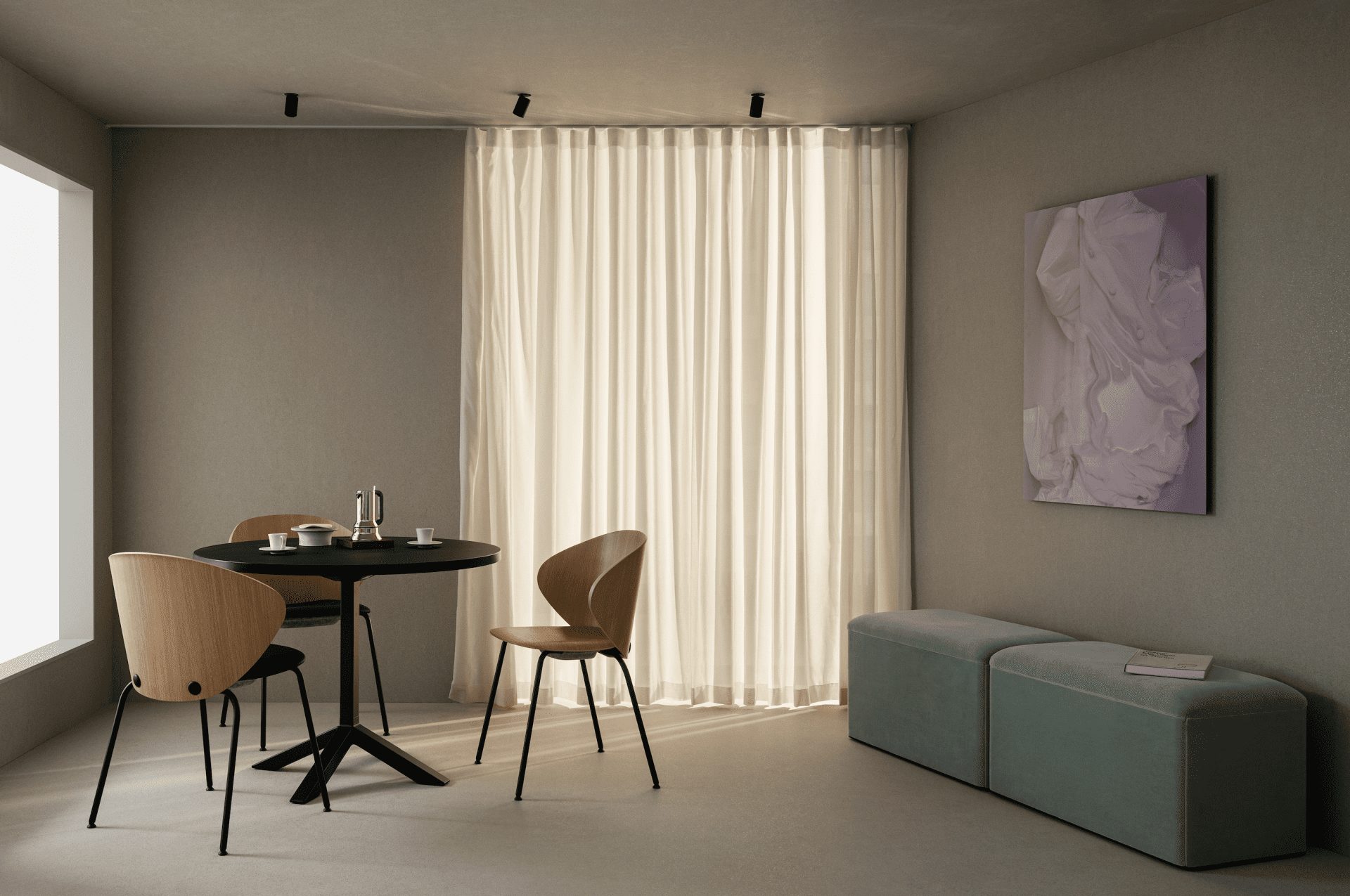 "As a company, Lammhults has always been very innovative and daring to explore new furniture typologies," says Paul Vaugoyeau, who designed the showroom and Space Matters installation.
I wanted to showcase this versatility while showing spaces that reflect my vision of what work/living space can feel like – offices should feel more like creative agencies than the traditional lined up desks and small kitchenette. This is what we tried to achieve with this installation."
For more information visit lammhults.se
All images courtesy of Lammhults