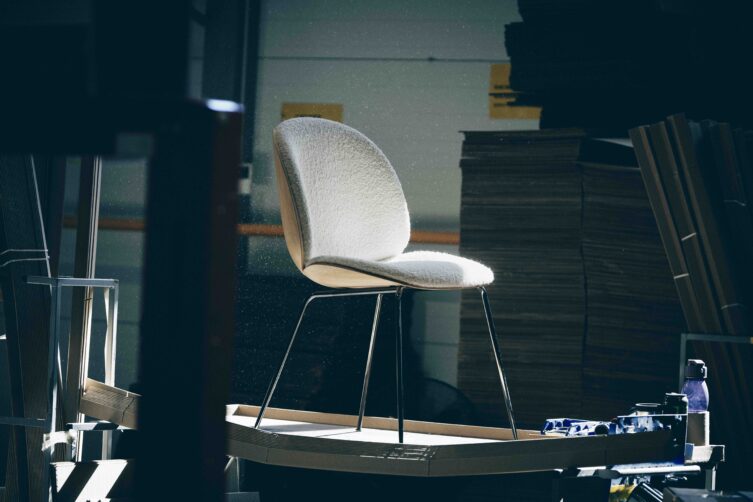 Design studio GamFratesi perfectly blended craftsmanship with technology to create a modern furniture classic
Iconic mid-century chairs like Arne Jacobsen's cocooning, winged Egg and Marcel Breuer's tubular steel Wassily continue to tantalize design aficionados, and if there's a modern creation poised to elicit a similar sense of exhilaration decades later, it's likely the minimalist Gubi Beetle chair.
From the moment that Danish design house Gubi launched the Beetle in 2013, its rounded silhouette, courtesy of the Copenhagen architecture and design studio GamFratesi, "has turned heads and sparked conversations," says Marie Kristine Schmidt, Gubi's chief brand officer.
Juxtaposing a hard shell with a soft interior, the Beetle indeed mimics the form of its namesake insect, giving "an organic, almost anthropomorphic quality that you can't help but warm to," she adds.
At once solid and supple, it's the Beetle's distinctive visual appeal that initially resonates with fans. The protective shells, fashioned out of either polypropylene plastic or the recently introduced 3D wood veneers that echo nature with their nuanced grains, are cushioned with dual layers of foam.
As a final, fluid flourish, light, conical legs, finished in the likes of black, chrome or brass, gracefully descend from the steel frame.
The Beetle is brought to life by a complex production process. Its hand-trimmed injection-moulded plastic shell, for example, exhibits considered variations of thickness to encourage flexibility, while the backrest and seat of the 3D veneers in oak and walnut are connected by invisible spring-steel brackets. For Schmidt, it's the Beetle's clever construction that she admires most.
"Concealed beneath its playful curves is a brilliant piece of precision engineering. The shape of the seat is perfectly contoured for comfort, and the shell is crafted to respond to the body's micro movements. With the Beetle, you come for the looks, but you stay for the ergonomics," she elaborates.
As the Beetle celebrates 10 years of ingenuity, its versatility has become even more pronounced. Beyond a collection growing to include tables, sofas and stools, the actual chair seemingly has no limits.
It fits right in at the fashionable dining room table or home bar, provides sanctuary on an outdoor terrace (the shell delightfully features built-in UV protection) and even brightens workstations because the upholstered versions are so relaxing to settle into.
It's "in the sweet spot between formal and informal that allows it to complement almost any style of interior," explains Schmidt. "The amazing thing about GamFratesi's design is that whatever you do to it, it preserves its identity. Whether you take the back off, add wheels, change the legs, swap out the materials, the chair is always recognisable as the Beetle. It lends itself to reinvention and reinterpretation."
Images by Gubi
Enjoyed this article?  Read more: Q&A: Christian Grosen, Vitra's Chief Design Officer, shares his insights on the classic Jean Prouvé collection