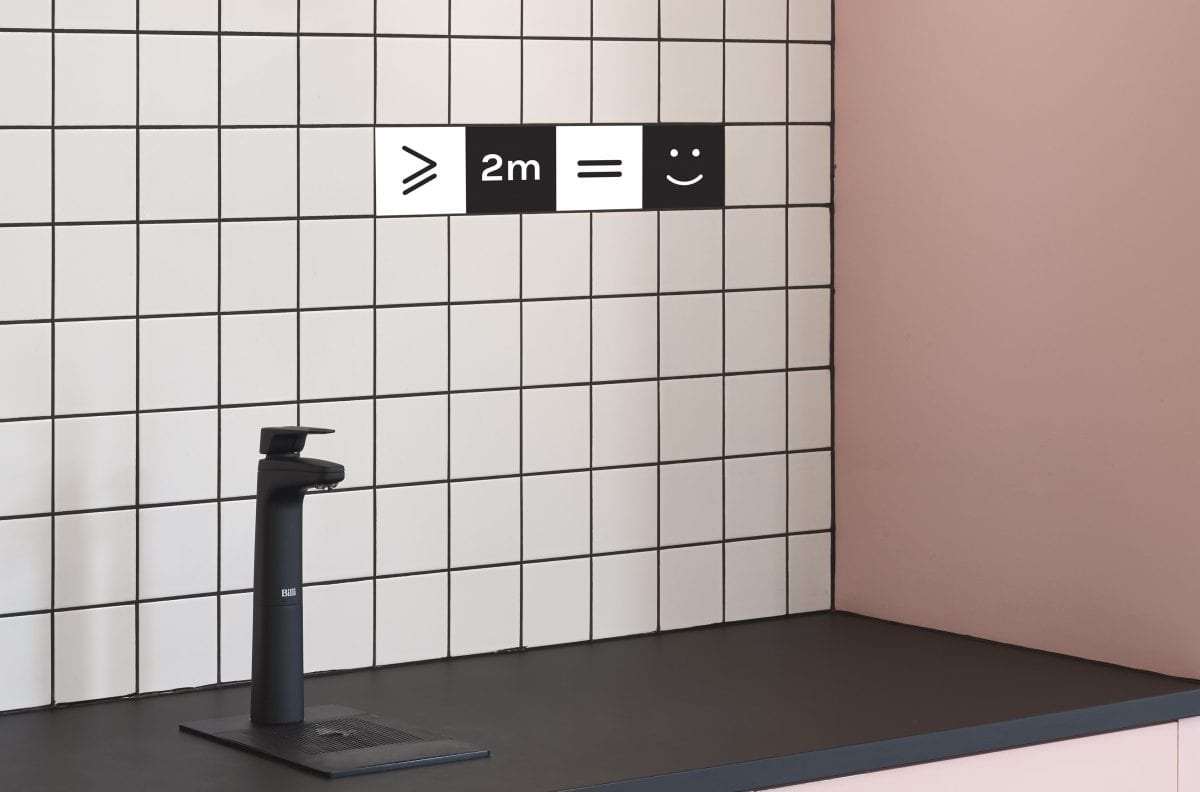 A new range of playful vinyl signs facilitates Covid-19 safety in offices and businesses
Since the widespread adoption of social distancing in the wake of the Covid-19 pandemic, our public spaces, shops, cafes and workplaces have become filled with various forms of floor and wall signage helping people stay safe.
The signage has been haphazard and sometimes even confusing, but as we settle into a world in which ramped-up hygiene measures become a part of daily life, there is undoubtedly a need for these signs to have a more unified, coherent graphic design.
Unified needn't mean boring, though. London-based initiative Good Measures is a partnership between interior design firm InterestingProjects and vinyl print house Puck Studio, launched in response to the pandemic.
Together, they have designed a system of bold, colourful and playful signage to help with new wayfinding, distancing and hygiene measures in a variety of settings – including offices, schools, galleries, pubs, restaurants and retailers.
The modular collection of stickers – many of which have eye-catching 3D effects – includes hand-washing and mask-wearing reminders, queue markers and navigational arrows for new one-way systems.
The signage aims to communicate safety messaging effectively, while also supporting an atmosphere of positivity in the socially distanced workplace – both for staff and visitors.
The idea for Good Measures emerged when InterestingProjects founders Joana Filipe and James Mason started exploring how workspace layouts might change post-Covid – creating squares and lines on the floor to illustrate new distancing measures. They reached out to long-time collaborator Dave Gibbons, director of Puck Studio.
"We realised pretty quickly that people would need social-distancing signs and we started to see the usual hazard-style health-and-safety versions cropping up in various places," says Gibbons.
"The problem is that not only does this tend to be a bit depressing, but there is so much of this sort of signage around that it becomes white noise, and loses its impact as a result. We wanted to try something a bit different."
The modular system can easily be adapted to suit the needs and character of each business, including bespoke colours and text. But the Good Measures project may well expand beyond Covid-19 signage.
"There is a lot of signage out there we want to challenge or re-think," says Joana Filipe. "That might well be the next step. Better signage for better spaces?"
All images courtesy of Good Measures