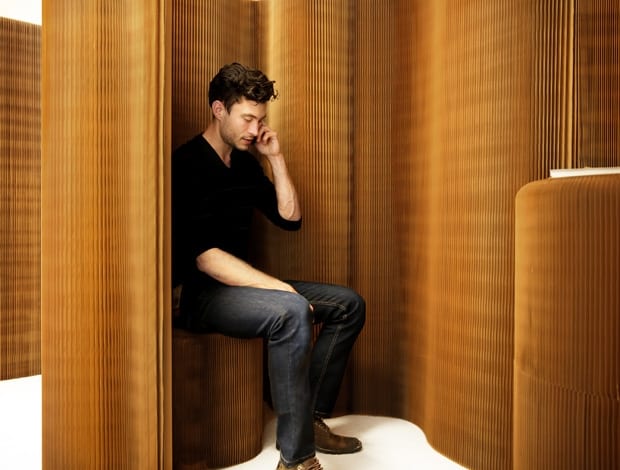 Molo's Benchwall curved around to create a quiet space|Benchwall used to create a breakout area|Molo's Thinwall is available in both black and white|New Hybrids by Mieke Meijer|NewspaperWood reverses the traditional lifecycle of newspapers|The Proplamp, designed to look like a crumpled piece of paper|Margje Teeuwen and Erwin Zwiers, designers of the Proplamp|Fusionner 2.0 Paper Cave, installed in the Kotaro Horiuchi's architecture office|Fusionner 3.0, an installation for Aichi Shukutoku University|Fussioner 1.0, installed in the Gallery White Cube in Tokyo||
New Hybrids by Mieke Meijer
Mieke Meijer has launched New Hybrids, a range of chairs that incorporate a veneer made from old newspapers. NewspaperWood, the material developed by Meijer, reverses the traditional lifecycle of newspapers, using them to manufacture wood-like products such as chairs. The layers of paper are cut against the grain to create 'logs' that mimic the wood grain or growth rings in tree trunks.
Meijer came up with the material in 2003 while studying at the Design Academy Eindhoven in the Netherlands and developed it in partnership with Dutch design label Vij5.
Molo's benchwall and thinwall
Mieke Meijer will introduce its Benchwall and Thinwall designs at Orgatec in October this year. Created from recycled paper, the accordion-like structures are flexible and adaptable and offer acoustic absorption.
Benchwall features a 1.8m backrest so it works as both seating and a space partition. The product can be swept around into a circular bench-lined room for greater privacy. Thinwall measures 90mm in width and can be used as a partition or sculptural interior space liner.
The Vancouver-based studio experiments with materials and structures, overlapping the realms of art, architecture and design. It uses paper to create its award-winning soft collection of flexible walls, building blocks, seating and lighting. It is dedicated to researching new materials and exploring the possibilities of space making.
Proplamp by Margje Teeuwen and Erwin Zwiers
Fascinated by the shapes created by crumpled paper, Margje Teeuwen teamed up with Erwin Zwiers to develop Proplamp, a light encased in biodegradable non-woven plastic that closely resembles the crumpled paper forms. Each lamp is pre-shaped by the designers, but can be continually reshaped. The lamps are also available with coloured LED lights.
Kotaro Horiuchi's Fusionner 1.0, 2.0 and 3.0
The Japanese architect uses sheets of glass fibre paper hung from the ceiling to form delicate enclosures that are lit to create soft, dreamy environments. Ranging in size from 40 to 100sq m, his designs have been exhibited in galleries and won multiple awards this year.
One of the 'paper caves' resides in Horiuchi's own workplace. Comprised of a series of paper arches, it runs along the main office space between the entrance and balcony at the back. Although it doesn't have a specific function, it is used variously as a meeting place, lounge and bar.