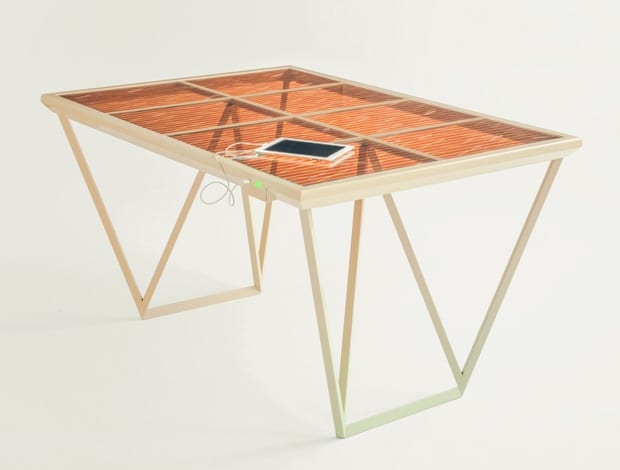 ||||||
Three years since she graduated, emerging designer Marjan Van Aubel has already been nominated twice for 'Designs of the Year'; she's been exhibited in MOMA New York, and is one of the Design Council's 70 Ones to Watch. Here, she talks to onoffice about her Current Table, and the imporatance of balancing aesthetics with function
So, what exactly is the Current Table?
It's a table with a dye-sensitised solar cell with a USB port on the side so you can plug in your iPhone or iPad or light.
Have there been other solar-cell tables?
There are solar-cell tables for outside, but this one is very sensitive to light and it's the first piece of furniture like this that you can use indoors. It's better if you have it next to a window, but it works in the shadows as well.
How did you minimise the need for light?
The design is as open as possible and the cells also work from underneath. It's a type of solar cell that works on the properties of colour. For example, red cells are more efficient than blue cells, and that's really interesting because a colour that's usually used for aesthetic reasons now has a function.
Can you tell me about the design from an aesthetic point of view?
If you look at the colour stripes, the orange and the ochre, they're the active parts. These white lines represent the current that goes through the table. The more colour you take out of the pattern, the less efficient it is, so this is a nice way of dealing with efficiency and aesthetics.
Does embedding these new technologies necessitate a change in aesthetics?
I think it's very important not to think about the technology itself, but the end user and how they want to use it. Solar cells are pretty ugly at the moment and people don't really want to see them, but if we can make it a beautiful thing that people want to have, then it's a way of creating awareness.
What other solar products have you made?
I've made cabinets that contain tableware. Every cup and plate in it has a solar cell, so when you're not using them, you put them in the cabinet and it stores the energy. It's like a big battery for all those objects.
It's nice to think about the future of objects – what can they become? How can you generate electricity in the places you need it.
Is sustainability your particular area of interest?
Yes, design is like a language; through it we can tell stories by really thinking about their use and how technology can be integrated in more human ways.
What are you working on at the moment?
I'm still working on scaling up [production of the Current Table], that's my next stop.