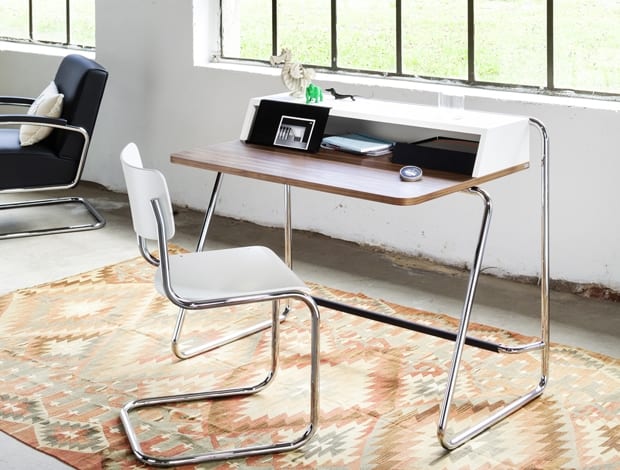 ||
After an initial period of radical progress, Thonet's zeal faded. Does the new S 1200 range fulfil the late creative director's wish for products that continue to remain relevant to today?
In an interview given in 2010 to Architonic, the former creative director of Thonet, James Irvine (who tragically passed away last year), spoke about the difficulties for a brand as historically significant as Thonet in creating new products.
"It's quite a tough job understanding what you can take from the past and how you can change. Because, obviously, the brand value is enormous in the name, in the collective memory of what a company like Thonet is." Which, of course, is absolutely true.
It's almost impossible to emphasise the importance of chair No 14, created by Michael Thonet in 1859. Not only did it pioneer an industrial method of bending solid wood, but the piece could also be broken down into just 18 pieces allowing 36 chairs to be packed in a box with a volume of one cubic metre, meaning export was no problem. Like Josiah Wedgwood before him, not only did Thonet manufacture a paradigm-shifting product, but he devised an innovative way to get it to market too.
Interestingly, in the same interview Irvine went on to add: "You say the word 'Thonet' and everyone thinks of the bentwood chair. Funnily enough, most people don't think of Breuer's cantilever chair, which, historically, is a very important part of Thonet."
It's a point I put to David Knight, whose company Crest Contract Interiors represents the German firm in the UK, as we inspect the company's latest product, the S 1200 tubular steel desk designed for the home office. "That's actually the problem they're trying to confront now," Knight tells me. "People lose sight of the fact that throughout the Bauhaus period it was equally revolutionary."
Quite possibly, this is because the history of the tubular steel furniture designed during that era is somewhat untidy, clouded by legal arguments over copyright that involved Breuer, Mart Stam, Standard Mobel (the first manufacturer to specialise in tubular steel furniture) and Thonet itself, with walk-on parts for the likes of Walter Gropius (who had wanted to reserve the right to produce and market Breuer's designs).
But regardless of this, there can be no doubt that Thonet took a huge risk when it finalised a contract with Breuer in 1928 – after all, no market had been identified for these genuinely revolutionary products. The company can surely only have been working on a hunch.
Flicking through the pages of Thonet's beautifully produced brand history, Essence 01, what becomes clear is, not surprisingly, somewhere along the line that revolutionary zeal subsided. Of course, there have been some fine products. I'm a big fan of Naoto Fukasawa's elegant 130F chair and I enjoyed Irvine's own take on the 14 in collaboration with Muji. But that searing heat of creativity cooled many years ago.
As Irvine said: "It's interesting for me to play this balancing act between the past and the future. I wouldn't say I want Thonet to be a company that's necessarily radical. But continually to freshen it up and to make the products relevant to today."
Which, in many respects, is what the firm is doing with the S 1200. This relatively simple desk is compact – 88cm high, 110cm wide and 65.5cm deep – meaning it should fit into the smallest of living spaces. Optional accessories include a cover for the desk's sloping compartment and storage boxes, which are both made out of steel and covered in a velveteen material.
There's also a cable management system that uses magnetic clips on the back of the steel frame to hide unsightly wires. Meanwhile, its tubular steel frame comes in seven colours as well as a chrome-plated version and there are a number of tops from which to choose.
Designed in-house, it's a perfectly tidy piece of work that obviously has its antecedents in the Bauhaus. I rather like it, I have to confess. It should be pointed out though that it isn't cheap. At £2,400 for a standard version and £2,750 with all the accessories, Knight confirms that you're unlikely to be buying the S 1200 at John Lewis. It seems that all that history and brand heritage comes at a price.