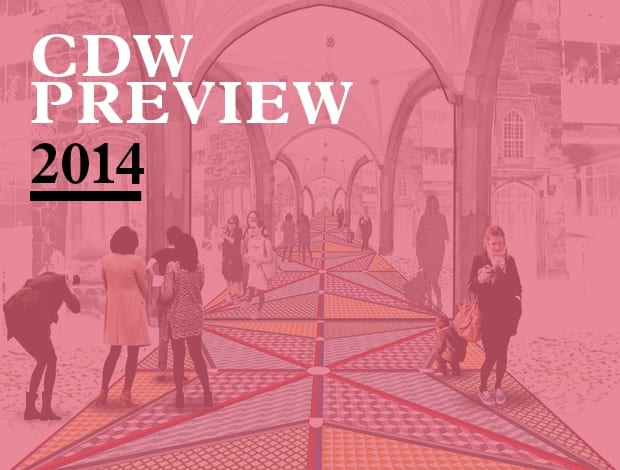 ||
Now in its fifth year, EC1's annual celebration of creativity is stronger than ever, with an extra venue, a

diverse fringe programme and more showrooms and studios opening their doors to welcome you.
British furniture firm Case is launching Lucent, a collection of glass tables (pictured) by Matthew Hilton, finished in three different translucencies (clear, bronze and smoke) which would look perfectly at home in a corporate reception. Visitors will also get the chance to see the Loku chair by Shin Azumi, which was launched earlier this year and is made using 3D plywood technology with a wood and metal or tubular steel base. The Corral leather chair, the result of a collaboration with Bill Amberg, completes Case's offering.
Russell Pinch's eponymous company is a byword for luxe craftsmanship and its latest launch continues in the same vein. The Derome table lamp (pictured) – surely destined for the plush reception area of an executive office – is made of dark stained tulipwood or white oiled ash and comes with a black or copper coloured flex respectively.

The Nottingham-based studio can be relied upon for some solidly contemporary design-led products and it won't disappoint in 2014. Under the stewardship of Samuel Wright, its product range includes the V chair (pictured). A collaboration with Daniel Lau, a design student at Nottingham Trent, this wire-frame chair is intended for casual indoor and outdoor dining.
Mark is launching a variety of new products. Its flowing Arc seating system, which can be specified for indoors or out, suits an assortment of waiting or breakout spaces. The Studio modular system (pictured) combines table and sofa elements with a choice of foot type, castor options and a selection of fabrics and leathers. Also shown will be the Mylar tub chair and two new tables, Verso and Universal.
Brunner's stylish space near Exmouth Market feels more like a trendy bar than a furniture showroom, and is the place to see a clutch of new pieces of contract furniture including the Hoc bar stool (pictured), a delightfully angular piece by Jehs + Laub. Visitors will be in with a chance to win one on the Tuesday. The A chair, another Jehs + Laub creation, will be the focus of attention on Wednesday, with the Fina Club collection by Wolfgang CR Mezger taking centre stage on the Thursday.
To celebrate 15 years of Ron Arad's Tom Vac chair, Vitra has asked a number of notable architecture and design practices to put their own stamp on it. The completed pieces for the Tailor my Tom Vac project will be judged by no less than Arad himself on the Thursday evening. There's also the chance to win one of five Eames Wire chairs or take the weight off your feet in the afternoons in the Secret Garden, in association with Heal's.
Fans of Lego should head to Davison Highley's showroom in Brewhouse Yard, where they can see Bright Bricks, the UK's only UK certified professional Lego builders, in action. Both the 50s Inspiration chair and the Skylon sofa will be remade in little bricks, and there will also be a play table so that visitors can get involved themselves. New products also on show include the softly curvy Cristiana wingback chair (pictured) and the Plectra chair, which is based on an original David Hartwell design. Both were designed and made at the firm's High Wycombe workshops.
Arper is bringing over highlights of its strong showing at Milan, including modular sofa system Zinta (pictured) designed by Lievore Altherr Molina. Flexibility is the watchword for this product, with shells available in natural, brown and dark oak wood veneer, lots of colour combinations and optional plywood armrests. Colina by the same design trio, a sculptural family of armchairs, will also be on show.
A firm fixture on the contract furniture scene for decades, Boss Design Group is unveiling new table and seating products from two of its brands, Boss Design and Lyndon Design. Deploy, the work of BroomeJenkins, is intended for training or conference rooms and flips up for the most effective use of space. Entente (pictured), a new iteration of the popular meeting booth, is part of Lyndon Design's offering. Boss Design Group's Clerkenwell Road showroom will also play host to the final judging of its Student Designer of the Year competition on the Wednesday.
---
Head over to Central Street for a raft of talks at SBS's showroom. On Tuesday, there's an evening with the Contemporary Art Society on how art can enhance the workplace; designers Form Us With Love discuss shaping the brands of tomorrow on Wednesday morning, and again in the afternoon; and Thursday morning and afternoon will see a discussion on how activity-based working can increase staff productivity. Reserve your spot by emailing [email protected].
Swedish architect and designer Hanieh Heidarabadi is making her UK debut at Platform, launching the Make lamp, composed of a brass tube, steel thread and screw nut. The polyamide lampshade, meanwhile, is 3D printed. This piece could happily reside as feature lighting above a breakout area or atrium.
Flying the flag for Welsh manufacturing, Ifsofas will present the Hero sofa, part of a modular range of seating designed and made using a combination of traditional techniques and modern technology.
London-based architectural practice Russ + Henshaw has worked with Turkishceramics to create The Tile Mile, a temporary tile installation at St John's Gate. An elaborate tiled floor will be installed, while parallel mirrors will face inward within the gate's two inner arches – meaning that users can have the discombobulating experience of seeing diminishing images of themselves disappear into infinity. This multiplication of space is intended to echo the cloisters of Istanbul's famous Basilica Cistern.
Smith is a pavilion created by Studio Weave in conjunction with fibre cement specialists Equitone. It will pay homage to the trades associated with Clerkenwell through the ages to the present day, including goldsmiths, silversmiths and watchsmiths. Over the three days, various contemporary craftspeople, such as letterpress printers Harrington & Squires and the Goldsmiths Centre, will be hosting a variety of workshops and demonstrations.
---
The Design Factory is also the place to hear some top names in architecture and design speaking about their work. Ron Arad and Asa Bruno kick things off at 11am on Tuesday, and on the same day the Campana Brothers talk about how art influences design, coinciding with an exhibition of their work for Edra at Detail. CRAB studio founders and revered architects Sir Peter Cook and Gavin Robotham (pictured) ask how furniture informs architecture on the Wednesday, while highlights of Thursday include OKAY Studio and the American Hardwood Export Council discussing their CDW Presents piece, entitled Five.