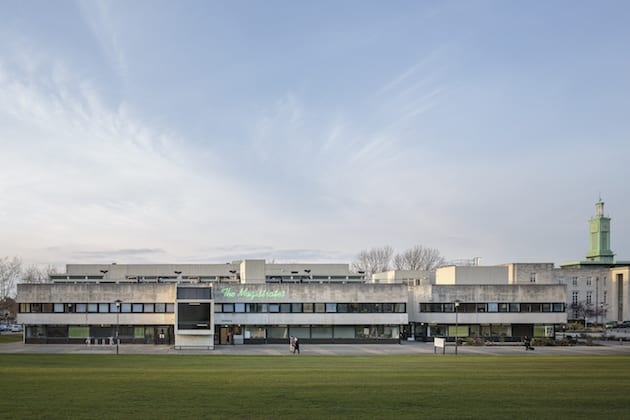 |||
To borrow of words of Sam Hunt, creative director for the Mayor's London Borough of Culture 2019: "The history of Waltham Forest is one of makers and radicals coming together in fellowship to bring about change."
Gort Scott's Gainsford Road apartments, designed by Gort Scott for Pocket Living. Photograph: Dirk Linder.
Formed in 1965 and historically known as the seat of the arts and crafts movement, the borough is replete with contemporary artists, independent makers, workshops and galleries like the William Morris Gallery. Just over a year ago, mayor of London Sadiq Khan drew inspiration from the European Capital of Culture and UK City of Culture programmes, and launched the Borough of Culture initiative. In February 2018, the title was awarded to Waltham Forest.
"The full programme will be launched in November and we are working to ensure this sets the tone not only for 2019, but for our Borough of Culture successors in years to come," says Hunt. "At the centre of it will be a year-long, world-class arts programme […] which is reflective of our rich cultural heritage."
He continues: "It's an area where the creative industries are the engine house of its growing economy, with 2,465 new businesses started last year alone. Go down to places like the Blackhorse Workshop in Walthamstow and you will see the small, creative businesses which are an integral part of the success story of the borough."
Walthamstow Central Parade, built in the 1960s, was formerly a council office. Photograph: Dirk Linder.
Incidentally, the Blackhorse Workshop happens to be the base of our cover star this month, but designer Matteo Fogale isn't the only creative thriving in the area. While some designer- makers like Herb Palmer and Jack Relton are based in the workshop, others have been known to use the space for ad hoc projects, like the City Ghosts bench Mariya Lapteva designed for the London Festival of Architecture earlier this year.
This thriving scene lies at the heart of Waltham Forest's cultural programme. As Hunt explains: "Work will be genuinely co-created with artists, creatives and communities from across the borough – from Leyton in south to Chingford in north."
He adds: "Our opening show entitled 'Welcome to the Forest' will see Leytonstone-born Talvin Singh collaborating with young music producers in the borough on a soundtrack for a massive show defining the history of Waltham Forest as told through the eyes of the area's young people."
The council has also opened a Fellowship Funding scheme, which aims to invest £500,000 in local artists and organisations with, as Hunt puts it, "ambitious and bold ideas". Hunt, who also led the creative programme for Hull's year as City of Culture in 2017, has the ambitious plan to get 85% of locals engaged in the programme.
"It is critical that London Borough of Culture is a platform where the next generation of London's artists are nurtured and allowed to express themselves. This will be core to everything we do," he says.
Central Parade has been reimagined as a mixed-use building, including the Today Bread bakery. Photograph: Dirk Linder.
To that end, the council has acquired a soon-to-open ground floor shop on Hoe Street, which will be a place for information, work-shops, exhibitions, talks and performances. Gort Scott Architects, which has been present in the area since 2010, is designing the space, which it calls "the shop window of the Borough of Culture".
Further down on Hoe Street, with Jay Gort and Fiona Scott at its helm, the practice has also transformed a 1960s building – previously a council office – into a mixed-use scheme comprising a cafe that doubles as events space, retail and co-working facilities. Completed in 2016, and recently the recipient of a RIBA London Award, Walthamstow Central Parade's aim was to appeal to the area's burgeoning creative community, a goal aligned with the council's long-term plan to enhance business in the area.
More recently, Gort Scott left its mark on Walthamstow with 45 affordable "Pocket" flats on Gainsford Road, and the refurbishment of the Waltham Forest Magistrates Court into temporary offices for the east London borough's council.
Inside, the practice has incorporated a welcoming public cafe which doubles as the council's office reception and waiting area. On the upper floors, it has created a large open-plan layout to maximise daylight coming in from roof lights and the perimeter windows.
Designer Mariya Lapteva's City Ghosts bench was designed at the Blackhorse Workshop. Photograph: Agnese Sanvito.
Part of a major regeneration strategy, The Magistrates sets the tone for the practice's next venture – refurbishing the entire campus, including the Philip Hepworth-designed, Portland stone, Nordic classical Town Hall building.
Gort Scott's relationship with the Waltham Forest Borough goes back to 2010, when it created an urban framework with Maccreanor Lavington Architects in Blackhorse Lane. "We were involved in those early days of mapping all of the interesting businesses that went on in that area, which there were and are lots," says Scott, who points out that the borough has gone through a bit of a cycle.
"Back in the day, you would look at these historic photos of the amazing, long Walthamstow High Street which used to have a really rich variety of evening and cultural activities and they'd all, one by one, closed down. I think you could get the impression that in some form or another, those kinds of things will come back."
She continues: "People were talking about how they'd had enough of Hackney Wick and the artist explosion that's gone on there, and had started to move out here to be pioneers in Waltham Forest. We felt that was quite interesting at the time."
The area's offering has been enhanced by the Walthamstow Wetlands park, opened in 2017. Courtesy of Walthamstow Wetlands.
Should we worry about an impending Hackney-esque gentrification of the area, I ask? Gort believes the key to addressing the issue lies in catering to inclusivity. "I think it's about trying to guide those forces in as positive a way as you can, which is still inclusive and which benefits everyone, it doesn't just benefit landowners."
What remains clear, is that the Borough of Culture incentive is, in Scott's words, an "impetus" which opens up opportunities in the area, and with inclusive projects such as Gort Scott's Magistrates, built around the idea of opening the workspace to the public, maybe the gentrification storm will skip Waltham Forest after all.
With a strong creative history and a thriving maker culture, Waltham Forest is well equipped to take up its role as the first London Borough of Culture in 2019.