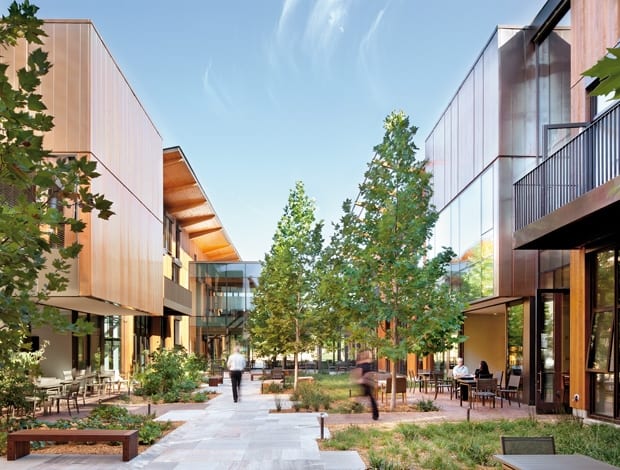 A landscaped courtyard garden is the building's "centripetal force"|Glass doors slide back to blur the boundaries between inside and out|Employees work in semi-open cubicles within their project teams|The two wings' narrow footprint allows for cross-ventilation||
Nestled in the leafy community of Los Altos, California, this headquarters for one of the world's wealthiest charitable foundations serves as a physical representation of its worthy goals. Every year, the David and Lucile Packard Foundation grants hundreds of millions of dollars in funding, primarily to conservation and community projects, with the top line of its mission statement proclaiming support for "leaders and institutions working to achieve a biologically rich, sustainable world". So when it came to designing its new home, it needed to lead by example.
Beautifully subtle at face value and sustainable to its core, this LEED Platinum-certified building is sensitive to its environment in multiple ways. "It's a really good neighbour," says Marc L'Italien, principal at EHDD, the building's architects. "Los Altos is not a big city; it's a small community. Although this building is almost 50,000sq ft (4,500sq m), it feels more like a large residential project. It's got a modest feel."
Inspired by the foundation's old HQ nearby and based on feedback from staff, who had an aversion to anything that looked too techy or industrial, EHDD's key aims were to create a warm, light-filled building that slotted into the community. As a visual antidote to its large proportions, EHDD took what would have been a solid rectangular low-rise block and pulled it apart, creating two long, slender wings facing in to a large landscaped courtyard garden. Facades are clad in warm materials such as western red cedar wood, creamy-coloured Mount Moriah stone and 75% recycled copper, interspersed with large windows – some providing a view to the garden from the street – and surrounded by trees.
Overall it could be likened to a large contemporary woodland chalet, but this is actually California's largest "net zero energy" private office building, providing superbly energy efficient workspace for around 121 employees. With a net zero goal on the agenda, its biggest LEED point-earner was for energy performance, and much of this has been incorporated in the architecture itself. The layout has maximised daylight, with every part of the building looking onto the courtyard garden via huge windows, significantly reducing energy use for artificial lighting. As the wings are narrow (only 12m wide) they also benefit from cross-ventilation, again reducing energy usage for cooling. The building is insulated to the nines, and in-built shades and tactfully placed trees stop the interior becoming like a greenhouse in the Californian sun.
The building was sustainable from the word go, with 95% of construction waste from the old site recycled or salvaged. Most new materials for the build were sourced from within 500 miles, with some eucalyptus for the interior salvaged from a local redevelopment site, Doyle Drive (the road leading to the Golden Gate Bridge). It also scored high for on-site renewable energy, a fair chunk of which comes from 915 solar PV panels on the roof, and water reduction, with rainwater harvested from the roof and street used to flush toilets and irrigate the all-important garden.
Keen on making the most of the mild Californian climate and encouraging open communication, the working dynamic was centred on the garden. "When you're in the building, you're always looking at it," says L'Italien. "It has this centripetal force. It's probably the single design strategy that ties everything together." The staff lounge, all the core office space and its intermittent breakout areas border the garden, with large sliding doors making a seamless transition between inside and out. Similarly, materials such as the Mount Moriah stone in the large meeting room, lobby, foyer and courtyard, bleed from one to the other. The courtyard is therefore seen more as an outdoor room – a huge additional meeting space for employees.
Inside, the main office space is divided into neighbourhoods, where employees work in semi-open cubicles clustered together with their project teams. Scattered in between are a range of informal meeting areas and breakout spaces, part of the continued emphasis on communication and collaboration, as well as smaller private offices and meeting rooms around the perimeter. The atmosphere is serene, with light-coloured materials used throughout such as raw wood finishes, open beams, pale carpets and upholstery and glass partitions, to bounce natural light around the space.
This building aimed not just to tick boxes, but to develop solutions that could be replicated on other green buildings. It scored an impressive 94 out of 110 on its LEED certification (well clear of the 80 needed for Platinum) but for L'Italien, it is the net zero goal that was the tough nut to crack. This meant looking beyond just the building itself, delving into every aspect of the office's day-to-day running from the efficiency of the office equipment to staff commuting patterns. "Everybody wants to do good and be green but when it really gets down to it, it does require some behavioural changes," he explains.
To even get in the game, he says, a building needs to reduce energy use by at least 50% – though this building managed 65% – but where it gets to the nitty gritty is the plug loads. All the lights, computers, office equipment and cleaning equipment that will be plugged in once the office is occupied will become a much more important determinant in the energy efficiency of the building, which is why a post-occupancy study is essential. "The plug loads are a big variable. So we work based on an energy model, then after the building opens you have to measure, monitor and maintain the energy usage, tweaking and tinkering with it through the year. It's not like the old days when you just hand over the keys to the owner, and unlike LEED you can't just check the boxes. This has to be a cultural thing within the organisation that starts from the very top and goes to every single individual employee. They all have an impact."