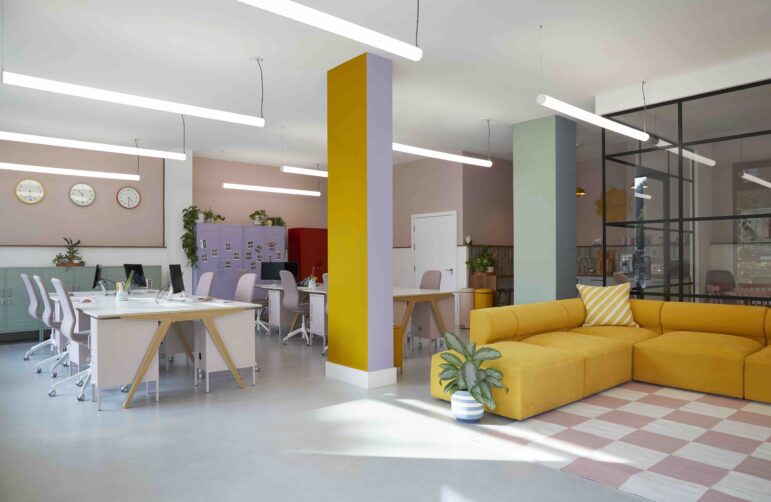 Mustard Made lockers in the brand's signature rainbow palette define the new HQ by interior design studio Born + Bred
Some of the world's best brands simply do one thing very well, and for UK-Australian company Mustard Made, that singular thing is lockers. The brand launched in Sydney in 2018 with two lockers – the Skinny and the Shorty – and has since grown to supply lockers around the world.
When co-founders and sisters Jess and Becca Stern recently launched the new London HQ – their first major office fit-out – their brief was as beautifully simple as the brand itself: "Make it us".
"There is no mistaking you have arrived in Mustard Made HQ," says Lisa Mettis, founder of Born + Bred, the interior design studio behind the fit-out. "The office instantly lifts your mood, as does the brand and the products Mustard Made makes. It's a fun, creative office that allows a young, growing team to collaboratively work in an environment and brand they're proud to be part of."
The space is defined by the brand's signature lockers, which add colour and personality as well as ample functional storage. Every team member has their own Shorty desk locker, there's a rainbow of colourful Skinny lockers across one wall to house office essentials, and meeting rooms showcase the practical Lowdown lockers.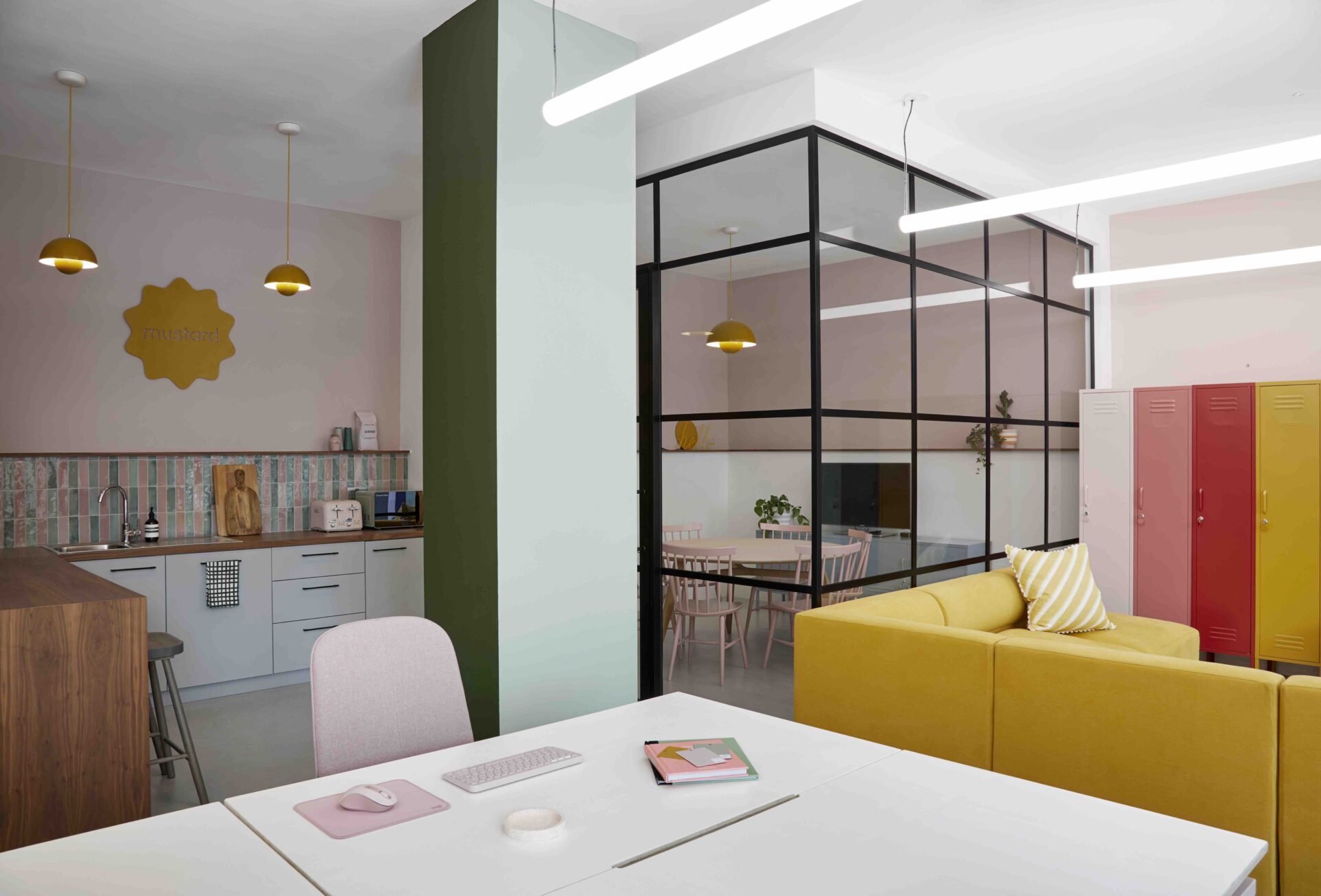 To keep the lockers centrestage, the rest of the interior is strikingly reduced – think poured concrete floors, hand-painted ceramic-effect tiles, marine ply workstations, and painted walls that celebrate the Mustard Made palette.
"Brand identity is front and centre in everything Mustard Made does," explains Mettis. "As the company's first major office fit-out they were very excited to create a space that reflected the brand's personality and provided an environment for the team that they would relish spending time in. "
Located in a gated mews community near Regents Canal and between Primrose Hill and Camden, the HQ is an open-plan space that provided the ideal blank canvas on which to realise the Mustard Made identity.
The interior has been divided into various functional zones, including a small kitchenette in the brand's signature colour palette with a Blush and Sage striped backsplash, a crittall-style soundproof meeting room, a break-out area, and collaborative working spaces.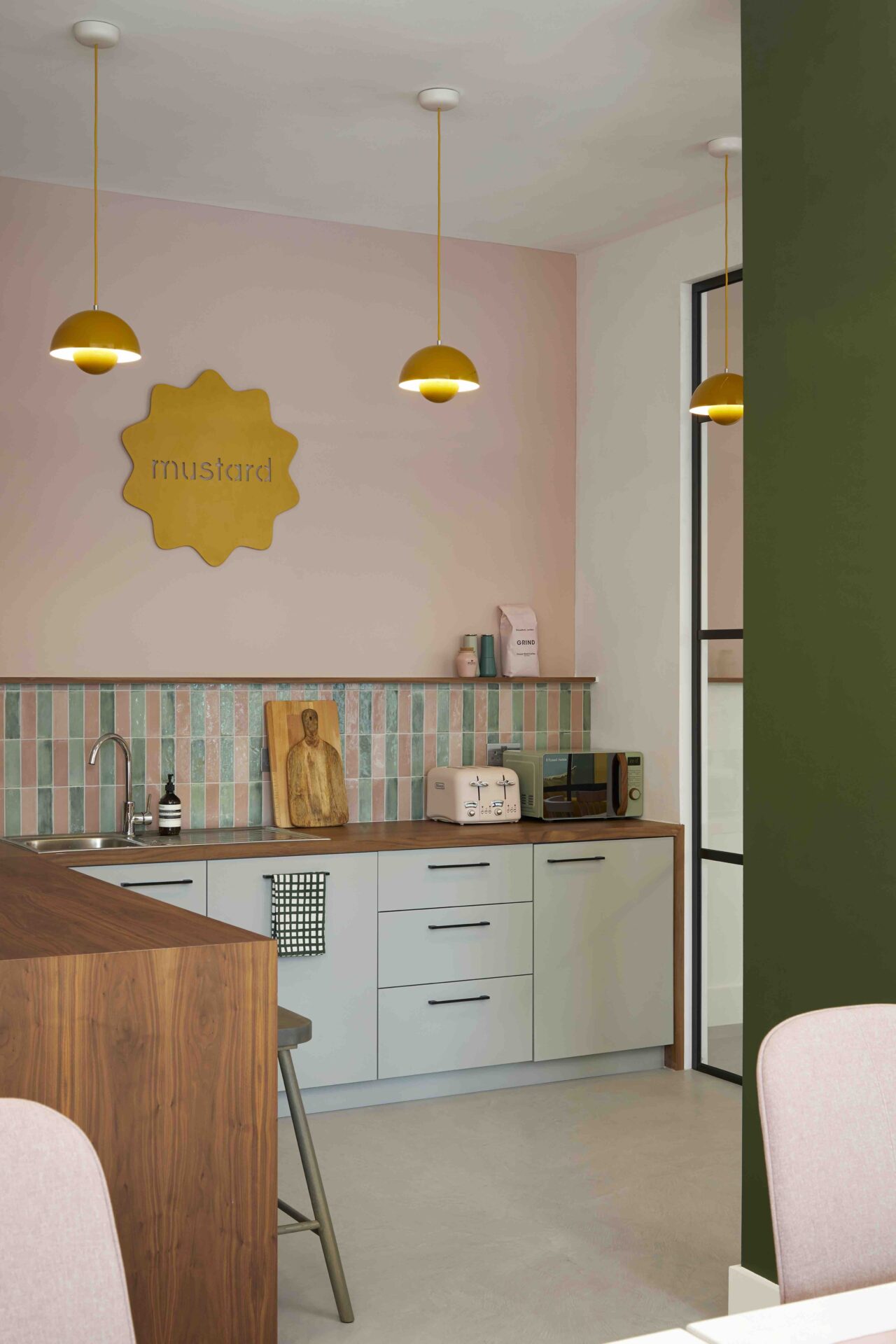 The meeting room was a particularly key feature, allowing a private space for extended Zoom meetings with the Australian office. There's also plenty of amenities that elevate the team's wellbeing, from shower facilities and bike storage, to outdoor seating for al fresco lunching.
"Our team has grown so much in the last few years, so simply having adequate desk space was an exciting step – but our new London HQ has become so much more than that," says Jess. "The office feels like 'us', it feels like Mustard Made and every element of the design has helped to create that deeply embedded brand experience."
Images by Anna Starthaki
Enjoyed this article? Read more: Trifle* adds unexpected pops of colour to interiors of coworking space in East London